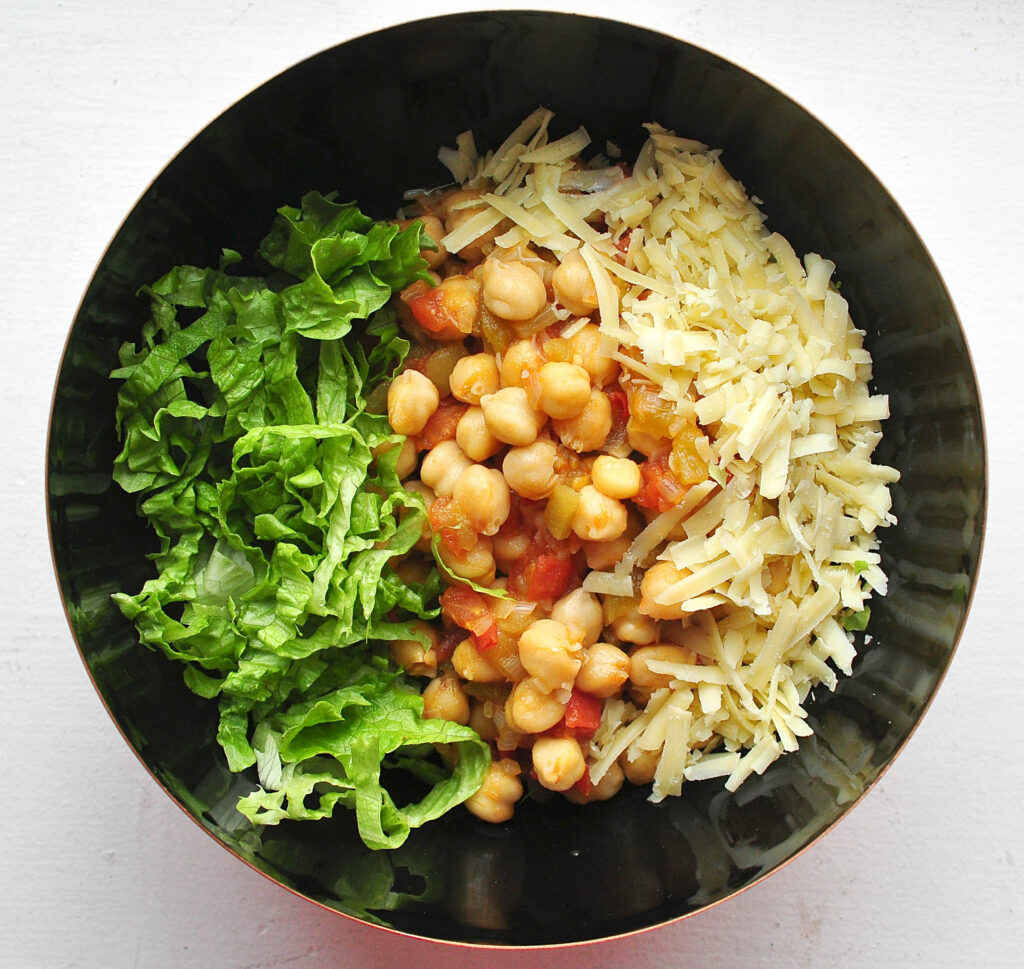 I have to be honest, it seems so trite to simply share a recipe right now while so many people are fighting for their most fundamental rights. This past weekend I felt so helpless and frustrated. Sure we donated to organizations supporting refugees and immigrants, but it didn't feel like enough. It's difficult to know how to move forward with life when our brothers and sisters are having their lives ripped away from them. But here we are. We all need to eat and take care of ourselves and follow our best instincts to care for and support one another. This is what we do and will continue to do. So here's a delicious, quick and pretty cheap recipe.
It's the winter and I just never want to eat salad in the winter. It just seems too cold! I want vegetables, but I want them warm, so I was totally taken with this wonderful simple idea for a taco bowl that my lovely friend Alex Stafford shared over at food 52. Of course I love that she suggests cooking the chickpeas from dried, which I totally encourage you to do if you eat chickpeas regularly. I wanted to make something similar right away using what I had in the cupboard, and lo and behold I had a can of chickpeas. I was just going to enjoy this creation for lunch and call it a day, but it turned out so delicious and easy I thought I'd share with you. So here is a bowl of warm chickpeas flavored with my favorite hatch chiles, tomatoes, onion and cheddar and tossed with shredded lettuce for added crunch. If you have sour cream, tortilla chips, avocado or anything like that to add, this bowl will only get better. And it's possible that if you are not a pregnant lady this may feed more than one person 😉
Cooking for one is often uninspiring and I do find myself eating weird handfuls of stuff when I'm left to my own devices for lunch or dinner. But it always feels so much more satisfying when you take a moment, get organized and put together a real meal for yourself. Even if you start with humble beginnings like these two cans.
Because we deserve it! We need the break from work and we'll be much more productive if we eat a proper meal. I think we all know this, but it can be an easy rule to break some days and simple ten minute meals like this make the choice that much easier.
The flavors of the southwest, green chiles, cheese and tomato come together in this simple vegetarian chickpea taco bowl that's ready in just ten minutes.
| | | |
| --- | --- | --- |
| | | The flavors of the southwest, green chiles, cheese and tomato come together in this simple vegetarian chickpea taco bowl that's ready in just ten minutes. |
1

Tbsp

butter

1

shallot

finely chopped (or equivalent amount of red onion)

1

tomato

chopped

salt

to taste

1

4 oz can

green chiles

1

15 oz can

chickpeas

drained

cheddar

grated (to taste)

lettuce

shredded (to taste)
sour cream

to taste

avocado

diced (to taste)

lime wedge

hot sauce

to taste

tortilla chips

to taste
In a small pot on medium heat melt the butter. Add the shallot or onion and cook for two minutes just to aromatize. Add the tomato and sprinkle a little salt. Let it cook for 3 minutes until the tomatoes have released a bunch of their juice.

Add the green chiles to the pot and stir. Cook for another two minutes or so, then add the chickpeas and a little more salt. Stir and cook until everything is warmed through. Taste and add more salt if you think it needs it.

Now assemble the bowl! Spoon the warm chickpea mixture in the middle of the bowl and pile shredded lettuce on one side and sprinkle cheese on the other. Add any other additions you have around.