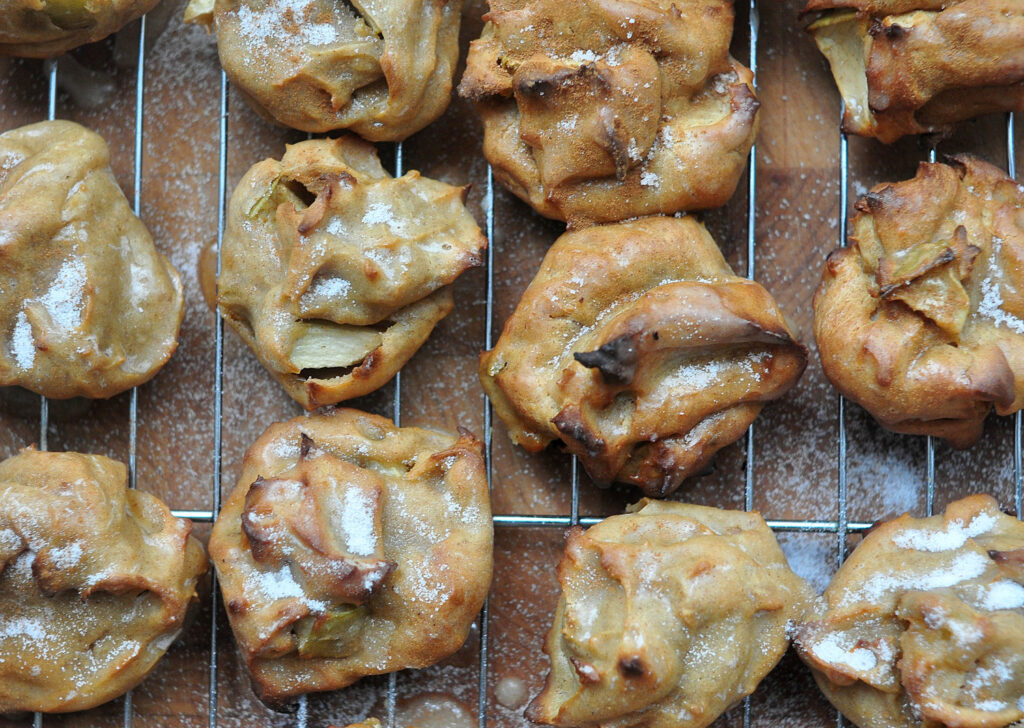 So it's supposed to be spring now. But we're not quite there yet. The farmers market is still bleak and wintery; no ramps, no asparagus, certainly no strawberries. What looks good? The apple cider donuts of course. But around here we don't buy apple cider donuts. We make them.
Although autumn is the traditional time to revel in apples, the early spring is a good time to bake with them. The apples that have been kept for the winter are a little soft and big bags of them are often on sale. The freshly pressed and unfiltered apple juice that is called cider around here is also inexpensive and fabulous.
These apple cider puffs are inspired by those fresh farmers market apple cider donuts, but they are quite different. They are loosely based on choux pastry, the dough used to make cream puffs. As a result you will want to eat these as soon as they are out of the oven, and they won't really keep, so maybe have a party or share with your neighbors.
These apple cider puffs are light, a little spongy, not too sweet, and of course, delightfully appley.
Apple flavored, glazed and stuffed apple puffs. A play on profiteroles.
| | | |
| --- | --- | --- |
| | | Apple flavored, glazed and stuffed apple puffs. A play on profiteroles. |
2

cups

apple cider

1 1/2

apples

cored and chopped into small pieces

1

cup

all purpose flour

1/4

tsp

salt

1

tsp

cinnamon

1/2

tsp

nutmeg

1/2

tsp

cloves

1/2

cup

butter

(1 stick)

5

large

eggs
1

cup

confectioners sugar

2

Tbsp

apple cider

1/4

tsp

nutmeg

1/4

tsp

cinnamon
Add the apple cider and 1 apple worth of pieces (with peel!) to a pot and place it on the stovetop on medium high heat. The cider here is not the boozy kind, if your farmers market doesn't sell it then use unfiltered apple juice. Set the other 1/2 apple aside for later. Eat the other half!

Bring the mixture to a boil and then bring the heat down to medium, letting it gently boil for about 30 minutes.

Turn the oven to 375 F. Line two baking sheets with parchment paper, or use silicone mats if you have them. Lightly butter the parchment paper.

While the mixture boils, prepare your other ingredients. In a small bowl add the flour, salt, cinnamon, nutmeg and cloves. Stir it to combine.

Once the apple cider has boiled for 30 minutes, remove it from the heat. The amount of liquid should have reduced by more than half and the apple should be soft. Blend the mixture in a food processor or with a handheld blender. Pour the pureed mixture into a measuring cup. It should measure approximately 1 cup. If there is too much, pour the mixture back into the pot and let it cook for a few more minutes until it has reduced to about a cup of liquid. If it is less than a cup add a bit more apple cider until it reaches a cup.

In a large pot add the butter and apple mixture and bring it to a boil on medium heat. Once it is boiling rapidly add the flour mixture to it and stir vigorously with a wooden spoon. Mix for 1 to 2 minutes. It should be very smooth with a little of the dough sticking to the bottom of the pan.

Take the pan off the heat and add the dough into the bowl of an electric mixer fitted with a paddle attachment. You can also just keep doing it by hand if you choose. Add the eggs one at a time, making sure each egg is thoroughly mixed before you add the next egg. At first the dough will separate, but don't panic, it will come back together as you add more eggs. Once all the eggs are added, the dough should be smooth, glossy and light. Add the other half apple worth of apple pieces and gently stir them into the dough until they are just incorporated.

Quickly spoon out the dough onto your prepared baking sheets. They might look a little messy, but that's okay. Leave about an inch between each spoonful of dough. Pop them into the oven and set the timer for 20 minutes. You will probably not fit them all in at once so leave the dough on the counter covered with a tea towel between batches.

Prepare the glaze by simply whisking the ingredients together in a medium sized bowl.

Check the puffs after 20 minutes to see if they are evenly golden brown. Sometimes they require a few more minutes so don't be afraid to leave them in a little longer, up to 25 minutes.

Take the puffs out of the oven and quickly remove them from the pans, dunking them straight into the glaze. Roll them over in the glaze to evenly coat and then let the excess glaze drip off. Place each puff onto a cooling rack. If you like, sprinkle them with a little sugar and cinnamon. Enjoy while hot!
NOTE: For extra professionalism you can use a piping bag (or just a plastic bag with a hole cut in the side) to pipe the dough onto the baking sheets. These will result in very neat and tidy puffs!