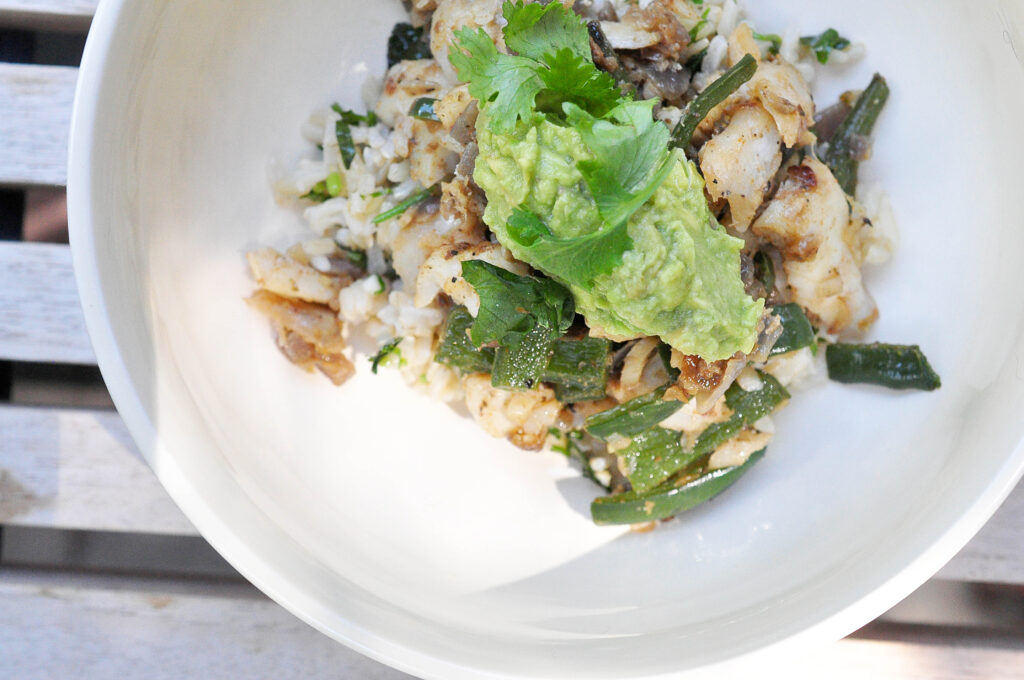 Everyone loves burritos! Or so it would seem from the line-ups at every burrito joint from chipotle to like… all those other ones? But you guys, they are really easy to make! And if you make them yourself they don't end up being quite as gut-bustingly massive (unless you want them huge in which case, again, you can have what you want). So here is a simple white fish burrito with poblano strips and onions as the vegetable and a super cilantro-y rice to make it a bit Chipotleish (cilantro haters can sub parsley or basil).
But Leanne, you say, there are so many scoops they use! Won't that take forever? Not really! Yes, you do have to have a few components so it's not as efficient as a one bowl meal, but you can make the rice and vegetables and/or beans in quantity and just change up the protein filling. Then you can eat burritos everyday! And that's the dream apparently.
Oh, and they are cheap! Like, really quite cheap. Rice, beans (today I'm skipping the beans but feel free to add them), some veggies and meat, fish or more beans. So the meat or fish is the expensive part, but you don't need much of it. This recipe only uses 2 cod filets to feed 4 people.
Poblanos can be a little expensive so you can totally just use bell peppers or anaheim peppers, but it will change the flavor. I am a poblano fiend so I like to splurge on them. The fish is simply cooked on the stove top with salt, pepper, cumin, oregano and a wee dash of cayenne. There is a lot of flavor here though so if you want to just do salt and pepper that is fine too!
I used brown rice because that is my preference and what I tend to have around, but white is just fine as well. The rice cooking time is the only thing that keeps this from being a lightning fast meal to put together. So put the rice on first or if you have leftover rice or a little leftover takeout rice container (I have these A LOT) you should have this on the table in 20 minutes. I like to put the rice on and then be super slow and chill about making the rest, listen to a podcast, organize the kitchen, that kind of thing.
Burritos are so easy and crowd-pleasing, it's a great place for new cooks to start figuring things out. And if you like this, double or triple the batch or at least the rice and vegetable components and make your own burrito and burrito bowl creations later in the week. Have fun assembling!
A simple white fish burrito with poblano strips and onions and a super cilantro-y rice to make it a bit like Chipotle.
Servings
3 to 4
small burritos or bowls
Servings

3 to 4

small burritos or bowls
A simple white fish burrito with poblano strips and onions and a super cilantro-y rice to make it a bit like Chipotle.

Servings

3 to 4

small burritos or bowls

Servings

3 to 4

small burritos or bowls
1/2

cup

brown rice

1

cup

water

3

Tbsp

butter

2

tsp

salt

1

tsp

cumin powder

1

tsp

oregano

1/4

tsp

cayenne

1/2

tsp

pepper

2

cod fillets

1

avocado

1

lime

juiced

1

small or medium

red onion

chopped

1

poblano pepper

seeds and stems removed and sliced into strips

3

cloves

garlic

finely chopped

1/2

cup

cilantro or basil

chopped

3 to 4

medium

flour tortillas
In a small pot add the brown rice, water, 1 Tbsp butter and ½ tsp salt. Bring it to a boil on medium heat with the lid on. When the water begins to boil turn the heat down to the lowest setting until it's just simmering. Place the lid slightly askew and cook for 45 minutes.

While the rice cooks you can prepare the rest of the meal at a leisurely pace. Mix 1 tsp salt, cumin, oregano, cayenne and pepper in a small bowl. Sprinkle half the spice mixture over the fillets, coating on both sides. You will use the other half of the spices later during cooking. Set them aside.

Cut the avocado in half and remove the pit. While still in the peel, slice the avocado lengthwise and then widthwise a few times. Use a spoon to scoop the avocado flesh out into a bowl. Sprinkle with salt to taste and half the juice of a lime and mash with a fork until it's as smooth or chunky as you like. Taste and add more salt and lime juice. This is your very simple guacamole!

In a medium pan on medium heat, melt a Tbsp of butter. Add the onion and poblano strips and cook for 5 to 8 minutes, stirring occasionally, until the onions are translucent and you have a few brown spots on the poblanos. Add the garlic and cook for another 2 minutes. Add salt to taste, about ½ tsp. Remove the vegetables from the heat and spoon them into a bowl.

Clean the pan and put it back on high heat with another tablespoon of butter. When the butter is melted, swirl it around the pan. When the pan is hot, add the cod fillets to the pan and let them cook undisturbed for 2 to 3 minutes. Flip and cook for another 2 minutes. They should be brown and crispy on both sides. Using a spatula, gently break up the fish into flaky pieces. Add the vegetable mixture back into the pan and stir. Sprinkle the rest of the spice blend over the everything in the pan, mix and cook for another 2 minutes until warmed through. Set aside until the rice is finished cooking.

When the rice has been cooking for 45 minutes, turn off the heat and take the lid off the pot. Use a spoon or fork to fluff the rice up a bit and then put the lid back on for 2 minutes to steam a bit.

Add the chopped cilantro or basil and lime juice into the rice and mix. Taste and add more cilantro, lime juice or salt to your taste. Done! Now time to assemble.

If you want to make burritos: Place your tortilla on a clean cutting board. Scoop ¼ or ⅓ of the rice onto the tortilla (depending on how many you are feeding and appetites!). Top with ¼ or ⅓ of the fish and vegetable mixture and finally with a dollop of guacamole. Fold the ends of the burrito in toward the centre and roll it up like a carpet. Slice it in half to serve or keep it whole.

For a bowl: Same instructions as above, but scoop into a bowl instead of a burrito. Top with a little chopped cilantro and a squeeze of lime if you have it.