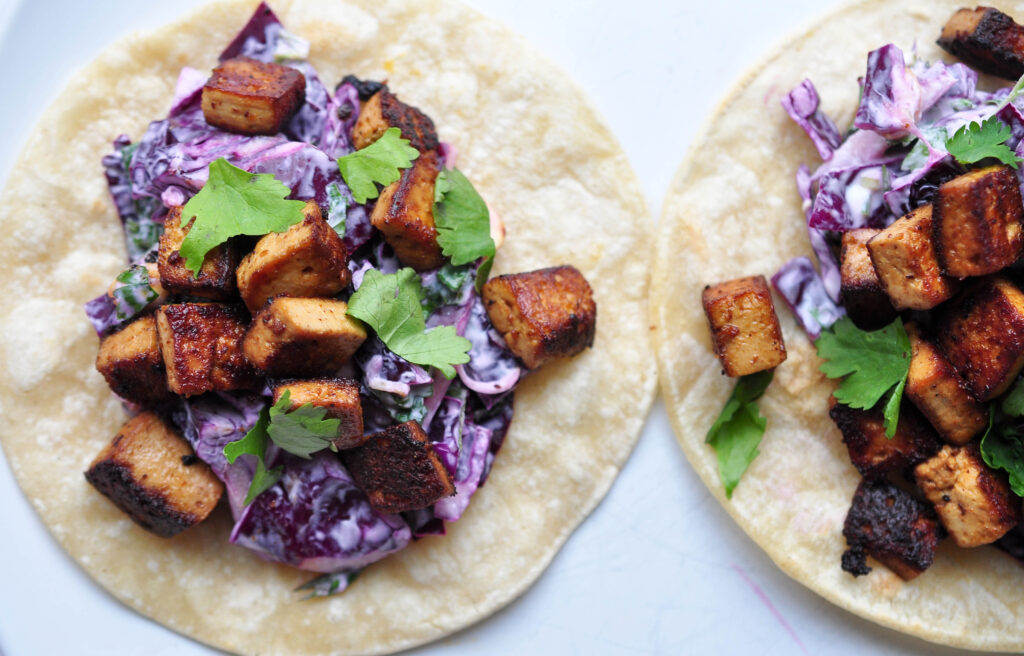 I've been wanting to re-make a really delicious cabbage slaw a friend of mine made me recently—it was red cabbage in a creamy dressing with sugared, toasted nuts and mango in addition to a bunch of herbs. Just incredible. Cabbage is one of the often forgotten vegetables. It isn't famous and fancy like kale or cauliflower, but it has great flavor and crunch and man is it a bargain! Cabbage is so inexpensive, and one head of cabbage yields a massive pile of shreds. At the same time, there has been a package of firm tofu languishing in my fridge for far too long now. And so these marinated tofu and red cabbage peanut slaw tacos are born!
Definitely not a traditional marriage of flavors, the tofu is marinated simply in my favorite soy sauce and rice wine combo and comes out tangy and salty. The cabbage slaw is creamy and tangy from the lime and sour cream, but with a ton of herby freshness in the scallions, cilantro and mint. The peanuts add extra crunch and butteriness and yes, if I could have gotten some mango I do think this would be even better.
These come together quickly and make a satisfying and healthy mid-week meal.
Crispy red cabbage slaw shot through with herbs and sour cream, topped with crispy on the outside, soft on the inside tofu cubes on a warm corn tortilla.
| | | |
| --- | --- | --- |
| | | Crispy red cabbage slaw shot through with herbs and sour cream, topped with crispy on the outside, soft on the inside tofu cubes on a warm corn tortilla. |
1

14 oz

block of firm tofu

1/4

cup

soy sauce or tamari

1/4

cup

rice wine vinegar

2

Tbsp

vegetable oil

1/2

cup

peanuts

1/2

small

red cabbage

shredded (about 4 cups)

1

bunch

scallions

finely chopped

1/4

cup

cilantro

finely chopped

1/4

cup

fresh mint

finely chopped (optional)

1

lime

juiced

1/4

cup

sour cream

salt

to taste

8 to 12

corn tortillas
Dice the tofu into whatever size dice you most prefer. I went with about 1/2 inch cubes. Transfer the tofu to a freezer bag or sealable container. Pour the soy sauce and rice vinegar over the cubes and let it marinate for 1 hour in the fridge or up to a day.

In a small pan on medium heat toast the peanuts until they are light brown. Shake the pan occasionally to brown on all sides. It should take about 5 minutes.

In a large bowl mix up the shredded cabbage, scallions, cilantro, mint, lime juice and sour cream. Sprinkle with a couple pinches of salt. Stir and taste. Add more salt or lime juice or herbs to your taste. Add the peanuts and taste. (If you are fast and organized you can make this slaw while the tofu cooks, otherwise do it before you start the tofu on the next step.

Heat the vegetable in a large pan on medium heat. Be ready with a lid to cover the pan because once you add the tofu it will splatter. Add the tofu to the pan and shake it to make sure the pieces are well distributed in the oil. Be careful of the splatter as the marinade meets the hot oil! Cover with a lid and let it sizzle for 2 to 3 minutes.

Check the tofu after 2 to 3 minutes and flip the pieces if they are looking brown on one side. Do the best you can to flip as many as possible, but don't worry too much about getting every single one. Continue to fry the tofu, flipping them every couple of minutes, until the tofu is brown on all sides or as close to that as possible.

Lastly, in a large pan, toast the corn tortillas one or more at a time until they are light brown in a couple of spots and bubbles form. This will warm them and make them more pliable.

On each plate assemble the tacos by placing 2 to 3 tortillas on each plate and piling them high first with cabbage slaw and then with tofu.