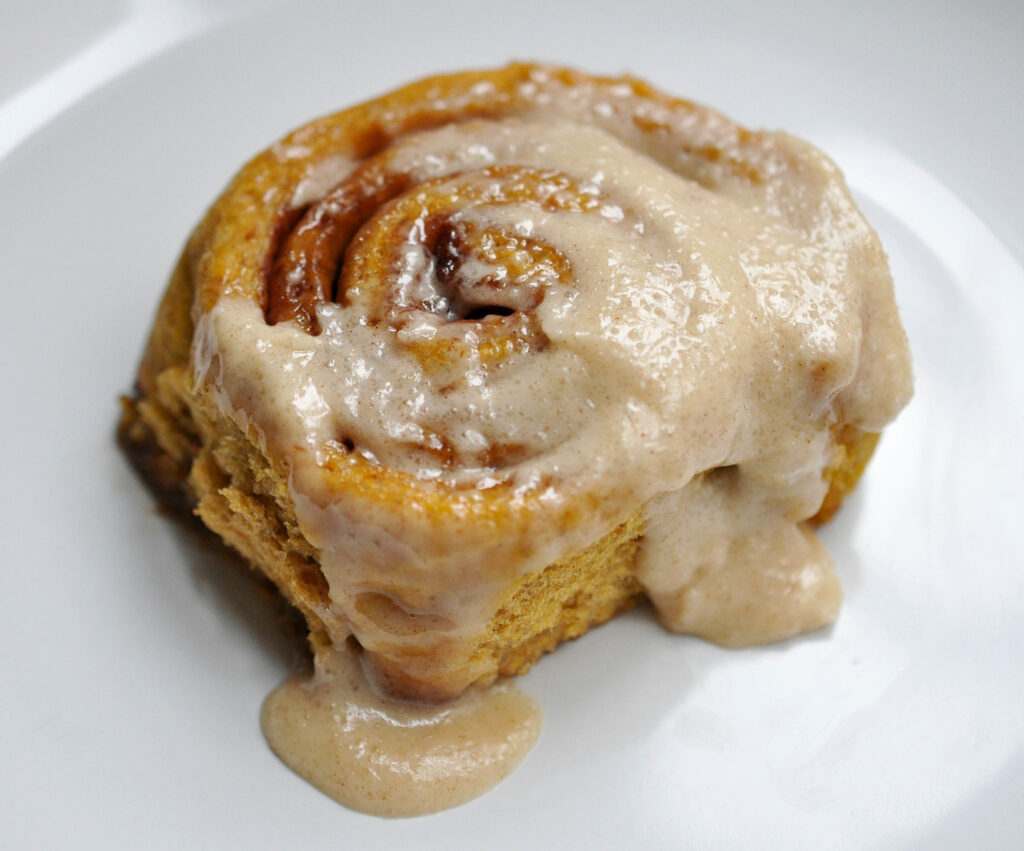 This recipe is from From Scratch.
My first book! From Scratch is a vegetarian cookbook intended for people just becoming comfortable in their own kitchens. Just like with Good and Cheap, the PDF is free. Print copies are a pricier than you might expect because this book is printed on demand (1 copy at a time).
You were looking for another Thanksgiving recipe, right? I'm pretty sure there aren't NEARLY enough of those around, so I thought I'd take it upon myself to help you guys out. Good thing I'm here or breakfast would be impossible, children would cry, it would be a mess. I give you, pumpkin cinnamon rolls (or as we say in Canada, pumpkin cinnamon buns)!
Okay so seriously I know the last thing anyone wants to do after the big day is cook, but hear me out. Thanksgiving is on a Thursday right? That means a 4-day weekend. That's 4 weekend breakfast opportunities. All I'm suggesting is that you make these cinnamon buns for one of those mornings. Plus, maybe you have a pesky half-can of pumpkin purée sitting around. I give you the perfect solution! Get the kids to help with sprinkling the sugar and rolling the buns into a snail.
Personally, I'm not one to get up at 6am to make fresh rolls so I made these Wednesday night, covered them and put them in the fridge. Then Thursday morning I set the oven to 350 F and warmed them up for 15 minutes. They were good as new! Another alternative would be to make them up to the point of the second rise and then leave them to rise overnight in the fridge very slowly. Then take them out of the fridge to come to room temp and finish rising, then bake them. Up to you. Okay, here's the recipe.
Tender pumpkin and spice pastry rolls filled with cinnamon sugar and topped with cream cheese icing.
| | | |
| --- | --- | --- |
| | | Tender pumpkin and spice pastry rolls filled with cinnamon sugar and topped with cream cheese icing. |
2

cups

all purpose flour

2

tsp

instant yeast

2

Tbsp

brown sugar

1

tsp

cinnamon

1

tsp

cardamom

1/4

tsp

nutmeg

(ideally freshly ground)

1/4

tsp

cloves

1/2

tsp

salt

1/3

cup

milk

2

Tbsp

butter

1/2

cup

pumpkin puree

1

large

egg
1/4

cup

butter

melted (1/2 stick)

1/2

cup

brown sugar

packed

2

tsp

cinnamon
1/4

cup

butter

room temperature (1/2 stick)

2

oz

cream cheese

room temperature

1

cup

confectioners sugar

1/2

tsp

cinnamon
Measure out the flour, yeast, brown sugar, cinnamon, cardamom, nutmeg, cloves and salt into a large bowl.

In a small saucepan or the microwave, warm the milk and butter until the butter is just melted. Add the milk mixture to a second bowl along with the pumpkin puree and egg. Whisk until smooth.

Slowly add the wet mixture to the dry mixture, mixing as you go with a wooden spoon or your hand. Use a spatula to scrape down the sides of the bowl as you go. Add a bit more flour if the dough is too sticky to form a smooth, round ball.

Knead the dough on a floured countertop for 5 to 7 minutes. Once the dough is elastic and smooth, place it in a lightly oiled bowl covered with plastic wrap and let it rise until it doubles in volume. This should take about 60 to 90 minutes.

When the dough has risen, punch it down and form it into a short log, which will be easier to roll into a rectangle. Dust your countertop with flour to keep the dough from sticking. Using a rolling pin, roll the dough into a rectangle about 1/4" thick.

Brush the top of the dough with the melted butter for the topping, then sprinkle with the brown sugar and cinnamon. Roll it up lengthwise like a carpet. Gently cut the roll into 12 rolls being carefully not to press down too hard to squish them.

Place the rolls in a casserole dish or baking pan and cover with a moist tea towel or plastic wrap. Let them rise for 45 minutes to an hour, until they have increased in volume by half.

Pre-heat the oven to 350 F.

Bake the rolls for 15 to 20 minutes, until they are puffed up and golden. I like them a little gooier—that is, slightly undercooked—so I usually pull them out at 15 to 16 minutes. If you like your buns a little firmer, (or properly cooked!) leave them for the full 20.

If you are making the frosting, use an electric mixer to beat the cream cheese, butter, sugar, and cinnamon together until light and fluffy. It should take 5 to 7 minutes. Once the rolls are room temperature, slather them with frosting and enjoy!
* If your yeast is really old and you're worried it might not still be active, test it first according to the package instructions.
You can also cover these and store them in the fridge until the following morning. Warm them up in the oven at 350°F for 10 to 15 minutes.