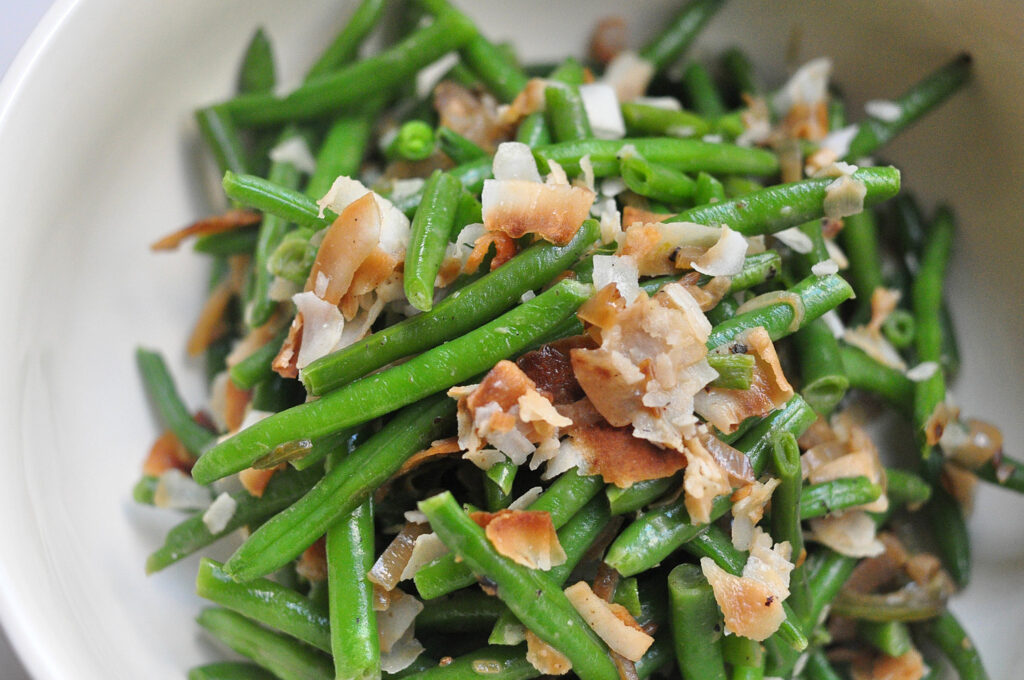 I just love green beans. I am always excited to find new recipes for them. This one is inspired by a long beans dish at Selamat Pagi, a fabulous Balinese restaurant in Greenpoint, Brooklyn.
It's warm and spicy from the jalapeño and sweet from the coconut and caramelized shallot. You'll love it.
This is more of a warm salad than a side dish but could work as either. You cook the green beans and coconut in the oven and then pour the warm dressing over it.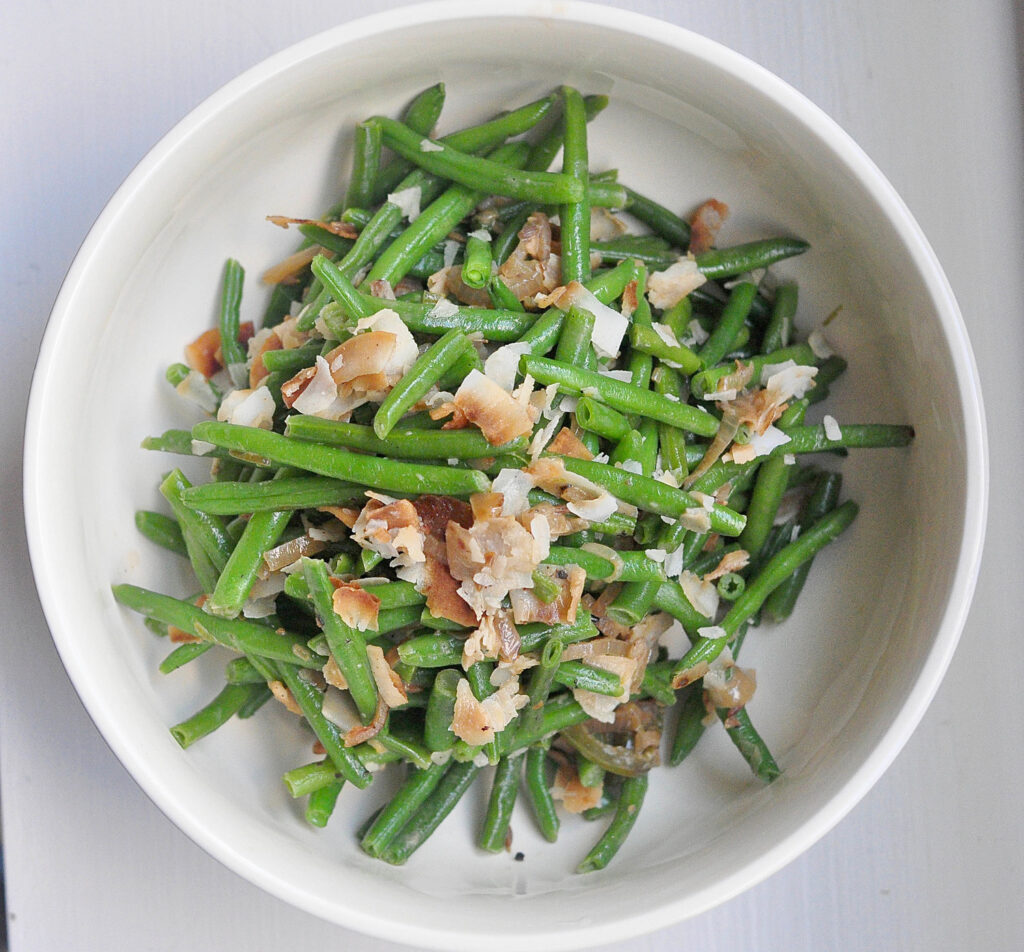 1 1/2

lbs

green beans

ends trimmed (fresh or frozen)

1/2

cup

coconut flakes

(unsweetened)

1

tsp

olive or coconut oil

2

shallots

finely sliced into half moons

1

jalapeno

finely sliced into half moons

1

tsp

cumin seeds

1/4

cup

coconut milk

Salt and pepper

to taste

1

lime

juiced and zested
Turn on your broiler. Dump your green beans onto a cookie sheet and distribute them evenly. Sprinkle the coconut flakes over the top. Get the big coconut flakes, not the finely shaved kind. You want them to have lots of surface area to get brown.

Add the oil to a pan on medium heat and let it get warm. Add your shallots and jalapeno. If you don't want the dish to be too spicy remove the seeds and white membranes from the jalapeno before you slice it up.

Let the shallot and jalapeno cook for about 3 minutes until they begin to brown a bit. Add a bit of salt to the pan, turn down the heat and add about 1/4 cup water to get some of the brown stuff off the bottom of the pan. Keep cooking, stirring occasionally until the shallots are a deep brown. Add water as needed to unstick the pan.

Once the shallots and jalepenos are brown and caramelized, add the cumin seeds, lime zest, coconut milk and some more salt and pepper. Let it cook for about a minute just to let everything come together. Turn off the heat and add lime juice. Taste it and adjust the salt, pepper and lime juice as you see fit. Set it aside.

Place your cookie sheet with green beans under the broiler. Watch it carefully. You want the green beans to soften and cook and the coconut to get nicely browned, but not burnt. Use an oven mitt and occasionally move the cookie sheet to make sure that the beans and coconut are getting evenly toasted. It will be fast! It took my broiler about 2 minutes to cook the beans and toast the coconut.

Take the beans out of the oven and shovel them into a large bowl. Cover them with the dressing and toss to coat. Serve warm.