About Leanne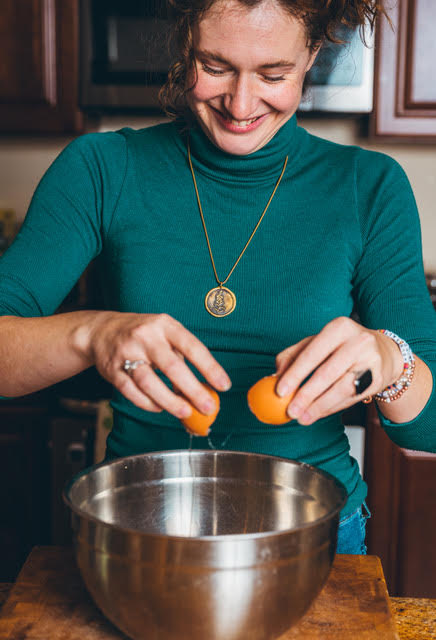 I'm Leanne Brown, your friend in the kitchen. I am a cookbook author and embodied cooking teacher. Do you love the idea of cooking more than the reality? Do you hold the belief that you are a bad cook? I am here to show you how to connect to the strength and ability that is already within you so you can become the easeful cook of your wildest dreams.
I believe with my whole heart that everyone can cook, but not everyone wants to cook. And that is okay! But if you want to, I am here for you. If you are ready, please sign up for my free newsletter and my embodied cooking club where I offer one live/recorded class a week for just $5/month. I will continue to offer more ways to support your journey so please check back often and stay in touch.
I know through direct experience that cooking is a magical place to learn about the self, explore creativity and develop self-trust and self-love which will spill out into the rest of life. But it wasn't until I found meditation, breath-work, and yoga that I put all the pieces together to share this practice of embodied cooking with you all. This is not just something I do, it can be taught! And it will transform the way you feel about yourself, your intimate relationships and your outlook on life. Combining breath-work, nervous system regulating skills, and focused awareness, cooking becomes a safe and transformative space for everyone to find ease, take care and explore yourself.
I live in Brooklyn with my daughter, Io. I moved to NYC from Edmonton, Canada in 2012 so I could pursue my Master's in Food Studies from NYU. I have written several cookbooks, the latest is Good Enough, about building self compassion through cooking. I also wrote Good and Cheap, a cookbook for people with very tight budgets, particularly those on SNAP/Food Stamps benefits. The PDF is free (ahora en Español!), and has been downloaded more than 15,000,000 times. I've been super fortunate to be recognized  through the Forbes 30 Under 30 list for Food and Drink, and Food & Wine and Fortune named me one of the Most Innovative Women in Food and Drink.
Please follow and connect with me on social media!