My 6 Favorite Kitchen Bargains
This recipe is from Good and Cheap.
Good and Cheap is a gorgeous cookbook for people with limited income, particularly on a $4/day food stamps budget. The PDF is free (ahora en Español!) and has been downloaded more than 15,000,000 times. I have more cookbooks, too!
When I talk about my cookbook Good and Cheap with someone who isn't on food stamps, the most common misconception I hear is that people with limited incomes can't possibly make some of the recipes — after all, surely they don't have (say) an immersion blender!
But in my experience working with low-income families, I've found that blenders, food processors, and electric mixers are actually fairly common; the bigger struggle is getting good food on the table consistently. Even so, there are no absolutes. In 2014, there were 46 million Americans on food stamps. Among 46 million people, there's every kind of person and every kind of situation you can imagine.
So this post is for everyone who has a gap in their kitchen setup, and a little money to fill that gap. I thought, "if I had less than $100 to spend on improving one of my readers' kitchens, where would I get the most bang for the buck?" I figured we'd skip the super obvious — a chef's knife, cutting board, and a set of pots and pans — and move on to stuff you might not have thought was affordable.
Please don't feel compelled to buy anything. After all, your great-grandmother didn't have any of these gadgets (except the cast-iron skillet). But when it's time to treat yourself, or maybe time to give a gift to a friend, consider the ideas below.
Disclaimer: Amazon pays me a small commission if you buy something after clicking one of the links below. However, this doesn't affect the price you'll pay — they just take it out of their profit. Also, prices vary day by day, so I've listed them as the ranges I've seen.

For the money, this is my single favorite kitchen tool. I use it pretty much every day to grate hard cheeses or whole spices like nutmeg, zest lemons and limes, and even shred vegetables like zucchini or fennel. By comparison, I only use my conventional box grater a few times per month.
(In Good and Cheap, I recommend buying hard cheeses like Pecorino Romano because they're so much more flavorful than more familiar cheeses. That means you use less cheese to get the same "amount" of flavor, which ultimately saves money even though you're using pricier cheese. Pecorino is similar to Parmesan, but stronger and usually less expensive.)
I read a funny story a few years ago: apparently the Microplane was originally designed for woodworking, not cooking. Who knew?

Instead of steel, the blade on this fantastic little knife is ceramic. That's why it's white. It's much, much sharper than any affordable metal knife, and never needs sharpening.
The only real downside is that ceramic is brittle, so you have to be careful not to drop the knife, otherwise it can chip or even break. (I've never broken mine, but my mom snapped the tip off hers after a couple of years.) They also come in different colors for only a small amount more. Mine's red!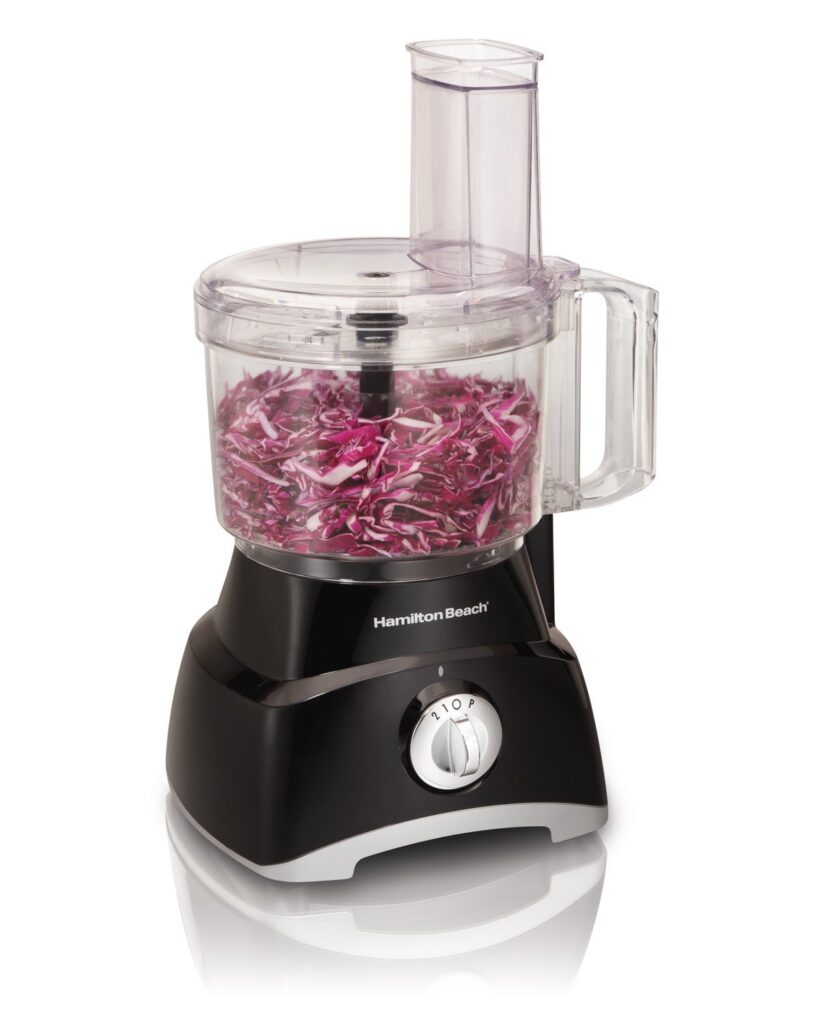 You don't need a blender and a food processor, just one of the two. If you already have a blender and you're short on money, just stick with it!
But If you're buying something new, I prefer a food processor because it's better at completely pulverizing hard food like nuts. When I got a food processor, I donated my blender to a friend.
Honestly, I don't think it's important to get a good food processor or blender. Here, I just picked the least expensive model with good reviews — so I haven't used this one myself. I have a 7-year-old KitchenAid that was twice the price but gets worse reviews.
Several readers who cook for just 1 or 2 people have recommended a Cuisinart Mini-Prep instead because it's small, light, easy to clean, and just a few bucks more at $32. It might be a bit too small to make, say, two large smoothies, but otherwise should get the job done nicely. (The Mini-Prep doesn't come with as many blades as a full-size unit, but the standard chopping blade is the only one I ever use anyway.)
Blenders are pretty common at thrift stores (and sometimes you can find food processors, too); if you see one in good shape for $10, buy it instead of what I've linked here.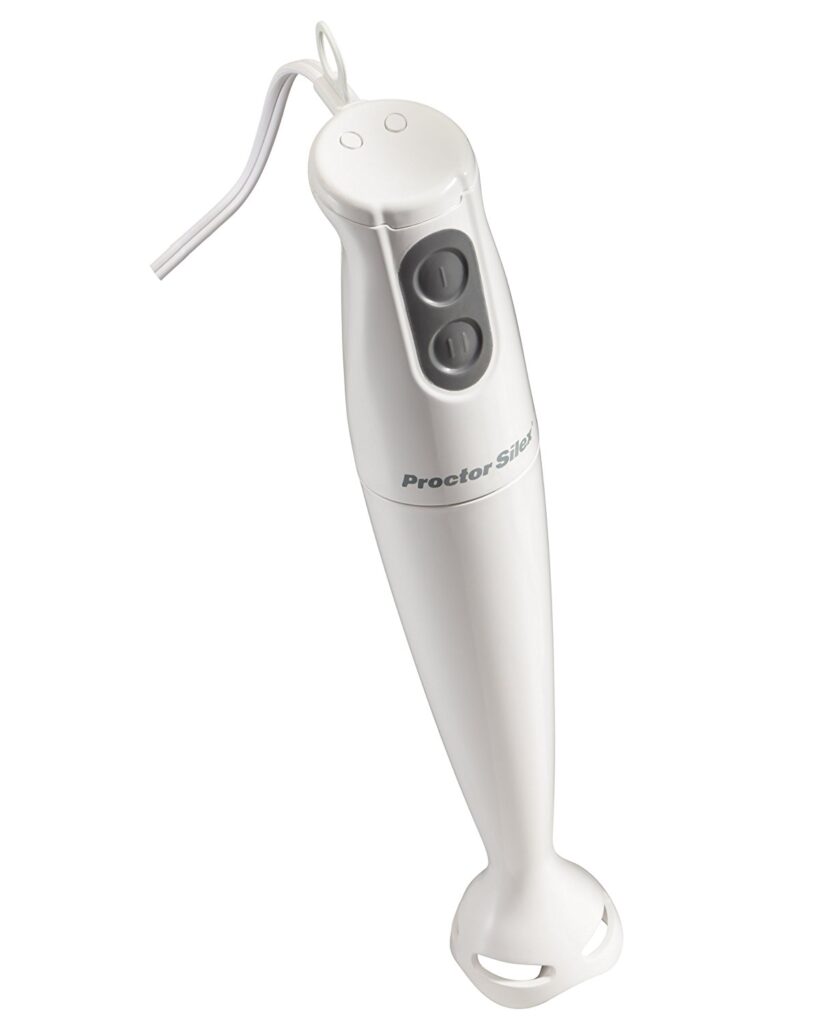 Like countertop blenders and food processors, I think immersion blenders (used to make soups and purées) are basically all the same. Well, not the same, but all good enough for the purpose.
Sure, you can get a really nice immersion blender for $35, but the one I have looks like this basic $15 model. Mine is old and yellowed, but it still works great, so I can't tell you to spend any more than this!
You'll notice that this one only has a 3.5-star average rating, but if you read the 1-star reviews, you'll see they're all from people who were trying to make soap. So don't use it to make soap! Only soup.
Hmm, business idea: t-shirts that say MAKE SOUP, NOT SOAP.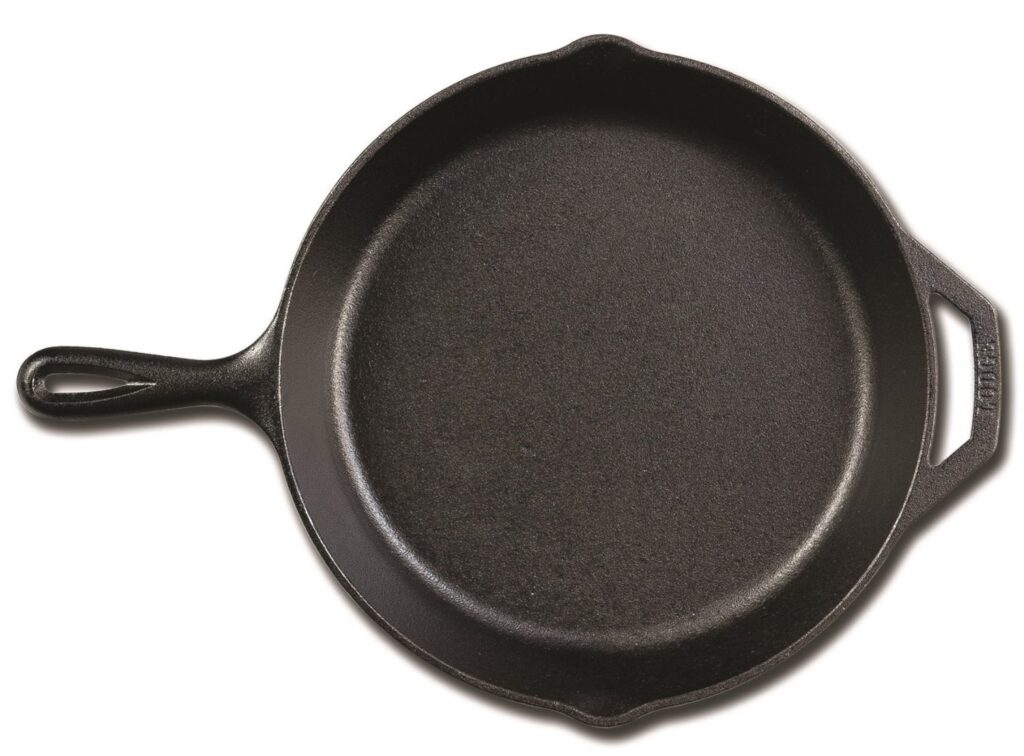 There are a few reasons cast-iron skillets are back in fashion:
they last forever
they're much less expensive than nonstick pans
they hold heat amazingly well
they can go straight into the oven
With my crustless vegetable quiche, for example, if you sauté the onions in a cast iron pan, you can make the rest of the quiche right on top and put the whole thing in the oven. Fewer dishes!
On the other hand, cast iron is really heavy, and it has special cleaning instructions (not hard, just unusual).
Again, check thrift stores (or antique shops, or the back of your grandparents' garage) for even better deals than this — 80-year-old cast iron is arguably better than new.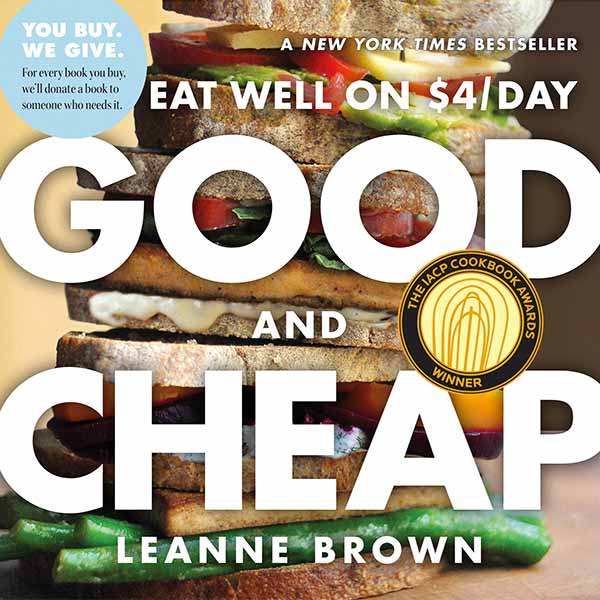 Ha ha, just kidding! You don't really need to buy my book. After all, the PDF is free (ahora en Español!), and thanks to my generous supporters, we've shipped more than 211,000 copies of Good and Cheap to organizations that work with low-income families. Maybe you can find a copy in your community! (Then again, 211,000 copies is just 0.5% of SNAP recipients, so we have a long way to go.)
If you're having trouble making ends meet, I'd rather you spend that $11 on a few days of groceries!
Of course, if you want to buy my book, I'd be honored. 🙂
And my publisher would be happy, too.
TOTAL: $78-$110 (or $88-$122 with Good and Cheap)