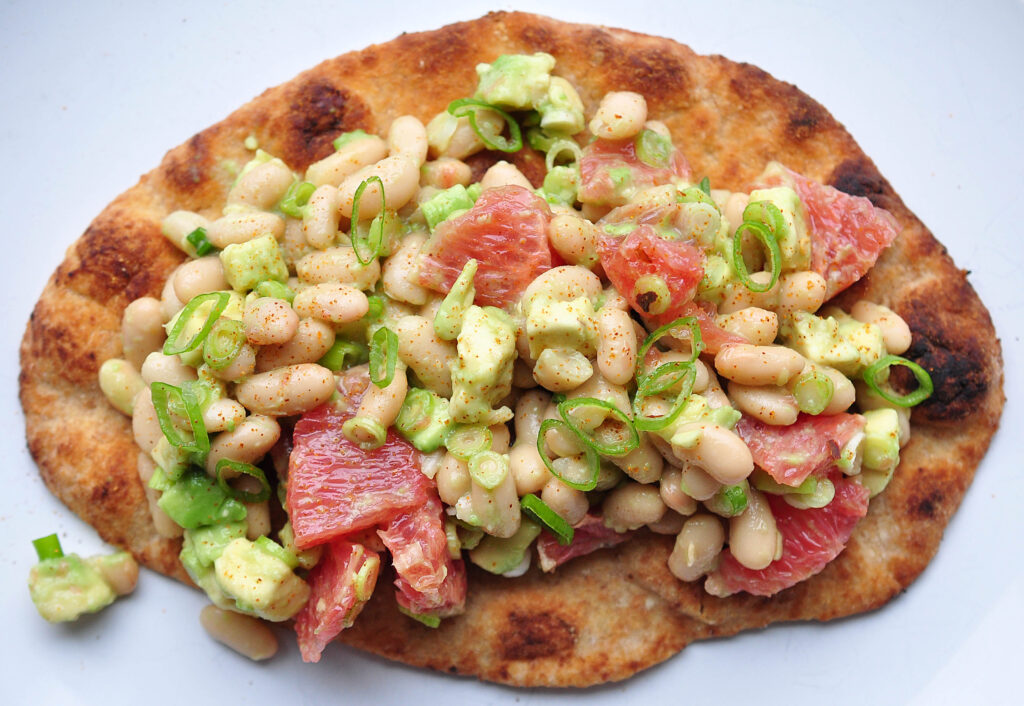 Another quick lunch idea I thought I'd share. This is a cold salad on top of warm toast (well naan bread in my case, but use what you have on hand). With the cold weather, I've been pretty uninterested in eating anything cold lately, but this had a warm enough overall vibe to be appealing even on a dreary, rainy winter day. Avocados and grapefruit have both been on mega sale lately so I have quite a few hanging around. The avocados are perfectly ripe and I am feeling pressure to eat them before they go off. So today I thought I'd make an extra fancy avocado toast by combining tangy grapefruit and creamy, savory white beans with the avocado.
If grapefruit isn't your thing, you could definitely make this salad with oranges instead. The oranges will make it a little sweeter and a little less bitter.
This combination might seem strange, but avocado and citrus are great together! What is guacamole without lime juice? Also, because of the juicy grapefruit you don't need a dressing here since the juice, salt and soft avocado all combine to form a kind of dressing in the bowl as you mix it.
As you can see from the photograph, I had this on a big piece of Naan since that's what I had around, but crunchy toast would be perfect. I hope you enjoy this creamy, tangy tangle of green and pink—it's like a burst of sunshine.
1

avocado

1

grapefruit

1 3/4

cups

white beans

drained (canned or cooked from dried)

1/4-1/2

tsp

salt

1-2

scallions

chopped (optional)

4

slices

bread

toasted (or use naan bread or flatbread like I did!)
Cut the avocado in half and remove the core with your knife. Using a pairing knife make 5 or 6 long incisions in the avocado all the way from top to bottom, running the knife through the flesh of the avocado until you hit the skin. Then do the same incision 6 to 8 times horizontally. You should now have a criss-cross pattern on your avocado. Now use a spoon to scoop the avocado flesh from the skin. As you remove the flesh it will fall away into little square pieces.

Cut the grapefruit in half along its equator. Place each half flat side down on your cutting board. Cut off the top peel of one half and then carefully cut the peel away along with as much of the white pith as you can, following the contours of the round fruit so you don't accidentally cut away too much fruit. Once you've cut away all the peel, slice in half again through the centre removing any white pith in the centre and any seeds. Cut each quarter into approximately 6 small wedges. Repeat with 2nd half of grapefruit.

In a mixing bowl add the avocado, grapefruit, white beans, and scallions if using and mix to combine. Sprinkle 1/4 tsp salt, mix and then taste. Add another 1/4 tsp or more according to your taste.

Toast your bread or naan bread or flat bread until crispy and brown.

Top your toasts generously with the avocado salad and eat with your hands or a knife and fork.