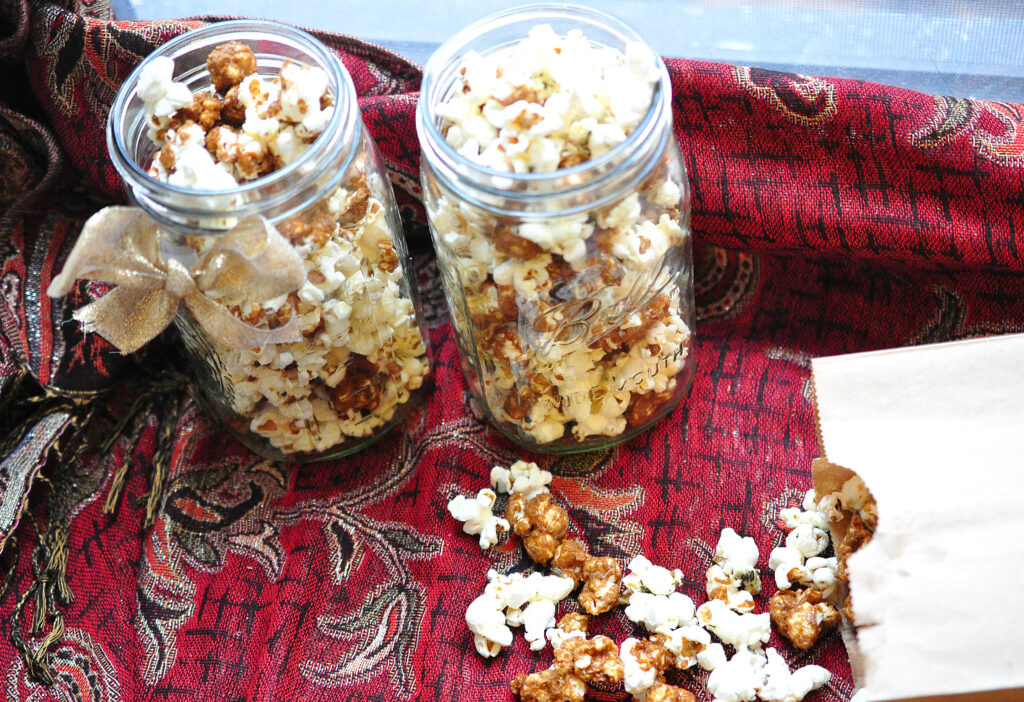 You guys probably know how I feel about popcorn at this point. So I'm sure it won't surprise you that I like making special popcorn around the holidays. It's such a great gift to bring to a party or for those people in your life who are hard to buy for.
Toss it in a bag with a little ribbon and you're golden.
I've made caramel corn for years, sometimes with nuts, sometimes with chocolate, sometimes with a little hot pepper powder.
This year my caramel corn is inspired by my visit to Chicago! Cheddar cheese popcorn and caramel corn IN THE SAME BAG. Like seriously this is a very big thing. It's everywhere. And it's delicious.
Inspired by Chicago and my own love for savoury snacks I made caramel corn that is half classic caramel (well an extra dark caramel cause that's how I roll) and half rosemary and parmesan. I hope you'll give it a try! It' looks really pretty in clear bags or jars.
Sweet and Savory popcorn perfect for a holiday host/hostess gift.
| | | |
| --- | --- | --- |
| | | Sweet and Savory popcorn perfect for a holiday host/hostess gift. |
3/4

cup

popcorn kernels

2

Tbsp

neutral oil

(like vegetable or grapeseed)
1/2

cup

butter

(1 stick)

1

cup

dark brown sugar

1/4

cup

corn syrup

1/2

tsp

salt

1/2

tsp

vanilla

1/4

tsp

baking soda
1/4

cup

butter

1

tsp

salt

black pepper

to taste

1/4

cup

parmesan or romano

very finely grated

1

Tbsp

rosemary

finely chopped
Place a large pot with a tight-fitting lid on the stove. Pour in the vegetable oil, then the popcorn kernels. Put the lid on and turn the heat to medium.

Using pot holders or oven mitts, occasionally shake the pot from side to side to make sure the kernels are evenly distributed in the oil.

Once the popcorn begins to pop, turn the heat down to medium-low and gently shake again. Once the popping slows down to 5 to 10 seconds between pops, turn the heat off. Wait until you're sure the corn has stopped popping and remove the lid.

Separate the popcorn into 2 portions, one in a large bowl and the other in a baking tray.

To make the caramel topping, heat the butter, sugar, corn syrup (yes I know corn syrup is awful, but it's not much, and it is important to keep the caramel from crystallizing, also who are we kidding this is caramel corn!) and salt in a medium-sized pot on medium heat. Once it comes to a boil, whisk vigorously for 2 to 3 minutes (to keep it from burning). It should be dark brown, glossy and fairly thick. Now add the vanilla and whisk. Then sprinkle the baking soda over the sauce and whisk. It will bubble and become fluffy kind of like sponge candy.

Quickly pour the caramel all over the popcorn in the baking tray and stir it around, coating as many pieces of popcorn as possible in the caramel. It doesn't have to be perfect though, it will get coated more in the next step.

Bake the popcorn in the oven for 30 to 45 minutes, removing every 15 minutes to stir to coat more kernels in caramel. This low heat will melt the caramel just a bit, allowing you to fully coat the popcorn in caramel without having to mess with a candy thermometer.

While the caramel corn bakes, prepare the savoury popcorn. It's quicker!

Melt the butter in the microwave or a small pan. Dump the finely chopped fresh rosemary into the butter along with a bit of black pepper and salt. When grating the Romano, try using the pointy side of the grater to create a very fine powder that will adhere to the popcorn best!

Pour the rosemary butter onto the popcorn and toss. Add a little cheese and toss. Repeat until you have used up all the butter or have the desired coverage.

Once your caramel corn is ready, mix it together with your rosemary popcorn and serve.