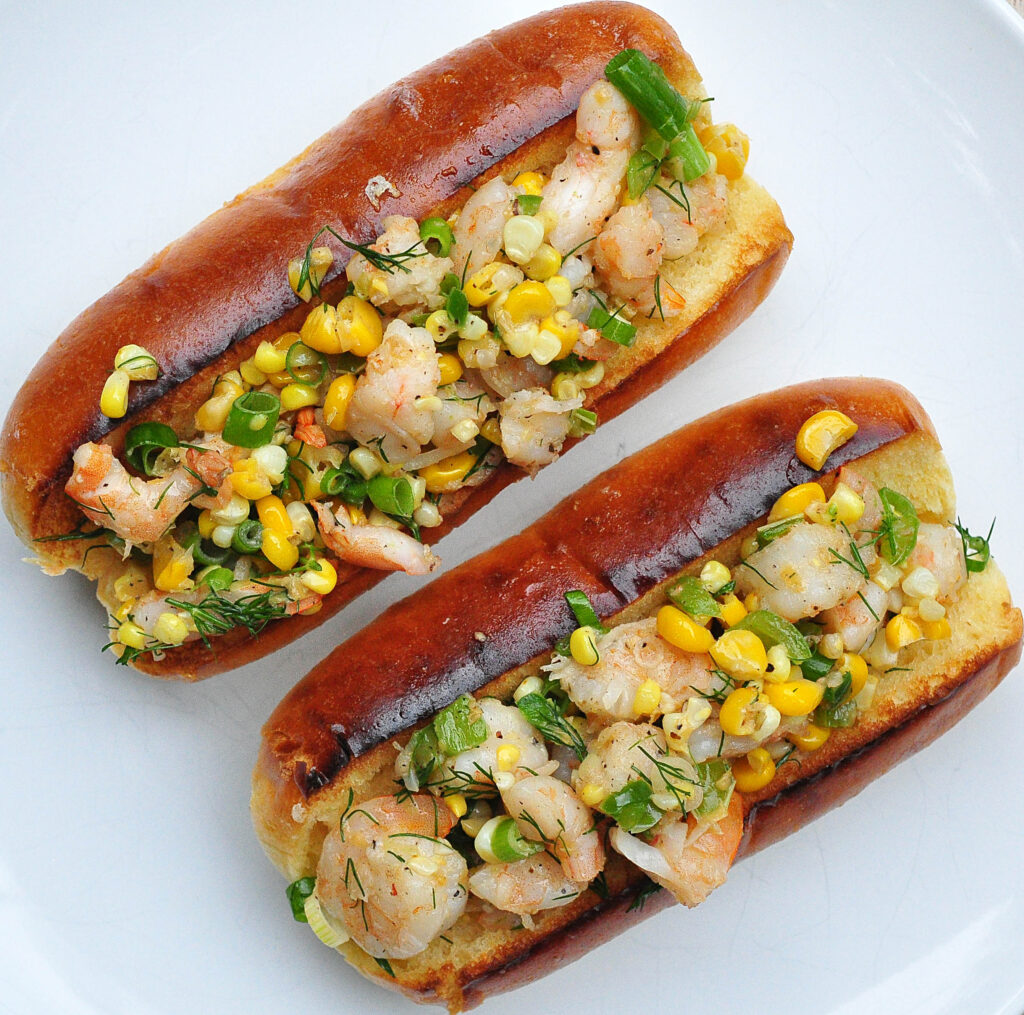 It's the summer, it's beautiful and we're celebrating 2 years since the Good and Cheap Kickstarter ended … and we just donated our 70,000th free cookbook! So let's make some decadent shrimp rolls!
But first, the free PDF has now been downloaded 1 MILLION TIMES. If you haven't seen it, grab a copy here.
If you'd like to see where the book is making a difference in your community, click here to see our interactive map of all 1,350 organizations that have received free or discounted copies.
Huge, unending thanks to everyone who made this possible — the Kickstarter backers, Workman Publishing, our distribution partner Access Wireless, and all of you who spread the word (and who spread the book itself). You've changed my life, and we've changed a lot of other lives together. 🙂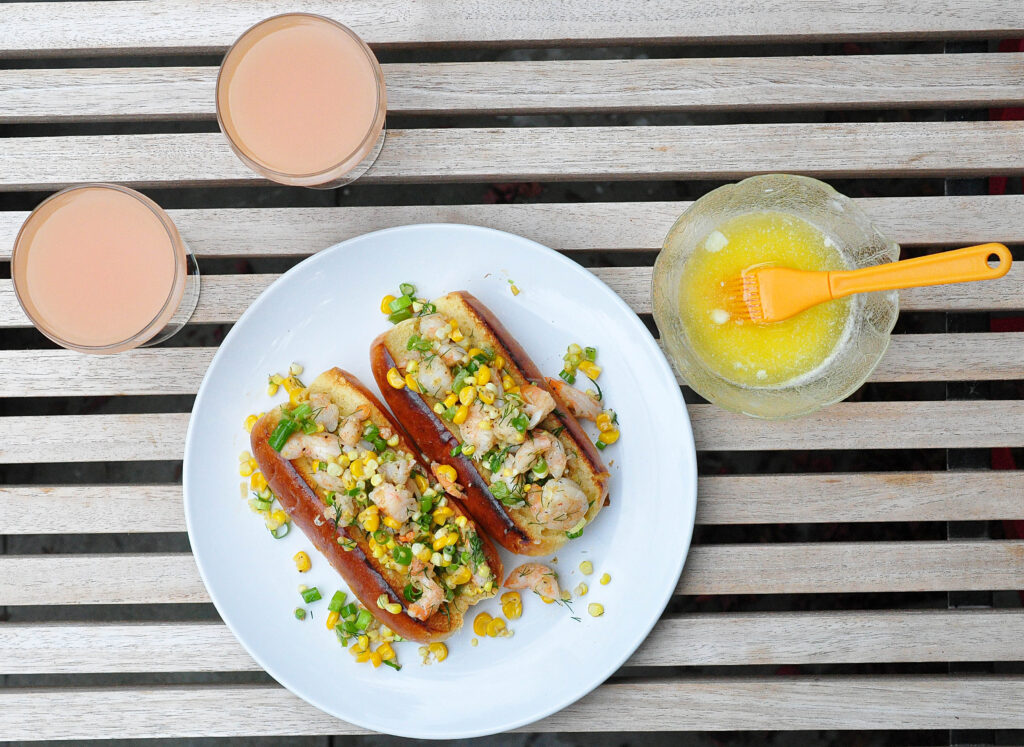 I've been craving lobster rolls lately and have been seeing them everywhere. Sadly, I haven't been able to get any lobster that is good enough and not ungodly expensive so I figured I'd do shrimp rolls! These are different than the classic New England version. They are of course very decadent and rich tasting with a strong buttery taste. I nixed the celery and mayonnaise and added sweet corn and bell pepper and of course I couldn't resist adding jalapeño. If the shrimp is too expensive for you, you could also use more corn and less shrimp and this would still be just delicious.
To further celebrate, we paired these delicious rolls with my new favorite drink, a grapefruit juice and rosé cocktail that's a play on the Mimosa from the wonderful Kat Odell. Even better if you can get sparkling rosé.
So whether you have something to celebrate or you're just feeling grateful to be alive (I hope you are!) please join me in raising a glass and roll!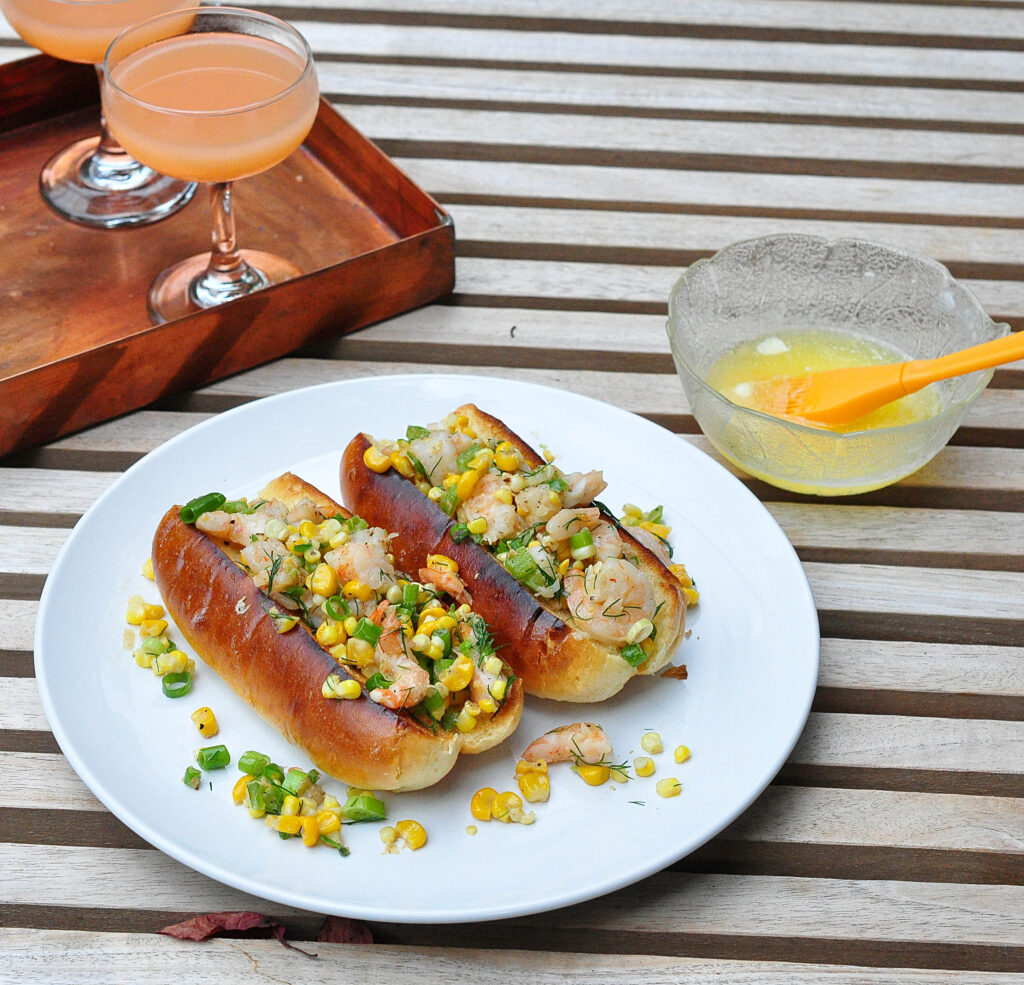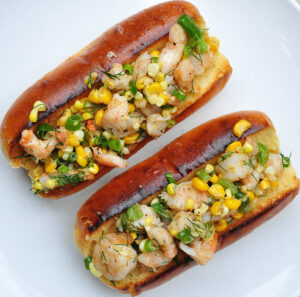 Garlic butter brushed hot dog rolls full of buttery shrimp, corn and dill spiked vegetables.
| | | |
| --- | --- | --- |
| | | Garlic butter brushed hot dog rolls full of buttery shrimp, corn and dill spiked vegetables. |
5

Tbsp

butter

2 to 3

cloves

garlic

1

lb

medium shrimp

frozen, uncooked, tail-on

1

cup

corn kernels

fresh or frozen

1

green bell pepper

chopped

1/2

jalapeno

finely chopped (optional)

3

scallions

finely chopped

2

Tbsp

dill

chopped

Salt and pepper

to taste

1/2

lemon

juiced

6 to 8

hot dog buns
Melt 4 Tbsp of butter in a small bowl in the microwave for 30 seconds.

Grate the garlic using the most finely grained grater you have (I used my microplane of course!). Add the garlic to the butter and stir. Set aside.

In a pan on medium heat, melt the last tablespoon of butter. Add half the frozen shrimp to the pan, sprinkle with a little salt and cook undisturbed for 3 minutes. It should release quite a bit of water. After 3 minutes they should be pink on one side and maybe beginning to be pink all the way through. Flip the shrimp over and cook for another 2 minutes, just until they are pink all over and curled up. Taste and add more salt if needed. Using tongs or a slotted spoon, remove the shrimp from the pan into a bowl. Keep the pan on the heat with the leftover butter and shrimp juice and add the rest of the shrimp and cook in the same way as the first batch. Remove to the bowl to cool.

Keep the pan on medium heat and don't clean it out. You want the shrimp juices and butter! Add the corn, bell pepper, and jalapeño (if using) to the pan and cook, stirring occasionally for 3 to 5 minutes, just until warm and the vegetables are tender. Add the white parts of the scallions into the pan for the last minute or so of cooking. Turn off the heat and leave everything in the pan.

Wait until the shrimp is cool enough to touch (hopefully it should be cool enough since it's been sitting while you cook the vegetables). Pull off the tails of the shrimp, making sure to not leave behind too much delicious tail meat. Toss the tails.

Now, you can use the shrimp whole or chop them up a bit. I like to chop them into about 3 pieces per shrimp so that they are a bit easier to spread on the bun and so they are closer to the size of the vegetables. But if you want big chunks that is totally up to you. Do what you like best.

Add the de-tailed (winky face) shrimp back into the pan and sprinkle salt and pepper over everything. Cook for about a minute until warm. Turn off the heat and scrape everything in the pan into a large bowl. Add the green parts of the scallions and the dill and lemon juice. Stir. Taste and adjust with salt, pepper, dill or scallions as you like.

Now, you can let the shrimp salad rest in the fridge until you are ready to eat, but I like it a little warm so I try to work quickly with preparing my buns after I get it off the heat. Up to you if you like it warm or cold though.

For the buns, turn on the broiler. Brush the inside of your hot dog buns with the garlic butter generously. It's traditional to use the New England style buns that have the slit in the top instead of the side, but a side slit will not hurt you. Lay the buns open and as flat as possible on a baking tray under the broiler. Watch carefully until the buns are just beginning to brown. Be careful not to burn them! Get them as toasty as you like.

Heap each bun with shrimp salad and serve! Feel free to drizzle a little leftover garlic butter overtop for extra decadence.
Tip: This recipe makes 6 or 8 rolls depending on how heavily you pile your shrimp salad. I got 6 out of it because mine were overloaded, but you could get 8 if you were being a bit more careful. You can always add a bit more corn or bell pepper to stretch it further.