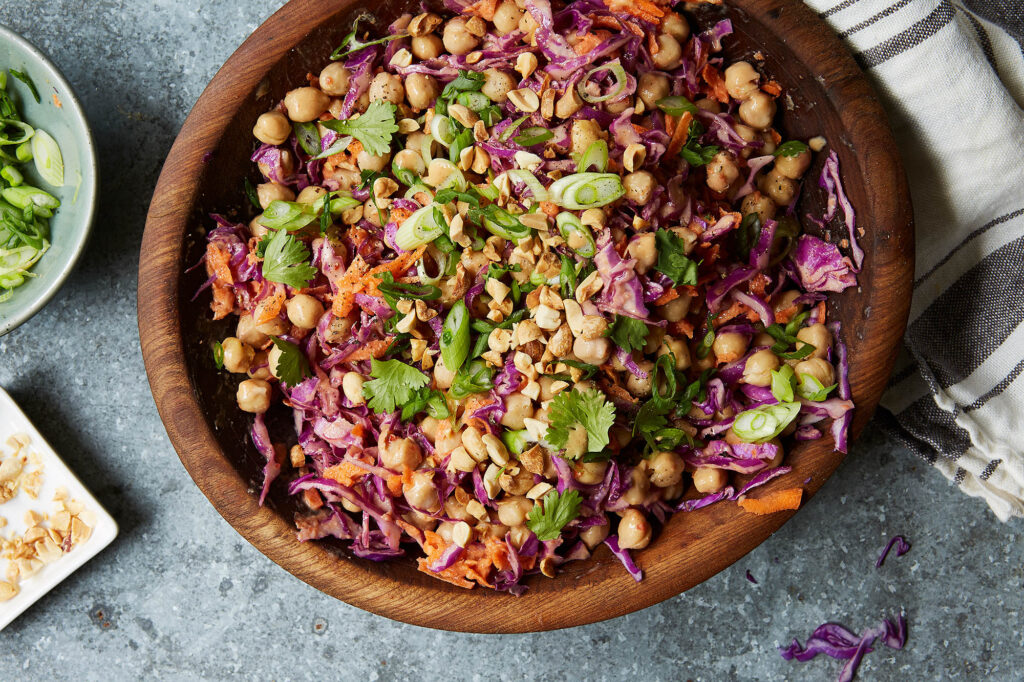 Here's a repost of an article and recipe I shared on Food 52. Thanks to Alpha Smoot for the beautiful photo!
You know that feeling when dinnertime is near, but you have no plan, and no time to trudge to the grocery store? Maybe you're thinking, "Yeah, that is every night of my life lady—what's your point?" Me too guys, me too. Let's explore how to make a delicious meal when you thought you had nothing.
Today, we're starting with chickpeas. If you want bang for your buck, buy them dried and boil them in large batches. Once cooked, they keep well in the fridge or freezer in their cooking liquid. Canned chickpeas also work, they just come at double or triple the cost (still an excellent value, just not uber-cheap). Use whichever form suits your values and lifestyle—one is not better than the other.
Okay what's next? We need some flavor and color and oh, what do we need to use up before it goes off? Vegetables! If you were making this salad in the summer, you might grab cucumbers and tomatoes, but it's February so we've got red cabbage, carrots, scallions, and a very wilted bunch of cilantro. Let's shred them for maximum flavor distribution.
My go-to dressing here is a play on peanut sauce made from pantry staples. The base is peanut butter and a squirt of chile paste thinned out with lime juice and water. With the shredded carrots and cilantro, this was heading in a Vietnamese direction, so I added a squirt of fish sauce for fun. If you want a more truly peanut-saucey vibe you can add a dash of brown sugar or honey.
Play with the dressing: If you have a different kind of nut butter on hand, use that. You can use tahini instead of peanut butter, lemon instead of lime, and skip the chile sauce or add mustard or spices.
This salad, which will cost you between $7 and $10 to put together, contains multitudes. So start exploring your own taste and pantry. Please share any changes you make in the comments.
A versatile, hearty meal-worthy salad based on chickpeas and tossed with a nutty dressing. This wintery version involves cabbage, carrots and scallions!
| | | |
| --- | --- | --- |
| | | A versatile, hearty meal-worthy salad based on chickpeas and tossed with a nutty dressing. This wintery version involves cabbage, carrots and scallions! |
1/4

cup

peanut butter

1

Tbsp

sriracha or sambal oelek

2

limes

juiced (about 1/4 cup juice)

1

Tbsp

fish sauce

(optional)

salt

to taste

water

as needed
2

cups

dried chickpeas

or 2 cans chickpeas, drained and rinsed

1 1/2

tsps

salt

1

small

red cabbage

shredded

2

large

carrots

shredded or grated

1/3

bunch

scallions

chopped

cilantro

to taste (optional)

peanuts

chopped (optional)
Cook the chickpeas (skip this step if using canned chickpeas): Rinse the dried chickpeas and let them sit submerged in cold water for a few minutes. Pick out any chickpeas or random bits that rise to the top and discard. Drain the rinsed chickpeas and place into a pot along with the salt and cover with at least 4 inches of water above the line of chickpeas. Bring to a boil on high heat, then turn the heat to low and maintain a gentle simmer. Check on the beans every half hour or so, making sure to keep them covered with water if it boils away. Cook for 1 1/2 to 3 hours, until the chickpeas are soft and cooked through. To lessen the simmering time, you can soak the chickpeas in water overnight, which can cut down on cooking time by an hour or more. Once chickpeas are cooked, store them in their cooking liquid, but drain them before adding to salad.

In a large bowl whisk together the peanut butter, sriracha or sambal oelek, lime juice, fish sauce (if using), and a sprinkling of salt. If you have it around and think the dressing could use a more salty hit, add a teaspoon or so of soy sauce and taste. At this point, the dressing will still be fairly thick and sticky, so drizzle a bit of water in and whisk. Keep adding water and whisking until you have a pourable dressing. Taste and add more salt, lime juice, or peanut butter to your liking.

In the bowl with the dressing, add the chickpeas, shredded cabbage, and carrots and toss it all together with tongs until everything is coated.

Pile it into bowls and top with scallions, chopped cilantro, and peanuts if desired.
Note: If you are cooking the chickpeas from dried, consider doubling or even tripling the batch you are making and store the cooked chickpeas for later use in the fridge or freezer. They store very well, and cooking in big batches is much more efficient since it takes no more time.