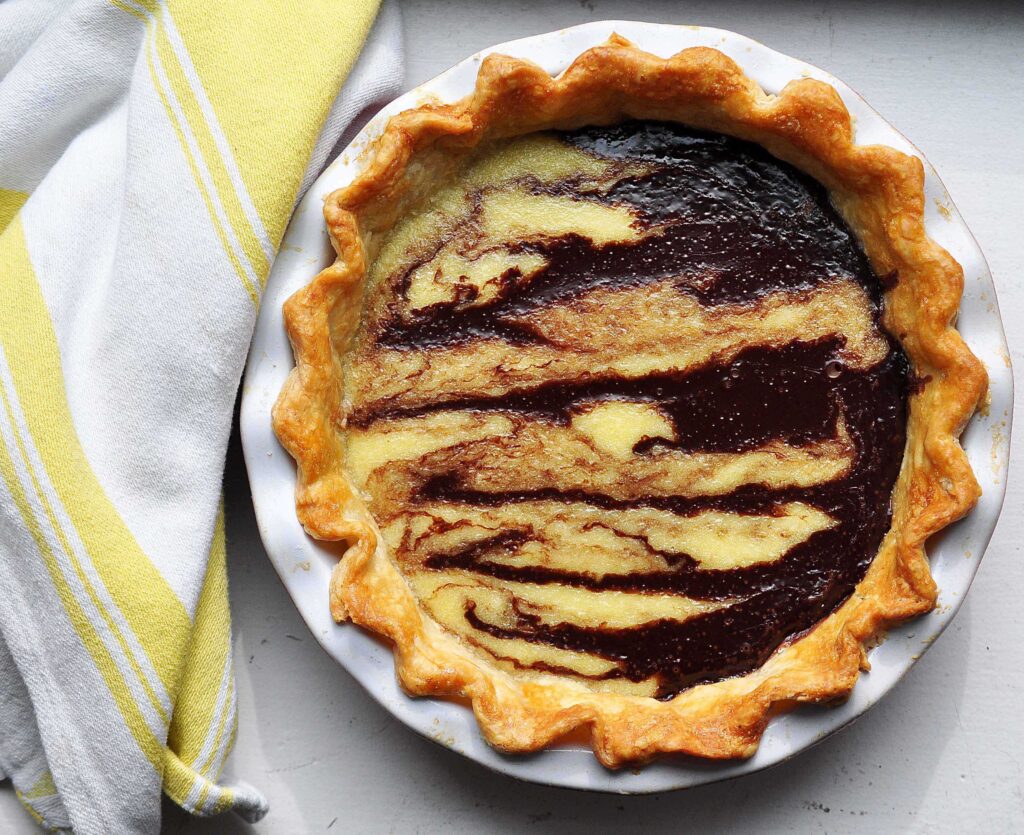 Sometimes I really crave complex baking projects. I love dreaming up a new combination of flavors or textures and spending tons of time researching. I often don't share the results of these little journeys because they are too complicated and specific to my weird taste to bother you guys with. But sometimes I end up with something worth sharing and that's even more exciting. This chocolate coconut swirl pie is just that. If you make this beauty you'll definitely want to display it with pride, it's quite a looker.
Admittedly this is not the simplest recipe I've ever written, but most of the work is actually in making the pie crust so if you want to skip the pastry steps and just get a pre-baked shell or substitute a graham cracker crust the filling itself is a breeze. I also think this would be amazing with a coconut macaroon crust. I'll try that next time.
I wanted a chocolate coconut pie with a rich custardy filling rather than a fluffy creamy pie like the usual chocolate or coconut pie. So the filling is basically a rich baked custard like a pot de créme. Pot de créme are a super rich, dense, smooth and perfect french version of pudding. This recipe uses coconut milk rather than the more traditional cream for maximum coconut flavor and it works beautifully.
I chose to create one base coconut filling, split it into two, then stir chocolate into one half and coconut flakes into the other. Then I poured each filling into one half of the pie shell and swirled them around to create a marbling and mingling of flavors without just creating a brown mess. The method worked for me, but if you think of a better way please let me know.
Okay bye, I'm going to eat another slice now!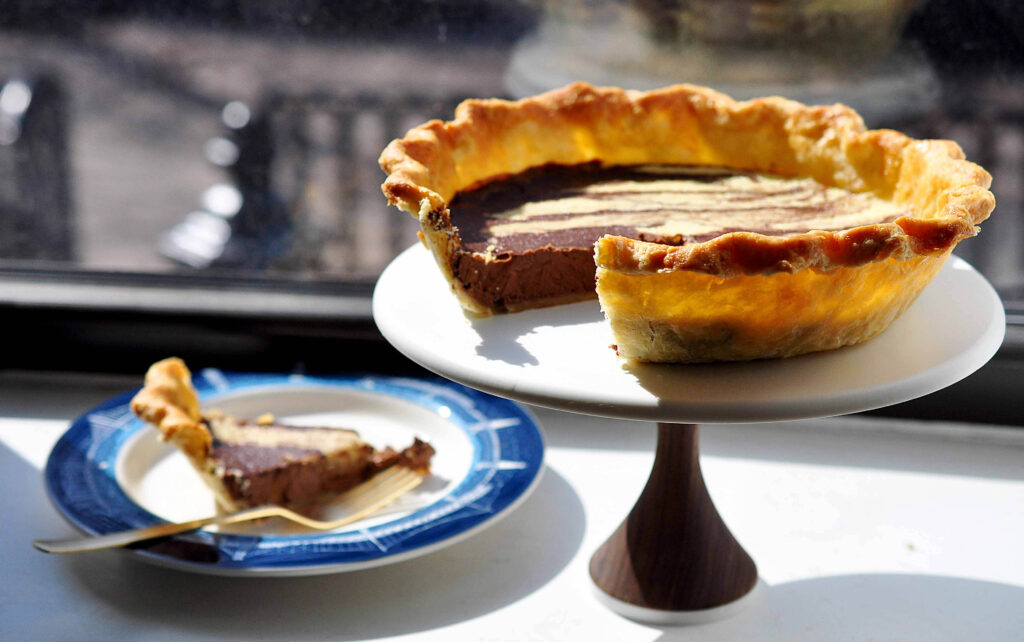 A rich chocolate coconut pot de créme style swirled and baked into a crispy pate brisée pie crust. A rich and decadent dessert that is not too sweet.
| | | |
| --- | --- | --- |
| | | A rich chocolate coconut pot de créme style swirled and baked into a crispy pate brisée pie crust. A rich and decadent dessert that is not too sweet. |
1/2

cup

butter

1 stick

1 1/4

cups

all purpose flour

1/4

tsp

salt

1/4

cup + 1 Tbsp

milk or water
Coconut and Chocolate Filling
1

13.5 oz can

coconut milk

full fat only

1/3

cup

sugar

4

large

egg yolks

pinch

salt

1/2

cup

shredded coconut

unsweetened

3

oz

dark chocolate

1

egg

for egg washing the pie crust
Freeze the butter for 20 minutes minimum, but an hour is better.

In a medium-sized bowl add the flour, salt and sugar and stir a couple of times to combine it all. Take the butter out of the freezer and use a box grater to grate the butter.

Use the side with the largest holes like you would for cheese for nachos. You want bigger curls of butter, not teeny tiny fragments. Grate it as quickly as you can because your hands give off heat and you don't want the butter to melt at all.

Quickly add the butter into the bowl with the flour mixture and crumble it up with your fingers for 15 to 20 seconds. Add half the water and mix it quickly with your hands. Add the rest and mix again, then quickly and confidently bring the dough together into a ball. It does not need to be perfect, just make sure the dough all comes together into a lump without excess flour everywhere. Use a few more drops of water if you need to. Sometimes a drier climate can change the amount you need. Once it has come together, quickly shape it into a disc and take your hands off it. Cover it with plastic wrap or a moist towel and place it in the fridge for 20 minutes.

Sprinkle a clean, dry surface with flour and place your dough in the centre. Now roll it out with a rolling pin, gently press the rolling pin down and straight in front of you to flatten it. Once you have rolled it out a few times, turn it 90 degrees and flip it over and roll again. If it is sticking to the surface you are rolling on, sprinkle some more flour underneath it and on top. Continue with the rolling, turning it 90 degrees and flipping it technique until it is rolled out to about 10-12 inches in diameter.

Transfer the rolled out dough to a 9-inch pie plate, pressing it into the bottom and letting any excess dough hang down the sides. You want about 1/2 inch of excess pastry hanging all the way around the rim. Trim away any pieces that are longer. Use your fingers in a pinching motion to roll excess dough up to create an edge on the lip of the pie plate. Squish this down with your fingers or a fork to create a rim around the lip of the pie. Alternatively, use a pinching motion to crimp the edge. If you are a bit mystified by this process check out this pie crimping video tutorial by my friend, Nicki Sizemore.

Refrigerate the pie dough in the pie plate and set the oven to 375 F. Once the oven is ready you are going to blind-bake the crust. We need to partially cook it because our filling will take less time to cook than the pastry, so we want to give it a head start.

Cut out a square of parchment paper large enough to cover the inside of the pie dish and come up the sides with excess paper. Place the parchment over the pie crust in the dish and fill the paper with dried beans or rice or lentils. Any kind of hearty dry good will do. This will weight down the crust to keep it from shrinking.

Bake the crust with the dried beans in it for 25 minutes. Meanwhile, make the coconut and chocolate custards.

In a small pot on medium heat, whisk the coconut milk and sugar together and bring to a low boil.

In a medium metal (or heatproof) bowl add the egg yolks and pinch of salt. Whisk for about 30 seconds to combine.

Take the hot coconut milk off the heat and pour just a few drops into the egg yolks, whisking briskly. Wait a moment, then add a few more drops of coconut milk mixture and whisk. Slowly pour the coconut milk mixture a bit at a time into the egg yolks, whisking between each addition. You want it to combine into a lovely, bright yellow, thick custard but don't add the hot coconut milk too quickly or it will scramble the eggs.

Once all the coconut milk and sugar is incorporated into the egg yolks, pour out 1 cup (this is exactly half the custard) worth of the mixture into a large cup or bowl.

Warm the chocolate in the microwave (or on low heat in a pan on the stovetop) until just melted.

To one cup of coconut custard add the chocolate and whisk until combined. To the other cup add the 1/2 cup of coconut shreds. These are the two sides of our swirl pie!

Once the pie shell has baked for 25 minutes remove it from the oven and let it cool enough to remove the parchment paper and dried beans. Turn the oven down to 350 F.

Whisk up the final egg with a fork to make an egg wash and then brush the edges of the partially baked pie crust with egg all the way around and about 1 1/2 inches down the side of the crust.

Holding one mixture in each hand, gently and deliberately pour each mixture into one half of the pie crust. They will meet in the middle and mix together a bit, but try to keep them a bit separated like a ying and yang sign.

Using a butter knife or chopstick, gently instert your knife into the chocolate side of the pie filling and pull some of the chocolate filling across into the coconut side. Do this a few times to swirl them together a bit without completely mixing them up.

Once the fillings are swirled to your satisfaction bake in the oven for 40 minutes or until the center is no longer jiggly. Cool to room temperature, then place in fridge to chill fully. Once completely cool, pull out, cut into slices and serve at room temperature.