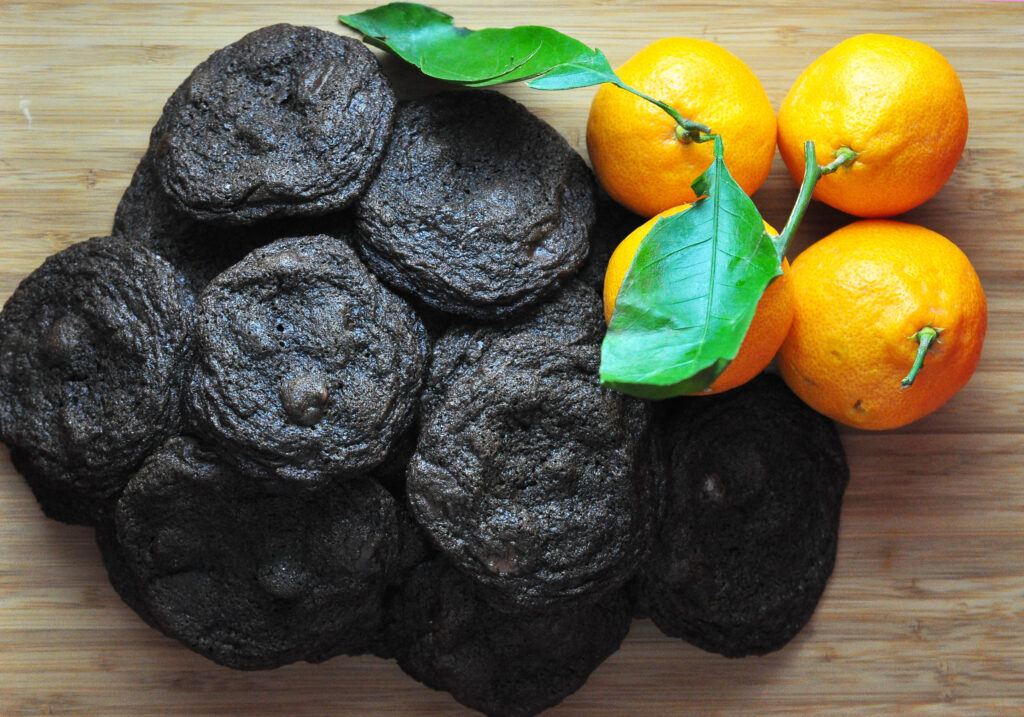 Chocolate and orange is such an incredible flavour combination, and yet I forget about it until the holidays each year. Sometimes I think holidays are made just to snap us out of our routines and remind us that there is so much more to life!
I know everyone has their own holiday baking traditions, but since I love you all I wanted to share a couple of mine. So here is the first, and I'll share a couple more in the next few days. (I'd be so delighted if you would share your favorite holiday treats in the comments here!)
I've been making these chocolate orange cookies for ages and people lose their minds for them. They are a thin and crispy cookie, the edges having that almost toffeeish texture, yet the middle is still soft and gooey. And just a hit of aromatic orange to cut through the rich chocolate. Wow! I think they are an adaptation of an old Dorie Greenspan recipe for double chocolate chip cookies, but they've morphed through the years. It's a very simple recipe and you could easily switch the chocolate chips for nuts or dried fruit and the orange zest for any other flavour that goes with chocolate—mint, cherry, almond—you name it. Give them a try alongside some of your old favorites!
Crispy edged gooey-middled chocolate, chocolate chip cookies with a hint of orange.
Servings
24 to 30
cookies
Servings

24 to 30

cookies
Crispy edged gooey-middled chocolate, chocolate chip cookies with a hint of orange.

Servings

24 to 30

cookies

Servings

24 to 30

cookies
1

cup

butter

at room temperature (2 sticks)

1 1/2

cups

sugar

(or sub 1 cup white and 1/2 cup brown )

1 1/4

cups

all purpose flour

3/4

cup

cocoa powder

1/2

tsp

salt

3/4

tsp

baking soda

2

large

eggs

1

Tbsp

orange zest

(zest of about 1 navel orange )

2

cups

chocolate chips

chips (or sub 1 cup chips and 1 cup chopped nuts)
Line two cookie trays with parchment or a silicone baking mat or simply grease the tray. Just do something to make sure the cookies don't stick!

In a large bowl cream the butter and sugar together until light and fluffy using an electric mixer or a wooden spoon.

In a separate bowl measure out the flour, cocoa powder, salt and baking soda.

Add the eggs to the butter/sugar mixture one at a time, mixing after each addition. Add the orange zest and stir.

Add the flour mixture to the butter mixture and stir until you have a smooth dough. Add the chocolate chips and stir until combined.

If you have time, place the cookie dough in the fridge for an hour. Otherwise just start baking.

Dollop 6 heaping tablespoon-size globs of dough onto each cookie tray. Make sure you leave lots of room in between each glob because these cookies melt and expand.

Bake for 10 minutes. Leave on the tray to cool for about 5 minutes. They are quite soft when they first come out and can be hard to move, but they will crisp up and you want them to stay gooey in the middle. Remove them from the tray and let them cool on a wire wrack.

Continue to bake them in batches until you have used up all the cookie dough.

Try to enjoy these within 1 to 3 days of baking. They do not age well.