Hi guys! Today we have a wonderful guest author, Aimee Gonzalez, here to tell a story about how she has used Good and Cheap in her work with Latino high school students in St. Paul, MN. If you or anyone you know would like to share their story about how they're using Good and Cheap please write to me at leanne@leannebrown.com with subject line Good and Cheap Stories.
The question every single one of us has asked ourselves at one point or another in our lives is more or less: "What am I supposed to contribute to this life?"
Leanne Brown's answer is her cookbook, hands down. It has resonated further and wider than she probably imagined when she invented it. Much like other really good ideas, though, the concept isn't outrageous: what if we made a cookbook for people on limited incomes and/or with limited kitchen skills, so that they too could afford to eat well?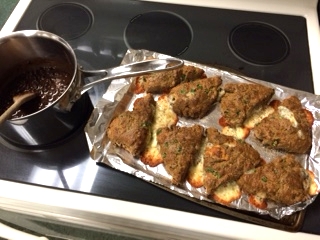 In St. Paul, MN, Robert Hanson has been hard at work since 2001 on his own non-outrageous concept: what if his Latino high school students had a way to contribute positively to their community and thereby disprove the negative stereotypes that surround them daily? His really good idea became Anglos Latinos Motivados a Superarse (ALMAS).
Their ideas came together beautifully in 2014. Leanne's book resonated all the way to St. Paul, where it was integrated into ALMAS' Healthy Living, Healthy Choices program (developed with MNCOME). The idea behind the program is that public health's wellness movement—more healthy eating and physical activity, less chronic disease like obesity or diabetes—will be more likely to succeed if it is better tailored to the cultures it targets, not just translated to the appropriate language. ALMAS is leading an experiment to see if this is true.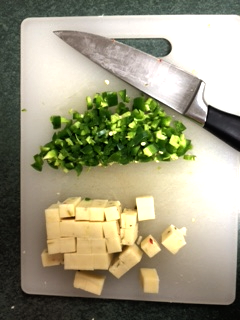 Part of the class is learning how to make traditional foods healthier; it's also about how to find time and means to cook good food, instead of eating fast food or not eating at all (as is sometimes the case for busy high schoolers or families getting by below the poverty line).
Leanne's book became an answer to how to address the problem of cost and ease. As a result, the students participating get more opportunities to cook diverse, delightful dishes without worrying about how they'll replicate them at home because the cost is too high or the ingredients too strange. They also get to have fun with the ingredient combinations when they cook together, such as using pepper-jack cheese for their version of Leanne's Whole-Wheat Jalapeño Cheddar scones: they got an extra spice kick and the white cheese was lower in saturated fat!
So in short, thanks to Leanne, ALMAS's experiment in healthier eating is that much tastier without getting unrealistic. And from what some students are saying, it's possible they may be starting to answer "the life question" for themselves—a couple have gotten excited about being chefs lately…Bet you can guess why!
Aimee Gonzalez is the head of content strategy and digital communications for MNCOME, and a former ALMAS student. She co-created this program with Rob and ALMAS students. She is a writer and loves to talk, so everyone let her write this post on their behalf. You can email her at webmaster@mncome.com if you'd like to know more about ALMAS and their work!