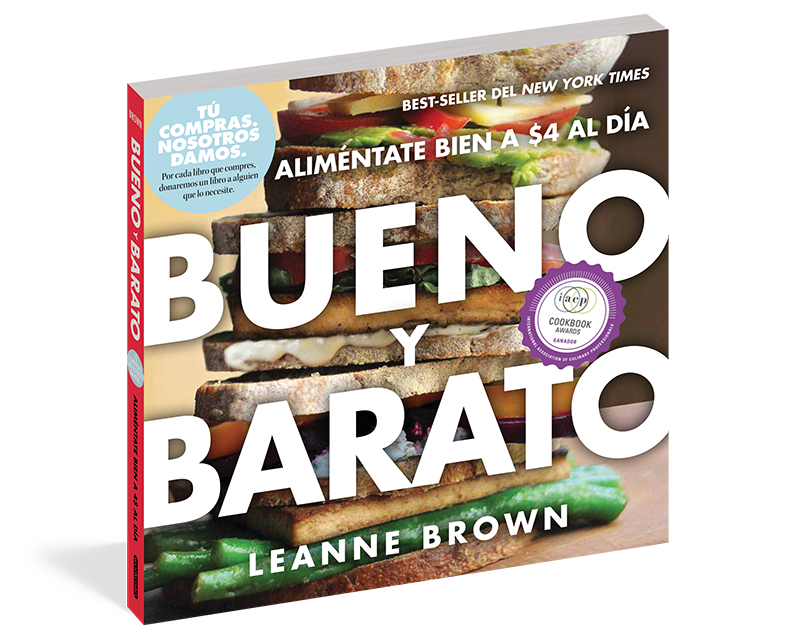 At long, last it's happening: the Spanish version of Good and Cheap is out today — and as always, the PDF is free. Welcome to the world, Bueno y Barato! We've been waiting for you so long.
*cue sappy music*
Thank you to our brilliant translators, Jorge Baldizón and María Alamo, for your stellar work! And thank you to my wonderful, patient editor Liz Davis, and all the amazing folks at Workman Publishing, for ushering this new baby into the world.
And lastly, thank you to all of you for being the inspiration and motivation to do a Spanish version in the first place! You guys have been so supportive and incredible and I'm so proud to finally be sharing this with you.
Now for the details
Please share the free PDF with anyone you think would enjoy or benefit, or just point them at my website, leannebrown.com, to download it. Just like Good and Cheap, for every copy of Bueno y Barato sold we will donate one to a person or family in need.
If you want to grab a physical copy, ask your local bookstore to stock it! The ISBN is 978-1523501182.
Or order it online:
If you are planning to buy a copy, the sooner the better — first week sales are so important. Thank you!
Workman Publishing is also offering a discount for non-government organizations that help people in need: a carton of 36 copies is only $187, including shipping! That's just $5.19 per copy.
Tell your friends! (please)
I'd LOVE if you could help spread the word, in person and on social media! Here are some sample posts!
Facebook
Good and Cheap: A Healthy Cookbook for Food Stamp Budgets​ is now available in Spanish as Bueno y Barato! #GoodAndCheap is a gorgeous collection of inexpensive recipes. For every book sold, one is donated to someone in need. And the PDF is free at www.leannebrown.com!
Bueno y Barato es un libro de recetas maravilloso para las personas que se puede gastar un promedio aproximado de $4 diarios, particularmente las en el programa federal estadounidense que se llamaba cupones de alimentos.
Twitter
#GoodAndCheap from @leelb is now in Spanish as Bueno y Barato. For every book sold, one is donated to someone in need. http://amzn.to/2fZnhnf
Thank you all again so much — your support and excitement over this project means everything to me.
Leanne