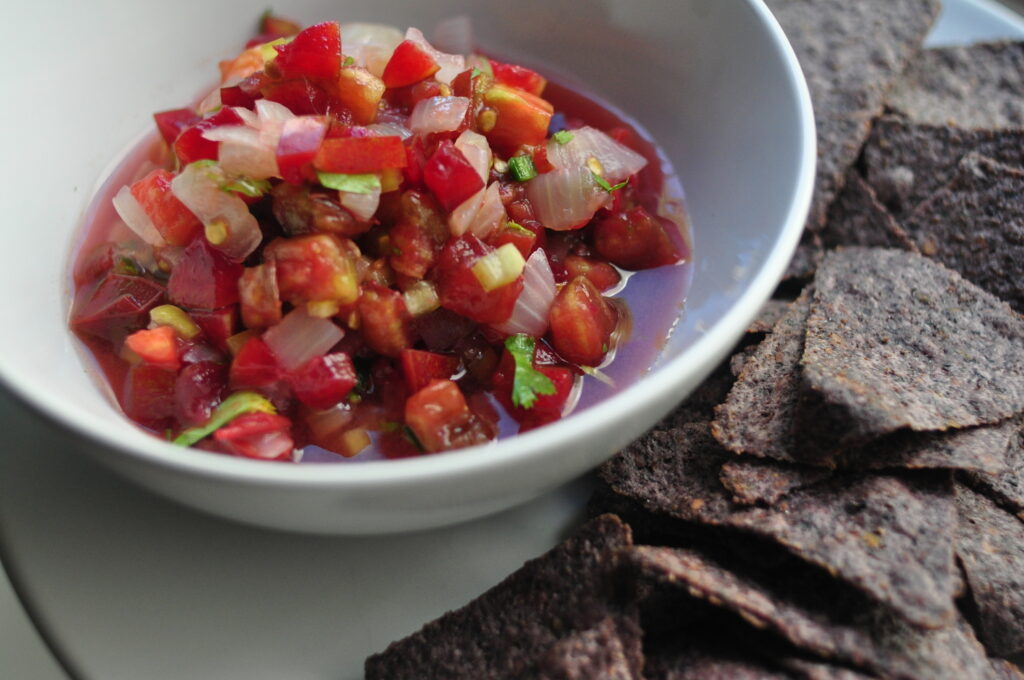 This recipe is from Good and Cheap.
Good and Cheap is a gorgeous cookbook for people with limited income, particularly on a $4/day food stamps budget. The PDF is free (ahora en Español!) and has been downloaded more than 15,000,000 times. I have more cookbooks, too!
Oh man, the good fresh salsa potential is at its peak right now guys. You can get crazy good tomatoes, chilies, all kinds of stone fruit, baby onions, herbs like crazy. It's pretty much a sin NOT to make salsa right now. Have it on everything.
With chips, (duh) on tacos, (double duh) in scrambled eggs, on grilled chicken or fish, as a salad dressing or with cold noodles.
If you don't make it too spicy you can even just eat it with a spoon like a cross between a salad and chilled soup.
Flexible, all-purpose salsa recipe for all seasons.
| | | |
| --- | --- | --- |
| | | Flexible, all-purpose salsa recipe for all seasons. |
2

cups

tomatoes

chopped (fresh or canned)

1/2

medium

onion

finely diced

1

jalapeno

finely diced

1

lime

juiced

1/4

cup

fresh cilantro

finely chopped

Salt and pepper
mango

peach

plum

pineapple

beans

corn

garlic
If you like raw onion, go right ahead and combine everything. Otherwise, take the edge off by sauteing the onion with a bit of water in a pan over medium heat. The onion is ready once the water has boiled off. If you aren't a fan of cilantro, substitute another herb: mint, savory, or lemon balm work well.

Mix the onion, tomato, and the rest of the ingredients in a bowl. Be sure to add enough salt and pepper!

Taste the salsa. You're looking for a balance of spicy from the peppers, sweet from the tomatoes, and bright and fresh from the herbs and lime juice. If something is out of balance, add the appropriate ingredient to bring it back into balance.

Store in an air-tight container in the fridge. Fresh salsa won't last as long as store-bought salsa because it doesn't have any preservatives, but it's so tasty that I'm sure you'll finish it fast!