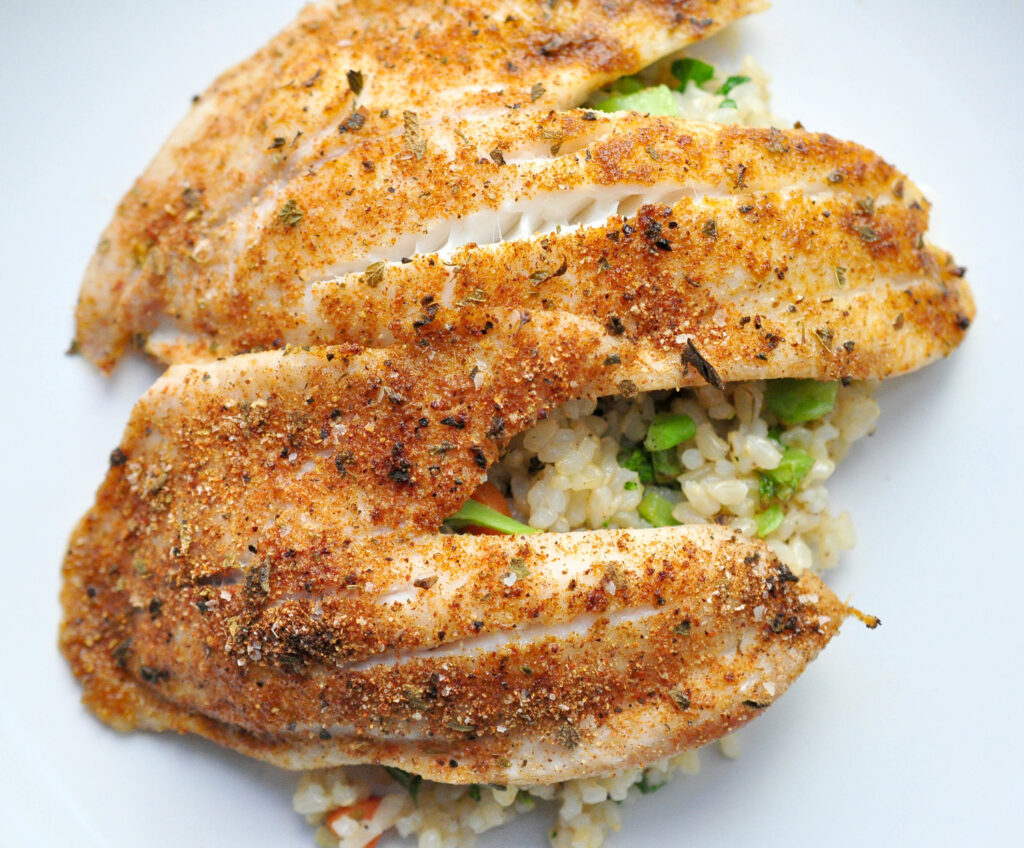 This recipe is from Good and Cheap.
Good and Cheap is a gorgeous cookbook for people with limited income, particularly on a $4/day food stamps budget. The PDF is free (ahora en Español!) and has been downloaded more than 15,000,000 times. I have more cookbooks, too!
If you can find a good deal on Tilapia, or any white fish fillets, please, please try this. Unfortunately fish tends to be expensive in NYC so this one comes out a little pricier than most recipes. But it can still fit into most budgets occasionally. It's so delicious and crazy fast. If you're not a big fish lover this is a great place to start! White fish has a very mild flavor and the treatment here is inspired by a Louisiana blackened catfish, if not quite so powerfully spiced! The spice and quick broiling creates fish with a slightly crispy crust and a flaky, moist interior. It's pictured here with some leftover brown rice I quickly fried with leftover broccoli and carrots. It was ready by the time the fish was out of the oven.
Broiled, lightly blackened whitefish that is crispy on the outside and flaky and tender inside. Very quick!
| | | |
| --- | --- | --- |
| | | Broiled, lightly blackened whitefish that is crispy on the outside and flaky and tender inside. Very quick! |
2

fillets

tilapia or other white fish

1

tsp

salt

1/2

tsp

pepper

1

tsp

cayenne pepper

1

tsp

cumin powder

1/2

tsp

garlic powder

1/2

tsp

oregano

1/2

lime

juiced
Turn your oven's broiler to high.

Mix the spices together in a small bowl. Sprinkle them over both sides of the fish and massage gently with your fingers to cover thoroughly in the spices.

Lay the fish on a baking pan lined with aluminum foil.

Broil for 4 to 7 minutes. The fish will cook very quickly, so after 4 minutes, check to see if they are done by gently inserting a butter knife into the thickest part. If it goes through easily and the fish flakes apart, you're done. If the knife meets resistance and the fish stays together, put the fillets back under the broiler for another few minutes. Once you've done this once or twice, you'll be able to tell when your fish is done at a glance.

When the fish is done, squeeze lime juice all over it. Serve with rice or a favorite side dish like spicy green beans