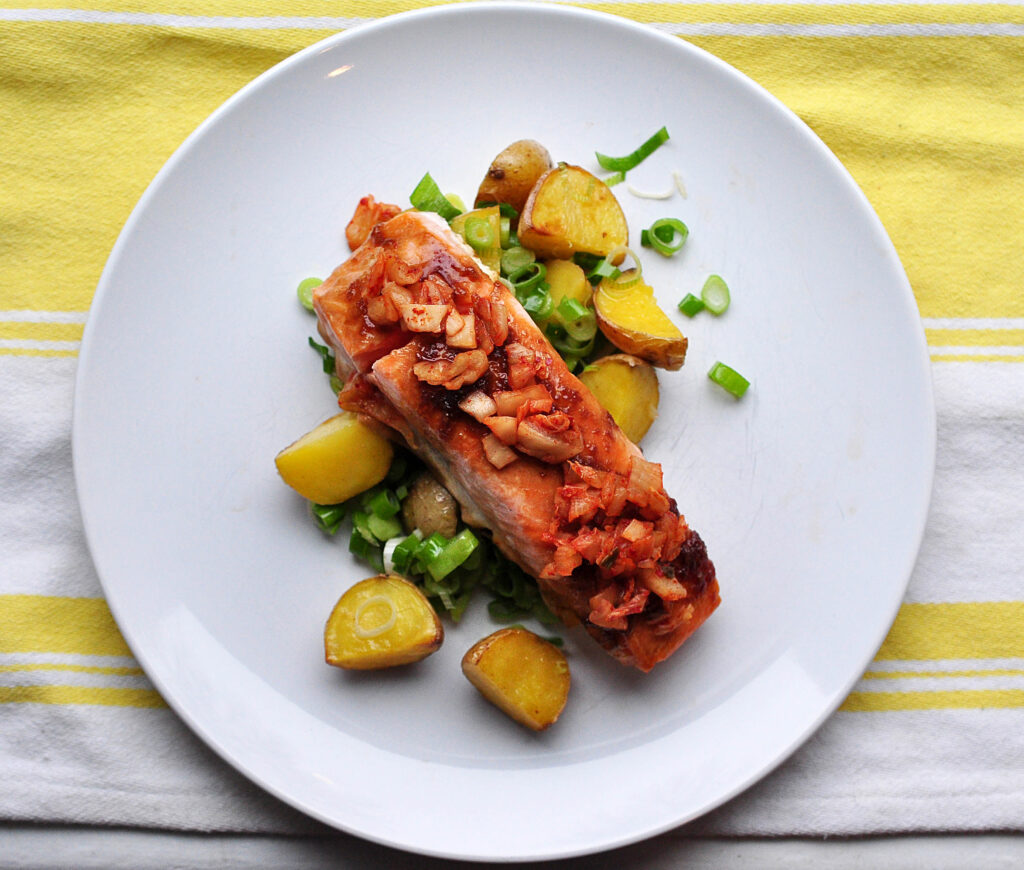 Here's a simple and elegant Korea-inspired dinner. I put it together one night from bits we had around the house, most of which are common in Korean cooking. It's very easy and hands-off. The potatoes do take a while to roast (an unavoidable annoyance of potatoes), but the actual hands-on prep work for this is no more than 5 minutes. So you could definitely do this for a weeknight meal if you get the potatoes going when you walk in the door or if you aren't ravenous immediately when you get home. It's a great date meal to impress your partner! The potatoes are creamy and richly buttery with scallion sharpness cutting through, and the salmon is salty and sweet and garlicky and the kimchi adds just a little funk and spice.
I am a huge scallions fan and I basically always have them in the fridge. They have such a deliciously mild oniony flavor. They brighten up roasted potatoes and make them seem hot and cozy but still fresh and flavorful. Here's a closeup: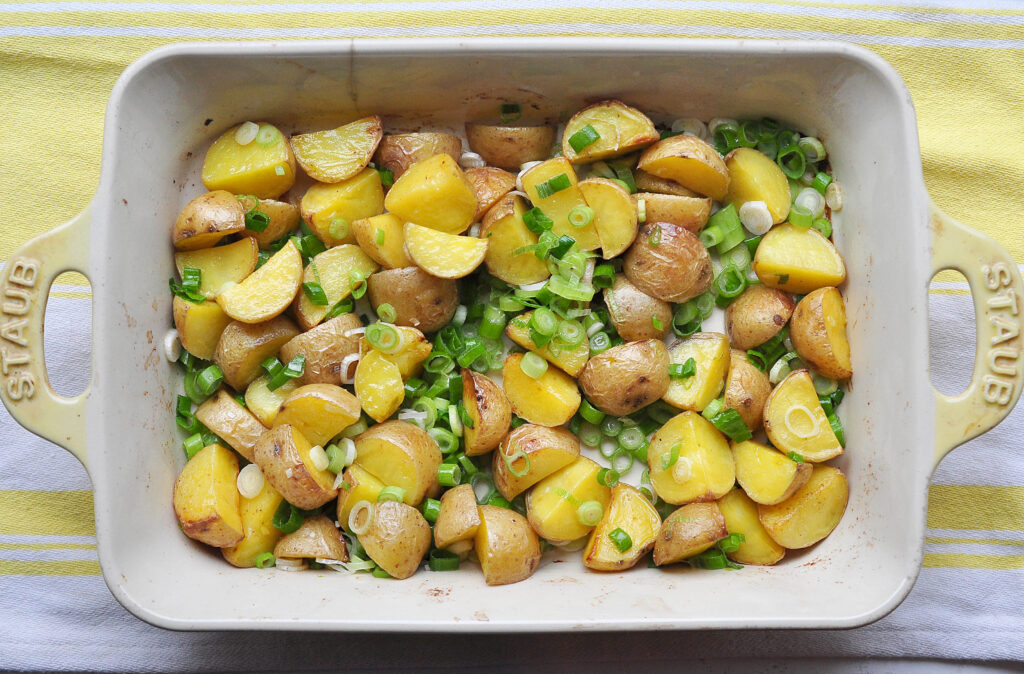 I also almost always have frozen fillets of salmon in the freezer (especially since being pregnant we are told to eat lots of fish) so it's easy enough to just take the fillets out in the morning and leave them in a bowl of cold water to thaw (assuming they are in a sealed package, otherwise just leave them to thaw in the fridge). If you are new to cooking fish at home I urge you not to be afraid! Fish cooks fast and is remarkably easy. I don't know where it's fussy reputation comes from. To me fillets of fish are much more convenient than chicken or pork chops. They cook fast and you can do them on the stovetop or in the oven or under the broiler. All very fast to cook and always juicy.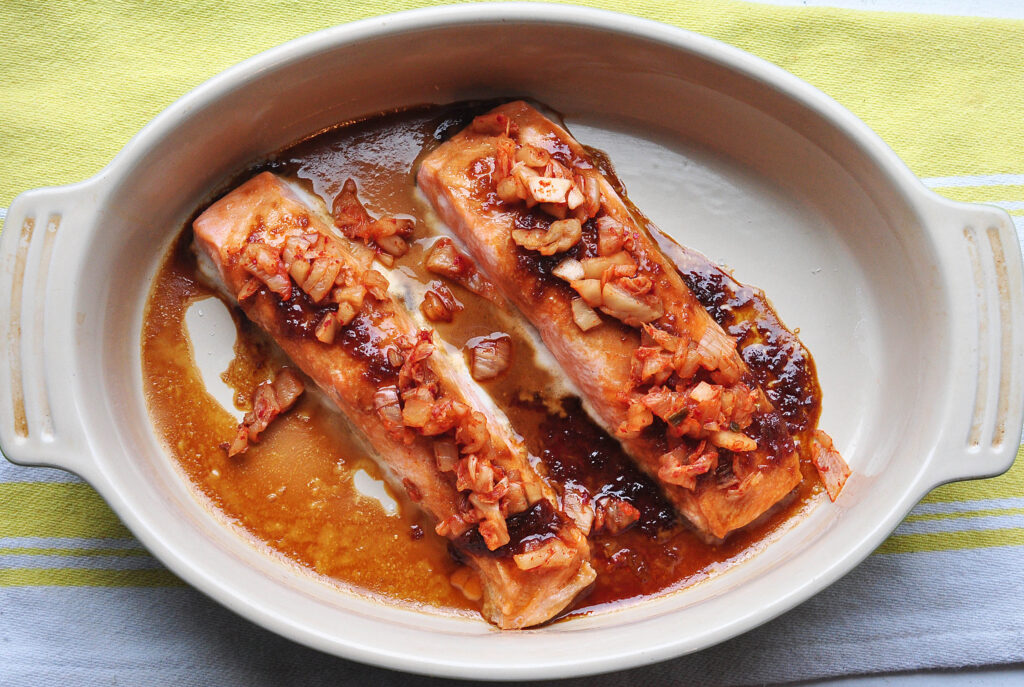 The salmon sauce is just pantry ingredients quickly mixed together and I almost always have a jar of kimchi in the fridge. If you don't have kimchi on hand you can easily skip that element. It's nice, but not essential.
So all this took to make was a bit of chopping potatoes and scallions, laying out some salmon, a quick mix of some sauce and waiting for things to bake!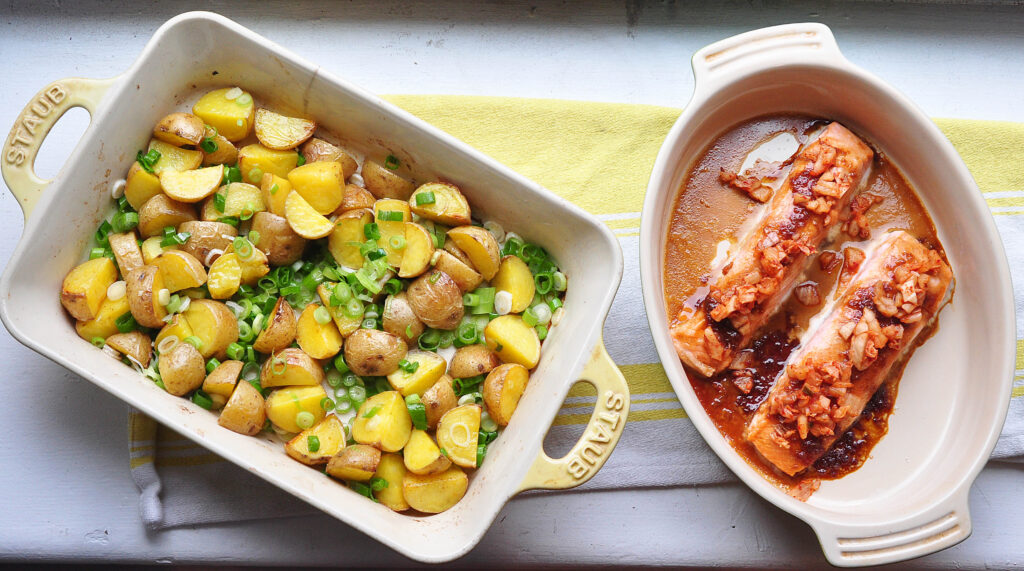 Soy and Garlic roasted salmon topped with kimchi and served with scallion tossed, buttery roasted potatoes.
| | | |
| --- | --- | --- |
| | | Soy and Garlic roasted salmon topped with kimchi and served with scallion tossed, buttery roasted potatoes. |
1

lb

small potatoes

I used honey gold but any smaller potatoes are fine

2

Tbsp

butter

1/2

tsp

kosher salt

2

fillets

salmon

5 to 6 oz each

1

tsp

butter

1

Tbsp

soy sauce

1

clove

garlic

grated

1

tsp

sugar

1/2

bunch

scallions

finely chopped

2

Tbsp

kimchi

finely chopped (optional)
Chop the potatoes into bite-sized pieces and tumble into a baking dish. Try to keep the potatoes in one layer so they are all touching the bottom of the pan. Some overlap is okay, but if it is piled too high switch to a larger dish. One layer will allow for more even roasting and more crispy bits.

Melt the butter and pour all over the potatoes. Sprinkle the potatoes with salt and mix everything together with your hands. Roast for 40 minutes.

Lay your salmon fillets, skin-side down in another baking dish. Sprinkle each fillet with about 1/4 tsp salt. Melt the tsp butter (in the microwave is fine) and add it to a small bowl along with the soy sauce, garlic and sugar. Mix and pour the sauce overtop of the fillets and let sit while the potatoes roast.

Take the potatoes out of the oven and test their done-ness. If a fork goes through them easily they are good enough to eat. If they are not yet done put them back in the oven for another 5 minutes or as long as it takes.

Once the potatoes are cooked through place the salmon in the oven alongside them. (We still want the potatoes in a little longer to get crispy!) Bake the salmon for 5 minutes for rare salmon or 7 to 8 for completely cooked salmon.

Remove the salmon and potatoes from the oven and toss the scallions with the potatoes and mix well to coat everything in butter and scallions.

Dole out a generous pile of potatoes on each plate and top with a piece of salmon and a Tbsp chopped kimchi, if using. This makes a large helping of potatoes so you may have leftovers.