This recipe for triple citrus dressing was a happy accident borne of a day when I had half a lemon and a lime sitting around as well as a few oranges. I wanted to make a lemon vinaigrette but figured it couldn't hurt to add all of them. It was pretty good so I ended up making it a few times when I had friends over. I didn't think it was that revolutionary, but whenever I serve this, without fail someone will say "what IS this dressing?"
I've made it for years and I think I have never shared it because although people enjoy it I rarely make it on purpose, it tends to just come about on those days when I have a little leftover of all my citrus pals.
I tend not to get too excited about dressing, usually saving my enthusiasm for the contents of the salad, but dressing makes a crazy difference! I enjoyed this on a simple salad with greens and olives. With good dressing a little snack or side salad can feel special rather than just a way to choke down the healthy stuff. It is lovely with greens, or a more substantial salad with something salty and crunchy. I tried tossing it with some cold grains (barley) and that was delicious too.
So I hope you enjoy this and it prompts someone to say to you: "wow, what IS this dressing?"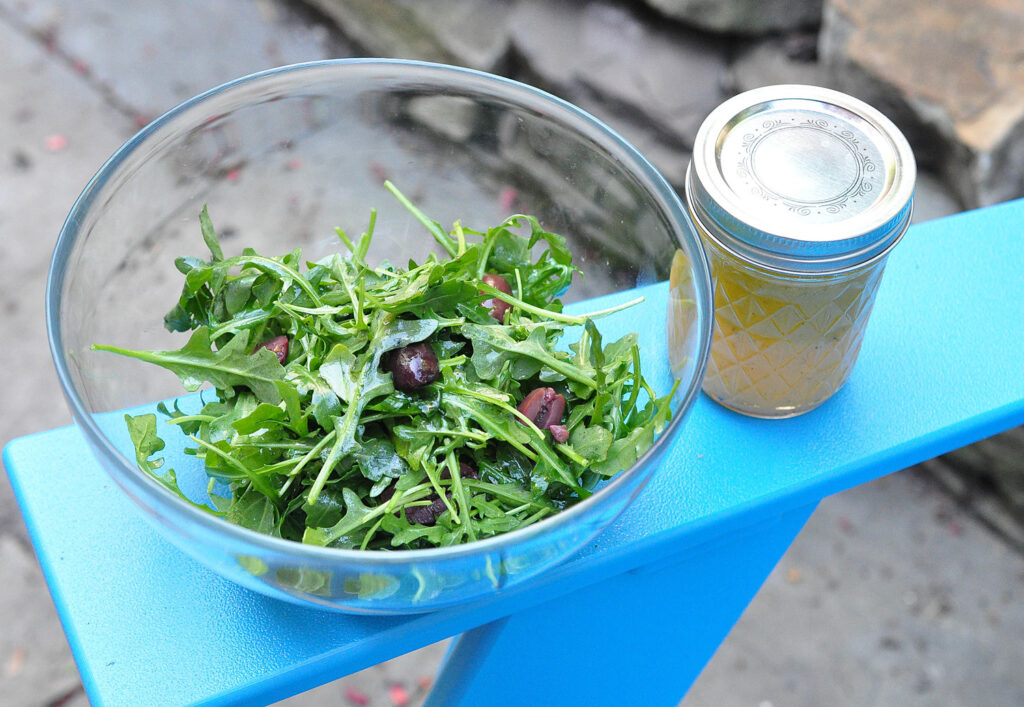 Vinaigrette with lemon, lime and orange juice.
| | | |
| --- | --- | --- |
| | | Vinaigrette with lemon, lime and orange juice. |
1

navel orange

small to medium

1

lime

1

lemon

1/3 - 1/2

cup

olive oil

Salt and pepper

to taste
Note, before you begin. If you prefer your dressing on the very tart side, juice half the orange at first and taste. If you think it would be nice a little sweeter add more orange juice. I tend to like things sharp and sour, but this dressing is a bit sweeter and it's a nice change.

Set a sieve over a bowl and juice the orange, lime and lemon over it so that the sieve will catch any seeds.

Add about 1/3 cup olive oil, and a healthy sprinkling of salt and pepper to the bowl and whisk. Taste it and adjust with more salt and pepper or more olive oil if you think it needs it. Store in a sealed container or glass jar for a couple of weeks. Just be sure to shake it up to mix before using.