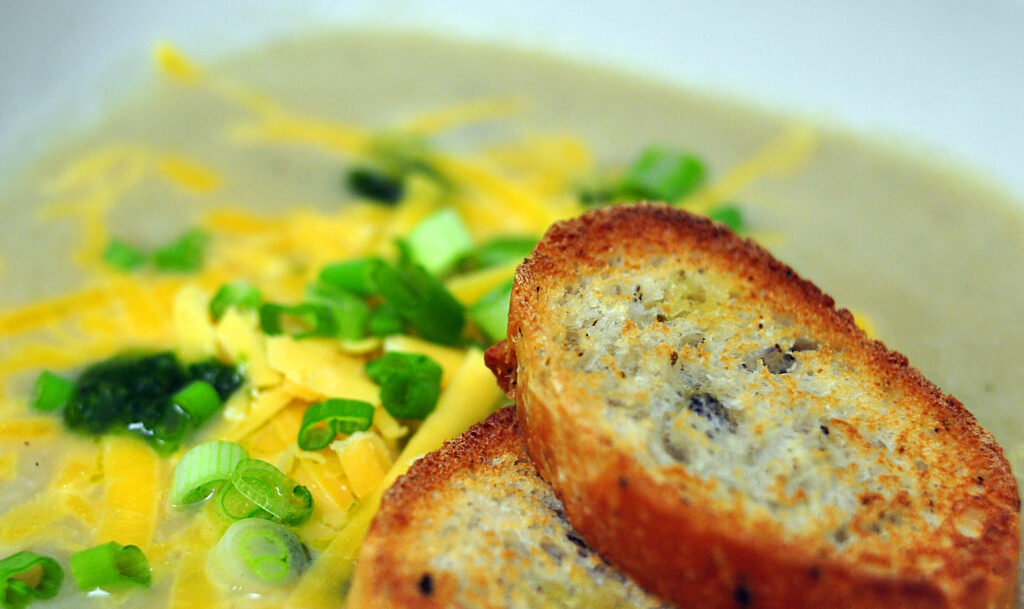 This recipe is from From Scratch.
My first book! From Scratch is a vegetarian cookbook intended for people just becoming comfortable in their own kitchens. Just like with Good and Cheap, the PDF is free. Print copies are a pricier than you might expect because this book is printed on demand (1 copy at a time).
Another classic from the archives while I'm away for the holidays. This Cauliflower soup is also from my first cookbook, From Scratch. I put it in with my middle sister, Emily, in mind and it totally worked, she makes it all the time (or so she claims!). It's right for her because she is always trying to eat more vegetables, but they are not her favorite thing. This soup is almost pure vegetables, but it's also creamy and warm and satisfying and a little spicy and cheesy; just right for the reluctant vegetable eater.
It's also great for this time of year since cauliflowers are relatively inexpensive and plentiful, and unless you are in the deep south you are probably wanting to gather around a warm bowl of something. This soup smells fantastic when it's cooking, the smell of garlic and vegetables soon joined by cumin and oregano and finally the nutty aroma of cauliflower.
A couple nights before we had to leave on vacation I made this soup, but added a bunch of spinach we had left in the crisper that was a bit past it's prime but not quite into the inedible realm yet. It was great! So consider adding some excess greens or any other wilty vegetables you might have in the fridge.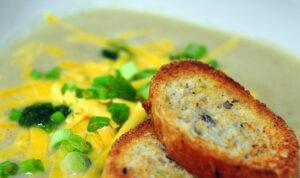 A creamy, flavorful, slightly spicy cauliflower soup topped with melted cheddar cheese and scallions.
| | | |
| --- | --- | --- |
| | | A creamy, flavorful, slightly spicy cauliflower soup topped with melted cheddar cheese and scallions. |
1

Tbsp

butter or olive oil

1

large

onion

diced

1/2

large

bell pepper

diced

1/2

jalapeno

finely diced

1

Tbsp

all purpose flour

1

tsp

cumin

1/2

tsp

oregano

3 to 4

cups

vegetable broth

1

cauliflower

roughly chopped

Salt and pepper

2

Tbsp

heavy cream

(optional)

1/2

cup

cheddar

grated

2 to 3

scallions

chopped
Heat the oil or butter in a large pot on medium heat. Once the oil is hot, add the onion. Let the onion cook until translucent, about 5 minutes. Add the bell pepper and jalapeño, then let everything cook until it starts to brown.

Sprinkle the flour over the vegetables and stir. Don't worry if it seems a little dry. We're about to add some moisture. Next, sprinkle the cumin and oregano over the vegetables and flour and stir.

Drizzle a bit of broth into the pot to get the sticky vegetables off the bottom of the pan, then add the cauliflower. Stir it all together and let it cook for about a minute with the lid on.

Finally, add the rest of your broth and cook for about 10 minutes, or until the cauliflower is soft.

With an immersion blender, blitz the soup until creamy (don't worry about getting every last piece). Taste it, then add salt and pepper and heavy cream (if using). If you like your soup a little thinner, add a bit more broth. Taste and adjust salt and pepper to your taste.

Sprinkle cheddar and green onions on top before serving, preferably alongside a sliced and toasted baguette.