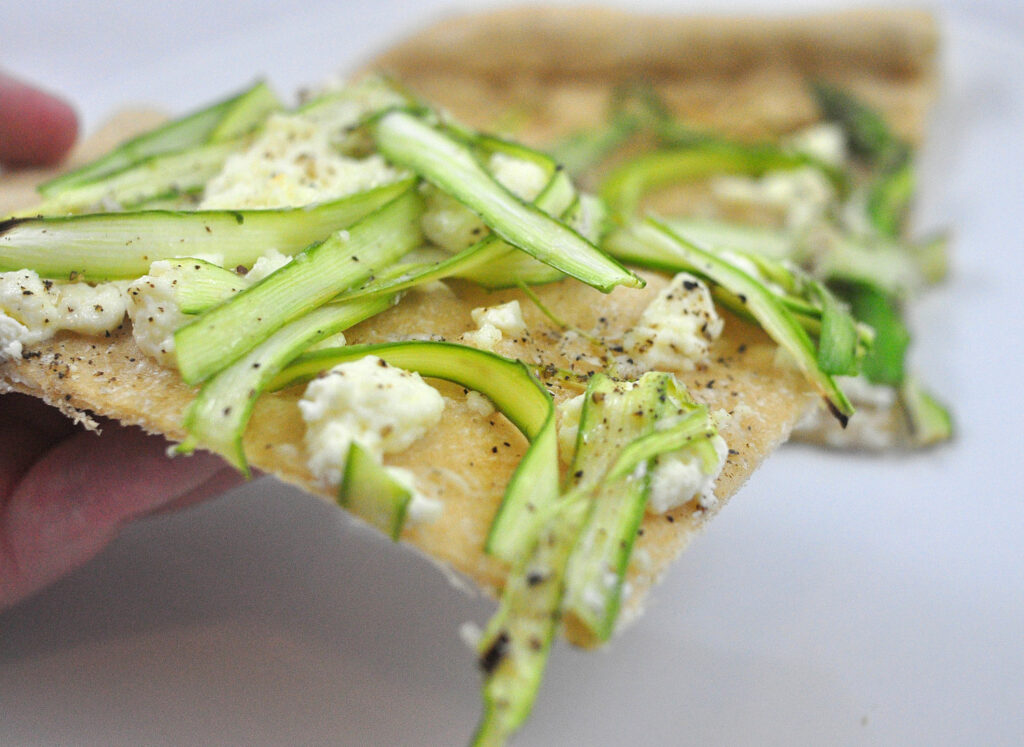 We have been eating a lot of Grandma style pizza from a local joint lately. Grandma style pizza is baked in a pan and usually topped with garlic, olive oil, barely cooked tomato sauce and mozzarella. It's awesome. The crust isn't thick, but it gets a little crispy on the bottom and around the edges where crust and cheese meet pan.
So here is my spring Grandma pizza. A white pie with ribbons of fresh asparagus and ricotta (home-made if you've got it). You make the dough overnight or same day depending on the time you have. The overnight dough will be tastier and a little easier to work with. The same day dough will be faster!
It has been a pretty strange week. I'm overjoyed at the attention my "Good and Cheap" cookbook has received, but it's left me scrambling for what to do to respond to it. I will write more about that soon.
For now, there is always good old pizza. So comforting and familiar. Sometimes I go through a period where I forget to make pizza for a while. Then suddenly I'll remember it's an option and it's just the BEST feeling. So here's to that!
A springy, white pan pizza with ricotta and ribbons of asparagus.
| | | |
| --- | --- | --- |
| | | A springy, white pan pizza with ricotta and ribbons of asparagus. |
1 1/2

cups

flour

1

tsp

salt

1/2

tsp

instant yeast

1/2

cup +2 Tbsp

ice water

1 Tbsp

olive oil
olive oil

to oil pan

6 - 10

spears

asparagus

1

cup

ricotta

olive oil

to taste

Salt and pepper

Romano

finely grated, to taste

lemon juice

to squeeze over top
To make the dough, dump the flour, salt, and yeast into a big bowl. Add the olive oil.

If you have a stand mixer, use the flat beater to combine everything, including the water. Once it comes together, switch to the dough hook and knead for 5 to 7 minutes.

f you're using your hands, mix the oil into the dough, crumbling it into the flour until it's sandy in texture. Add the cold water. Mix until it just comes together. Then knead the dough for five to seven minutes. Keep a cup of ice-cold water beside you. When your hand gets too warm, dip it in the water.

The dough will be smooth but quite wet once you (or the mixer) finish kneading it. It should stick to the bottom of the bowl but not the sides.

When the dough is ready, place it in a lightly oiled bowl, cover the bowl with plastic wrap, and put it in the fridge.

The next day, remove the dough from the fridge two to three hours before you want to make your pizza. Keep the dough covered in plastic wrap or a moist dishcloth, because it'll develop a gross skin if it's exposed to air.

Alternate fast dough method: if you need the pizza dough faster, you can add 1 tsp of yeast instead of 1/2 and leave it out on the counter to rise rather than in the fridge. Once it has doubled in volume it is ready to use. It should take 2-3 hours at room temperature.

To make the pizza set your oven to 500 F. Lightly grease a cookie sheet with olive oil.

Cut or break off the tough bottom ends of the asparagus. Take a vegetable peeler and peel the asparagus from root to tip to create fine ribbons of asparagus.

Sprinkle with salt and pepper and set aside.

Once the oven is hot, take your dough and gently begin to stretch it out on a well floured countertop. Using your fingertips, press it out (or use a rolling pin) until it is the same size and shape (or close enough) as your cookie sheet. Place the crust on the pan.

Sprinkle the ricotta all over the crust. Top with the ribbons of asparagus, salt and pepper, and drizzle with a little olive oil and a sprinkling of freshly grated Romano.

Bake in the oven for 8 minutes or until the crust is lightly brown on the edges.

Take the pizza out of the oven and squeeze a little lemon juice and sprinkle a bit more romano. Cut into rectangles and serve hot.