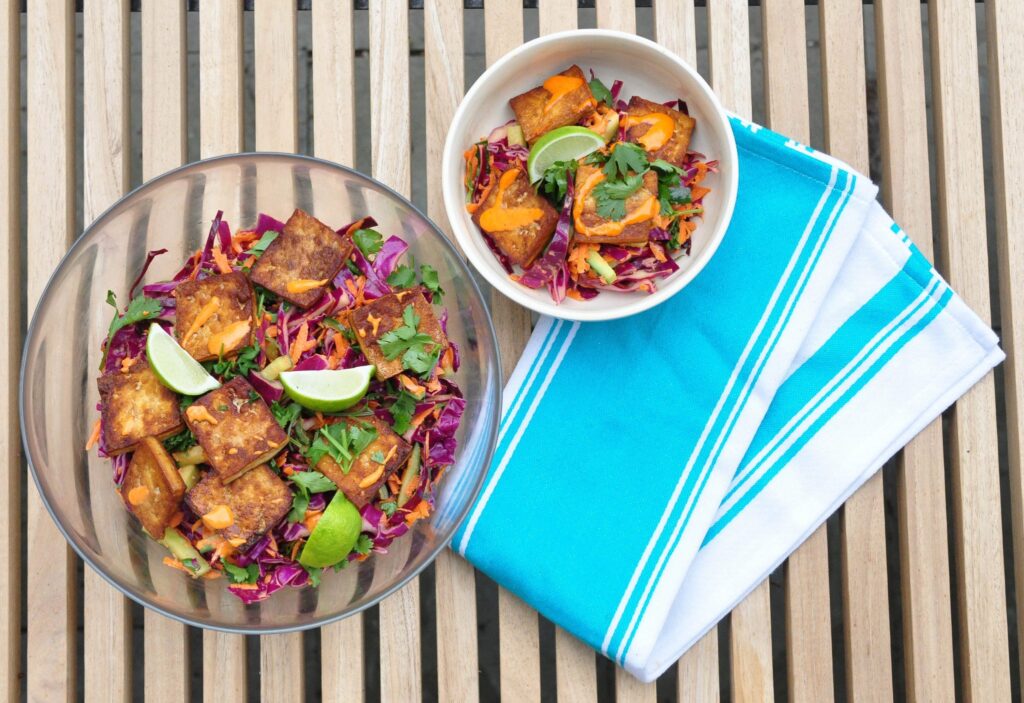 A banh mi is one of the best sandwiches on earth. So as a salad? I'm so here for it!
I just don't like mayo. My potato salad uses lemon and olive oil instead of mayo, my egg salad has as little as possible, I don't need gobs of it coming out of my BLT. And yet there is a strange exception. On a Banh Mi the creamy, tangy mayonnaise is just delicious. In fact, when it's a gooshy bite with (dare I say) a little too much mayo? Well, those are the best bites. I savour them and close my eyes. WHO AM I?
Part of it is that the mayonnaise is mingling with the sriracha, blending with the crunch and light sweetness of the pickled carrots and daikon, the crisp cucumbers and the savory squish of your filling of choice. Drool.
Let me back up quickly. For anyone unfamiliar, a Banh Mi is a vietnamese sandwich. It's served on baguette bread and it has cold cuts traditionally, but there are other offerings as well like roasted lemongrass chicken, pork, sardines or tofu. The basic filling is interchangeable, but what makes it a Banh Mi is the toppings, pickled carrots and daikon, cucumber slices, cilantro and mayonnaise. Then if you like it spicy (which you should) you can add jalapeño and sriracha (or another chili sauce).
So back to my mayo awakening or whatever it is. Basically I thought that the way the mayo and sriracha brings all the vegetables together is really the best part of the sandwich and that I would recreate that in a big salad at home and you know, get lots of fiber and a big, filling, hearty salad which I'm always looking for. This actually turned out even better than I thought and it was very difficult to wait for my sister to come home so we could eat it together. I may have snuck a bit.
This has a few steps to it, but none are hard. Marinate the tofu, grate and then toss the carrots and daikons with vinegar and sugar. Fry the tofu and then chop the veg and toss it up. Pretty easy for a summery (or Springy) weeknight dinner. I hope you'll give it a try.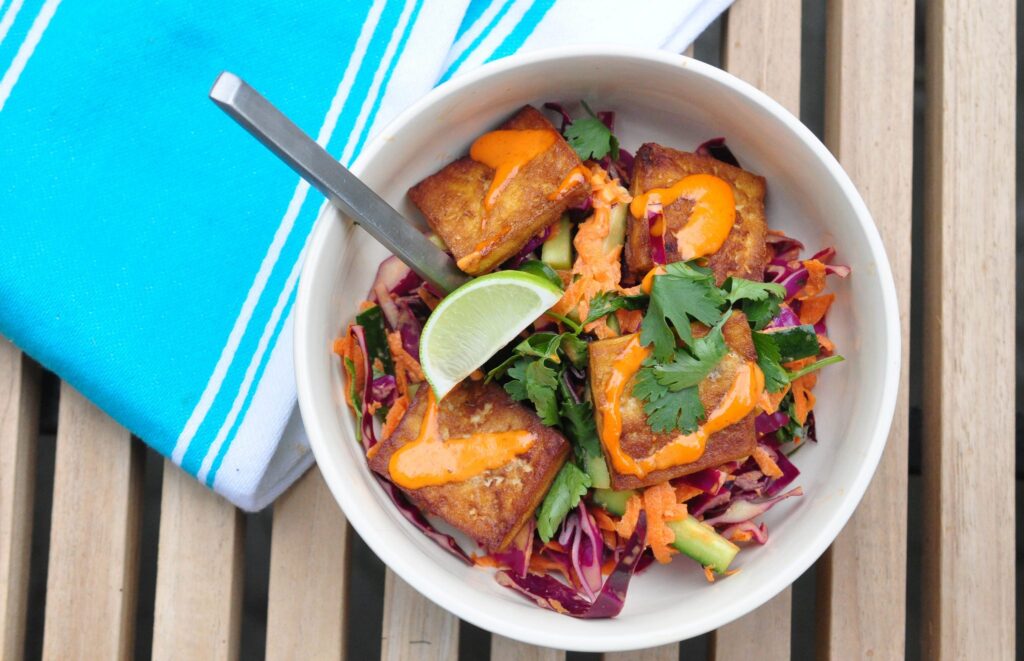 Banh Mi sandwich fillings and toppings made into a big, crunchy, cabbage salad.
| | | |
| --- | --- | --- |
| | | Banh Mi sandwich fillings and toppings made into a big, crunchy, cabbage salad. |
1

block

extra firm tofu

1/4

cup

soy sauce or tamari

2

Tbsp

rice or apple cider vinegar

1

Tbsp

sugar

4

large

carrots

shredded (about 2 cups)

1

daikon radish

shredded (about 1 cup) (optional)

2

Tbsp

vegetable oil

1/2

small

red cabbage

shredded

1

cucumber

chopped

1

jalapeno

finely diced (optional)

1/4

cup

mayonnaise

2

Tbsp

sriracha

1/2

bunch

cilantro

chopped

1

lime

cut into 4 pieces
Squish the tofu between 2 heavy plates for 10 minutes, to drain some of the liquid. This helps it soak up more soy sauce and it will be crispier when you fry it. Pat it dry and slice it into 16 pieces.

Toss the tofu into a freezer bag with the soy sauce or tamari and let it marinate for 20 minutes, or up to a day.

Shred the carrots and daikon radish, if using a box grater or food processor. Daikon is traditional and it's fantastic, but they can be hard to find so don't feel like you can't make this without it. You should end up with approximately 2 cups of shredded carrot and 1 cup of shredded daikon. Add them to a bowl with the sugar and vinegar and toss. Leave them for 20 minutes to lightly pickle. You can leave them longer as well.

Heat a large pan on medium heat and add a tablespoon of vegetable oil. Remove the tofu from the soy sauce and place 8 slices in the pan face-down. They will splatter a bit as the soy sauce hits the hot oil so be careful and once you have them in the pan, cover it with a lid or a splatter guard. Let them fry until light brown on one side, then flip and fry them on the other. Once they are golden brown to your satisfaction remove them onto a plate. If you want to dab up any excess oil, lay a paper towel on the plate and place the slices on top.

Add the second tablespoon of oil to the pan and fry the other 8 slices.

While the tofu cools, add the cabbage, cucumber, and jalapeño if using. Drain the lightly pickled carrots and daikon and add them to the bowl. In a small bowl mix together the mayonnaise and sriracha. This is your dressing.

Add the dressing to the bowl and mix until everything is lightly coated. Split into 4 portions and top each with 4 pieces of fried tofu, cilantro to taste and wedge of lime.

Squeeze the lime juice overtop and enjoy!