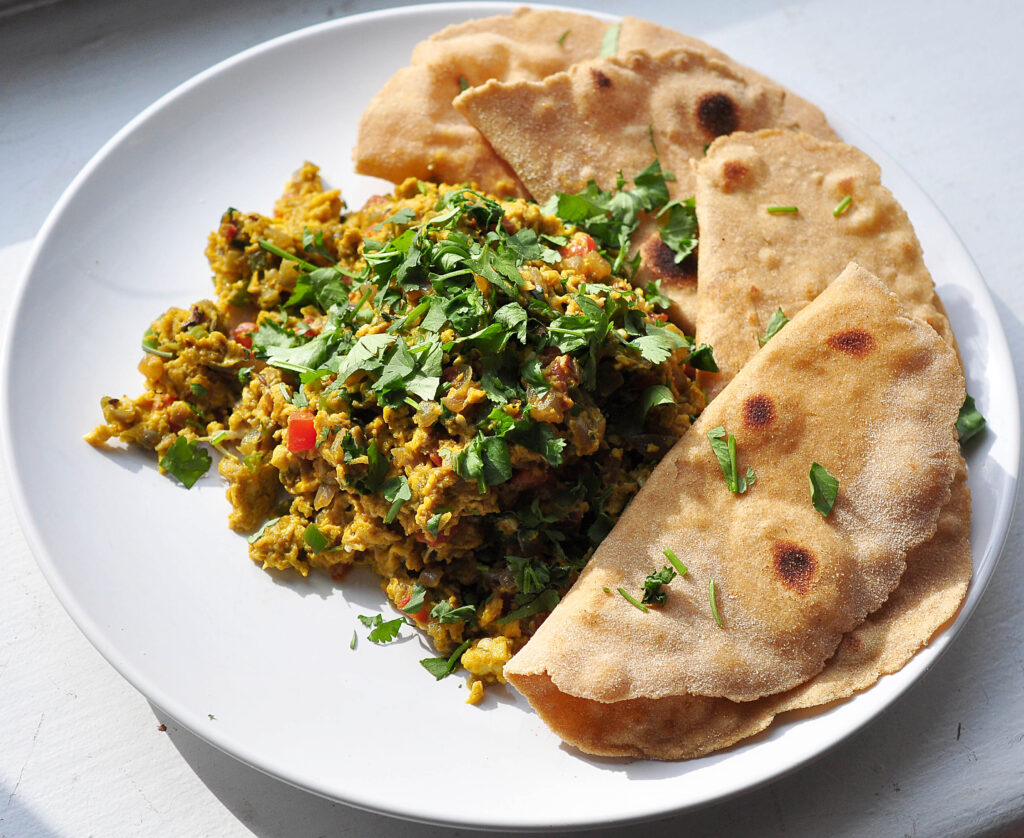 I'm sure no one's mind will be blown to learn that scrambled eggs are a huge part of my weekly meal rotation. On the weekend I often make them for breakfast or brunch, but they are also my go-to for nights when I'm on my own and just want to have dinner without having to go shopping or think too deeply. It feels so good to look in the cupboard and fridge and scrounge a tasty dinner when you didn't think you had much. Often if I have had a frustrating day where I didn't get as much done as I wanted to, the feeling of making dinner out of the cupboard can make me feel soothed and in control. Anyone else experience this?
Anyway, back to the eggs. These South Asian style scrambled eggs are somewhat in the everything-but-the-kitchen-sink fashion, but with a bit more care for flavor and composition. When I was at NYU I often bought a similar dish from a little Kati Roll place called Thelewala. It was scrambled eggs cooked with chiles and cilantro and their delicious rotis. So simple and every time I bought it I would swear to myself that I needed to start making it more often at home.
The core of this dish is the onion, garlic, ginger and jalapeños, but please do skip or lessen the jalapeño if you don't like things spicy. Everything else is wonderful and adds to the general curried eggs tone we are going for here, but they aren't essential. The turmeric will make your eggs extra bright yellow though, so that't a lot of fun.
Serve with roti—so easy to make, you guys—or another flatbread for the full experience.
1

Tbsp

butter or ghee

1/2

tsp

cumin seeds

1

small

red onion

finely chopped

2

cloves

garlic

minced

1

jalapeno

finely chopped (optional)

1

small

tomato

chopped (canned or fresh)

1

tsp

ginger

grated

1/2

tsp

turmeric

1/2

tsp

coriander

4

large

eggs

salt

to taste

cilantro

chopped (to taste)
In a small pan on medium low heat melt the butter or ghee.

Add the cumin seeds and wait until the sizzle. Stir them around the pan and add the onion. Sprinkle a pinch of salt on the onions then stir to coat in the butter. Cook until the onion just becomes translucent.

Add the garlic, jalapeño (this is optional and makes the dish pleasantly spicy. If you don't want it too hot just use a small amount or skip it entirely) and tomato and stir. Let it cook for another 5 minutes or so until some of the juices have cooked up and the onions are starting to darken.

Add the ginger, turmeric and coriander and another sprinkling of salt and stir. Taste and add more salt if you think it needs it.

In a small bowl whisk the eggs with a fork just to break up the yolks. Add another sprinkling of salt to the eggs.

Turn the heat down to low and add the eggs into the pan all at once, gently stirring the eggs and vegetables together using a spatula or wooden spoon. Continue until the eggs are still soft and creamy, but fully cooked.

Turn off the heat and add a sprinkling of cilantro to taste and stir. Spoon onto plates with fresh roti or flat bread or just toast if that's what you have. Sprinkle a little more cilantro and enjoy.
Tip: Keep your ginger root in the freezer and when you need it pull it out and grate it while frozen. It is much easier to grate when it is frozen solid and it will melt beautifully into your dishes. And of course it keeps well in the freezer for a long time so you can just use it as needed without worrying about it going off.