This honey and vanilla pudding topped with strawberry and ginger compote is part of a birthday meal I made for my Mum. To read more about it and get all the links, check out the writeup here.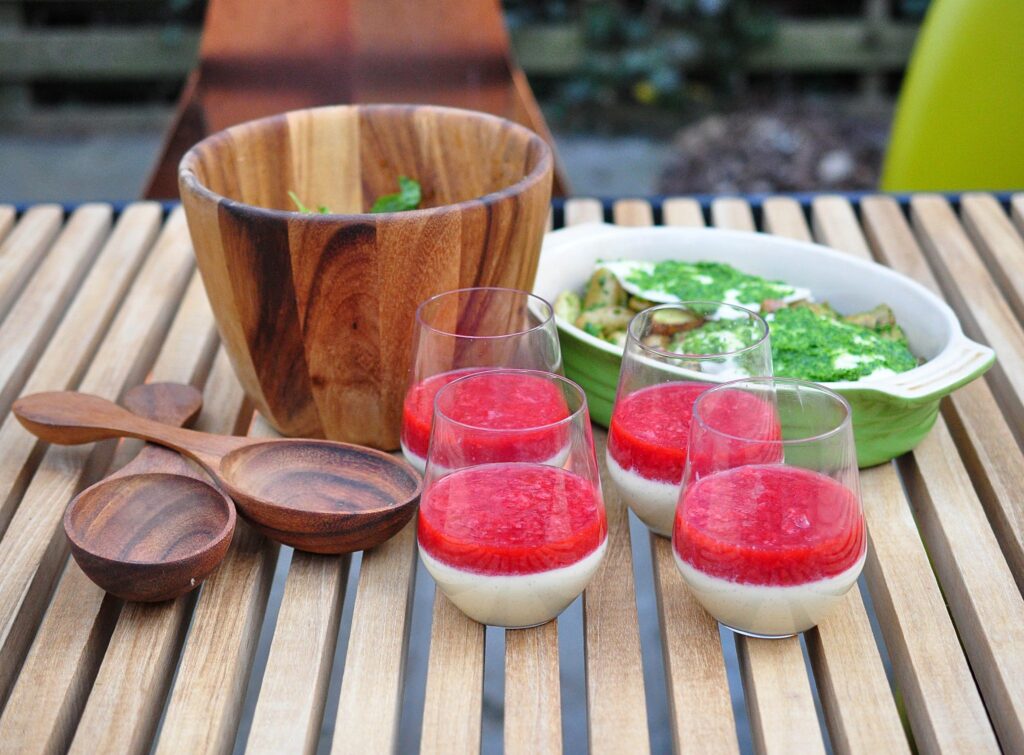 Honey and vanilla pudding topped with strawberry and ginger compote.
| | | |
| --- | --- | --- |
| | | Honey and vanilla pudding topped with strawberry and ginger compote. |
1/2

cup

whipping cream

1 1/2

cups

milk

1

vanilla bean

split and seeds scraped (or sub 2 tsp vanilla extract)

1/2

cup

honey

1

tsp

kosher salt

3

large

eggs

1

Tbsp

cornstarch

+3 Tbsp milk
Strawberry Ginger Compote
1

lb

strawberries

fresh or frozen

1/4

cup

water

2

Tbsp

honey

1

Tbsp

ginger root

grated

1

Tbsp

cornstarch

salt

to taste
In a heavy-bottomed pot on low heat add the cream, milk, vanilla seeds and bean. Whisk a couple of times and leave it to gently warm for 10 minutes.

Meanwhile add the honey, salt and eggs to a medium bowl and whisk together.

In a small bowl whisk together the cornstarch and 3 Tbsp milk. Set aside.

Once the milk and cream have steeped for 10 minutes fish out the vanilla bean and turn the heat up to medium. Slowly pour the egg/honey mixture into the milk mixture whisking vigorously all the while to incorporate it. Make sure you whisk so the eggs incorporate smoothly and don't scramble.

Next, give the cornstarch mixture a quick whisk to make sure it hasn't settled and add it to the pudding. Whisk a few times just to keep the bottom from sticking. Let the mixture heat until it begins to thicken, this should be the point just before it comes to a boil.

You can test if it is thick enough by dipping a spoon into it. If it coats the back of the spoon and stays there it is thick enough. Turn off the heat and remove the pot from the stove. Pour the pudding into the bowl you want to serve it in. Let it come to room temperature and then refrigerate for a few hours. It will thicken up further when cool.
Strawberry Ginger Compote
Add fruit and water to a pot and heat on medium until the fruit softens and begins to fall apart. Squish the strawberries with the back of a spoon to break them apart a bit. This will help it cook faster. After about 10 minutes, add the honey and stir to incorporate. Stir occasionally and cook until it is as thick as you want it to be, between 20 and 30 minutes.

Mix the cornstarch with 1 Tbsp of water so it doesn't get clumpy and pour it into your compote. Stir until the compote is glossy and thick.

Turn off the heat and add the ginger and pinch of salt. Stir and taste. Adjust with more salt, ginger or honey to your taste. Let it cool at room temperature.

To serve, spoon it onto your pudding once the pudding has set just a bit. That way you will have a lovely layer of pudding and a layer of compote. Yum!