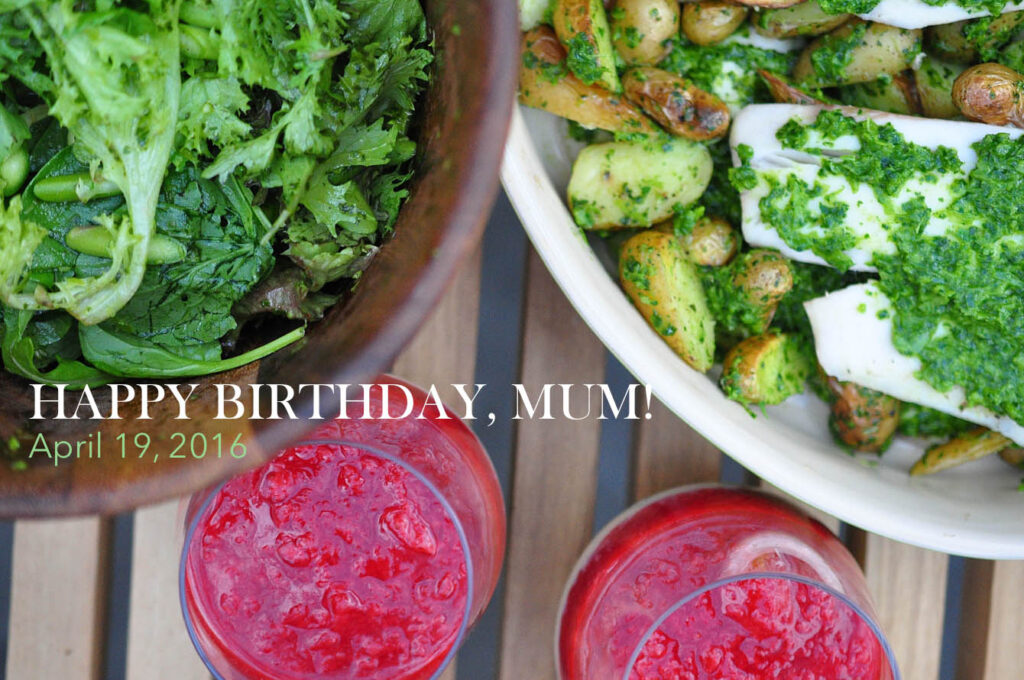 One of my favorite things is to design meals or recipes for my family and friends that is specific to their loves and needs. There's something so satisfying about having an audience who you understand and can make something totally personalized for.
Today is my wonderful mother's birthday, and since we can't be in the same place I did the next best thing to making her birthday dinner. I came up with a meal I thought she'd love—salad, entree, and dessert, recipes below—and tasked my sisters and Dad with making it for her. Thanks guys! I thought you guys might like it too. Maybe some of you can make this for mother's day if you have a Mum like mine!
The salad is mixed springy greens of any kind you like. My Mum likes the peppery mesclun mix best. Since it's spring and asparagus is newly up, I chopped up some of that as prettily as I could. You'll want to chop it into fairly small pieces since raw asparagus can be a little stringy when eaten in big chunks. Then I tossed it with a chimichurri dressing which I'll tell you about in a moment. This is super zingy and refreshing. Mum, I bet you would love it with candied ginger in it. (Guys, she is obsessed with candied ginger ;))
The main course is some lovely white fish fillets and fingerling potatoes, broiled (or grilled if you can manage it!) and tossed with fresh chimichurri sauce! Chimichuri is a wonderful melange of crushed herbs and garlic from Argentina, and is usually served with skirt steak. But it is so herbaceous and springy and bright that it is wonderful with just about anything. I like it with lots of scallions for an oniony-grassiness and I know my Mum will love it. While the fish and potatoes are cooking you blitz up the chimichurri and use it for the salad dressing, toss it with the warm potatoes and top the fish with it. YES.
If you are fish averse like my sister, this would be lovely with chicken breast as well and you can cook it the same way.
Dessert is super special and contains many of my Mum's favorites: honey, ginger, and fruit! She has a dream to keep bees one day. The honey in this is not too sweet, but comes through strongly and is just so warm and rich. The salt brings it all together and makes it sing. I've been obsessively testing various honey custards and desserts since tasting my first piece of salty honey pie from Four and Twenty Blackbirds a couple of months ago. Honey is pricey and so is vanilla bean, so this is a special occasion dessert. But Mum's are important so this could be a good time for it!
To make this truly perfect for my Mum I also would have made this strawberry rhubarb compote, but I can't get any yet. Perhaps it's easier to get where you live? Mum, maybe the neighbours have some for you?
I also wanted to say thank you to all of you for supporting my work! It's been such an adventure with Good and Cheap and I'm massively honored to get to share my love of cooking with you.
My husband, Dan and I recently moved to Brooklyn and it feels like a fresh chapter. We love our big windows that let in tons of light and our new outdoor space!! I had so much fun taking photos of this lovely meal in the backyard. I'm insanely grateful and can't wait to start sharing more with you all on here.
Raising a glass (of rosé) to you, Mum!
Here are the recipes from this meal if you want to replicate the whole thing or try just one.