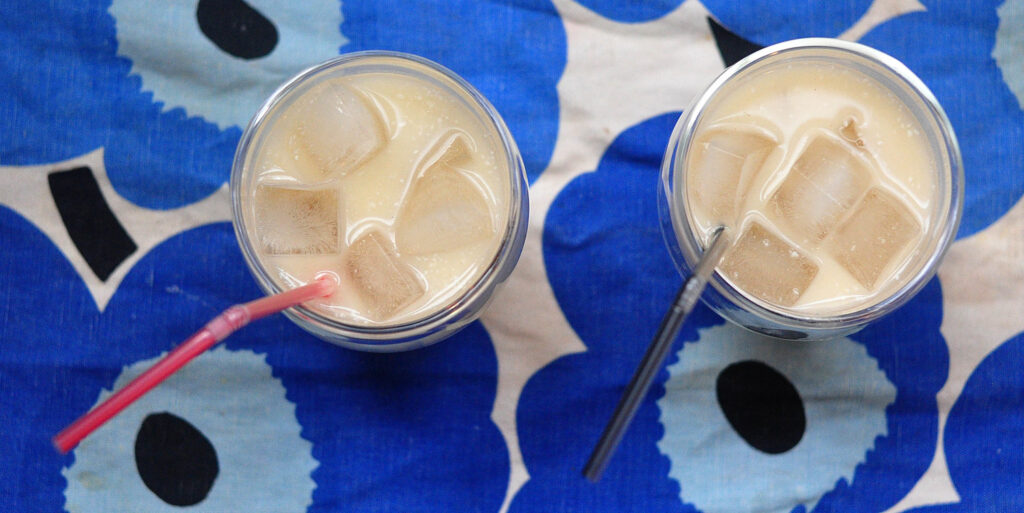 Horchata! This sweet, cinnamon-infused rice milk is so much more delicious than it sounds. This is the kind of drink where a first sip makes your eyes grow large. You greedily gulp down half the glass and then stare at this incredible elixir, your mouth and throat tingling with pleasure. Where has this been all my life? You ask yourself.
I will never actually forget how much I love Horchata, but it's not always at the absolute top of mind when thinking of tasty drinks. The first time I had it was in Portland, OR several years ago. I know, I know! But give me a break, I'm Canadian.
My flight recently got delayed at the Chicago airport. Bummer, but lucky for me there is the delicious Frontera Tortas to keep me well fed. They had coconut Horchata which I readily gulped down. It was good and all, but it really just made me determined to make my own when I got home.
For those of you unfamiliar, Horchata is basically homemade rice milk, or sometimes, like I have it here, a blend of almond and rice milk or other nut or seed milk. It's flavored with cinnamon and served over ice. It is also usually sweetened with sugar or corn syrup. I've looked at lots of Horchata recipes and this is my favorite cobbling together of various ideas. I add lime and vanilla for extra aroma and I substitute brown rice syrup for the sugar syrup. I think the flavor of the brown rice syrup perfectly compliments the rice in the drink.
This is a truly fabulous drink, and although it's a little expensive to prepare at home (the almonds!) it's really worth it for a special occasion or a long weekend with great weather. Treat yourself!
Blend of homemade almond and rice milk spiked with cinnamon and lime zest, served over ice.
| | | |
| --- | --- | --- |
| | | Blend of homemade almond and rice milk spiked with cinnamon and lime zest, served over ice. |
1/2

cup

rice

1

cup

blanched almonds

1

stick

cinnamon

1

lime

zested and juiced

1

tsp

vanilla bean paste

or 1/2 vanilla bean, seeds scraped

1/2 - 3/4

cup

brown rice syrup
Grind the rice and blanched almonds in a blender with 1/2 cup of water. Break it up enough so the rice is smashed up and the water is milky. It doesn't have to be a paste, you just want pebbles of rice and almonds.

Dump the mixture into a bowl with 3 more cups of water, the cinnamon, zest and juice of the lime. Cover it with a towel and leave it in the fridge overnight.

The next day line a strainer with cheese cloth or paper towel and place it over a large bowl. Pour the horchata mixture over the strainer. (Alternatively you can just use the strainer, but you might end up with some extra rice or almond bits in your drink.) Squeeze the almond/rice mixture with your hand to get every last bit of milky liquid out.

Throw out the pulpy almond/rice mixture. Now add the vanilla bean paste and 1/2 cup of brown rice syrup. Add the brown rice syrup, whisk it thoroughly, and taste it. If it needs more sweetening add more brown rice syrup. Once you're satisfied with the sweetness pour the Horchata into a jug and put it in the fridge. Serve it in ice filled glasses.

It will keep for a couple of days in the fridge, but not much longer. And honestly, if you can leave it for more than 2 days I will be shocked.