I love egg salad and have made something approaching 79 different versions of it over the years. So when a reader recently wrote to me asking for an egg salad recipe that was all the excuse I needed to share one of them with you here.
I never much liked the bland, mayo and celery version that is the mainstay of delis and work lunches—too much mayo! But once I realized that it's eggs and not mayo that's the main ingredient I got pretty obsessed.

When I was developing Good and Cheap, I made a bunch of different versions, but none of them made it into the book. For one, it's tough to take a really great photo of egg salad. It's basically whitish glop! For another, I really needed to draw the line with my egg recipes and I told myself that no one REALLY needs me to share an egg salad recipe. But I am happy to be wrong!
If you guys like this I'd be delighted to share some other ideas. This is a fun one because I can never get enough green chilies (I really have got to get myself to New Mexico one of these days!), but you can skip the green chilies or replace it with a favorite vegetable of choice and it will be just as good.
May I respectfully also suggest trying egg salad on something other than squishy white bread? It's amazing with pumpernickel or rye. Or you can skip the bread and enjoy it in lettuce cups or in a wrap.
Above I ate it open-faced on rye alongside my morning coffee. Part of my ongoing quest to eat a decent breakfast, this helped!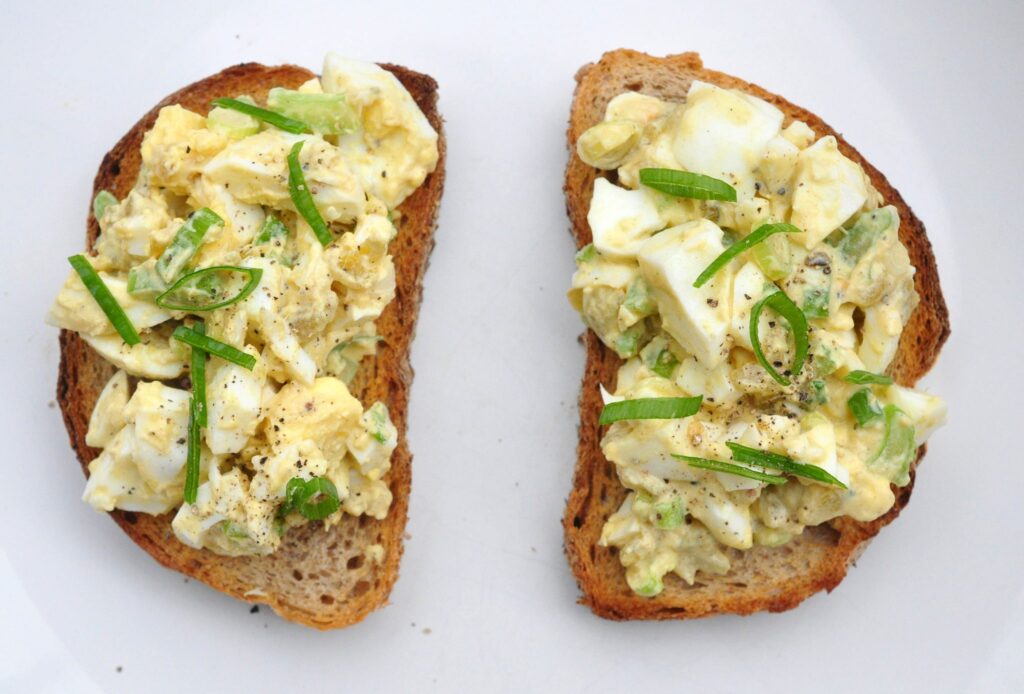 6

eggs

1

stalk

celery

chopped

1

small (4 oz) can

green chilies

drained

2

scallions

chopped

1

Tbsp

dijon

1

Tbsp

mayo

1 1/2

tsps

salt

(or to taste)

1/2

tsp

pepper

(or to taste)
In a small pot cover the eggs with cold water. Bring the eggs to a simmer on medium heat. Once the water begins to boil, turn off the heat and put a lid on the pot. Set a timer for 7 minutes and leave the eggs in the pot. Once the 7 minutes are over, drain the hot water and pour cold water over the eggs to stop all cooking. Leave the eggs for 5 minutes.

While you let the eggs cool completely, add the celery, green chilies, scallions, dijon and mayo to a bowl.

Time to peel the eggs! Dry them off a bit and roll them gently across your countertop to crackle the surface. Once it's all crackled, start at the bottom of the egg and gently peel off the shell. This should make it easier to do smoothly. Repeat with all the eggs.

Once the eggs are free of shell, chop them into quarters and then roughly chop them. Add the chopped egg to the bowl with the other ingredients and add the salt and pepper. Mix it up and taste. Add more salt or other ingredients to your taste. I don't like much mayo so you may want to add a bit more if you like is slooshier.

Top your toast or make a sandwich or save for later. It should keep for a week or so sealed in a container in the fridge.