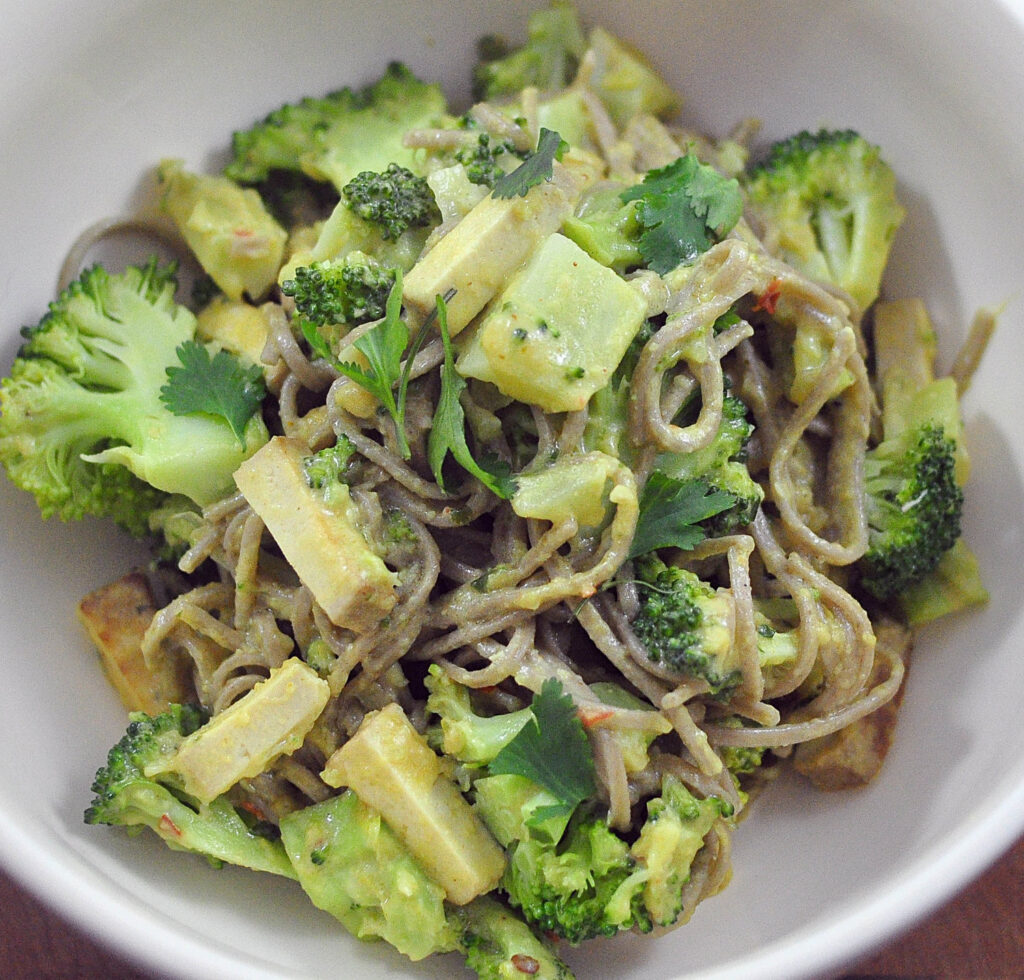 Peanut sauce is so great. It's not that I don't love peanut butter, but peanut sauce is peanuts at their best. It's peanuts showing themselves off in new custom tailored suits.
This recipe incorporates the peanut sauce from my "Good and Cheap" cookbook. You only need half of it, but I suggest you make the whole recipe because you will want to have it around for dipping or slathering in general. Also, if you have any homemade peanut butter kicking around from the other week I strongly suggest you use it in this!
Sorry I didn't get too many photos of the process. It's just not all that pretty. Peanut sauce is pretty brown.
I made this with smoked tofu in a nod to Pad Thai, but you could use chicken or pork or regular tofu if you prefer. I bet it would be great if you skipped the tofu and scrambled a couple of eggs with the broccoli as well.
The only challenging part of this recipe (and I use the term loosely) is that nut based sauces can be a little thick, meaning that they don't glide as easily over the noodles as you might like. The best way to deal with this is just to add a little water if the noodles are too gummy when you are tossing them at the end. Don't be shy about it. Peanut butter is an emulsion so you can add water to thin it out without messing it up.
We loved this and I'll likely be making it again soon with any other veggies I have kicking around.
Soba noodles tossed with spicy peanut sauce, broccoli and smoked tofu.
| | | |
| --- | --- | --- |
| | | Soba noodles tossed with spicy peanut sauce, broccoli and smoked tofu. |
1

tsp

vegetable oil

for cooking

1

jalapeno

finely chopped

3

cloves

garlic

finely chopped

1

shallot

finely chopped

1

tsp

turmeric

1/2

cup

peanut butter

(natural, no sugar added)

1/2 - 1

cup

coconut milk

(can use water as well)

1

Tbsp

soy sauce

1

Tbsp

brown sugar
1

head

broccoli

chopped

4

oz

smoked tofu

cut into matchsticks

5 - 6

oz

soba noodles

(or any Asian noodle you prefer)

1

lime

Salt and pepper

to taste
To make the peanut sauce, add oil to a saucepan on medium heat. Once it's warm add the jalapeno, garlic and shallot. Saute until everything's translucent. Add the turmeric and coconut milk. Let it come to a boil.

Turn the heat down and add your peanut butter, soy sauce and brown sugar and stir to combine. If the mixture is too thick, add a bit more coconut milk (try to use more of the thin milky part of the coconut milk rather than the solid fat) or water to it and stir until it is loose and pourable. Taste it to see if it needs more salt or sweet and add more as needed. You can add a bit of chile sauce to it if you like is spicier or if you want it to be more red like in most restaurants. Once you are happy with the flavor set it aside.

Put a large pot of water on to boil over high heat. Salt the water and put a lid on the pot. While the water comes to a boil chop your broccoli.

When the water comes to boil add noodles and cook according to package instructions. Place a sieve above the water and fill it with the broccoli. This is the sneaky way to steam things! Cover the pot and sieve with a lid. Allow the broccoli to steam for 2-3 minutes, until bright green. Remove the sieve of broccoli.

Place a pan on medium heat and add just enough oil to keep things from sticking. Add the broccoli and tofu. Stir-fry gently until the noodles are ready. Once the noodles are cooked, drain all but about 1/2 cup of water and dump the noodles and water into the pan with the tofu and broccoli. Add your peanut sauce and use tongs to swirl, and mix everything together in the pan. Add more water if you need it. It may get a little gummy and you don't want the noodles to stick together too much.

Squeeze lime juice all over the dish and taste. Add salt and pepper as needed and serve it up.