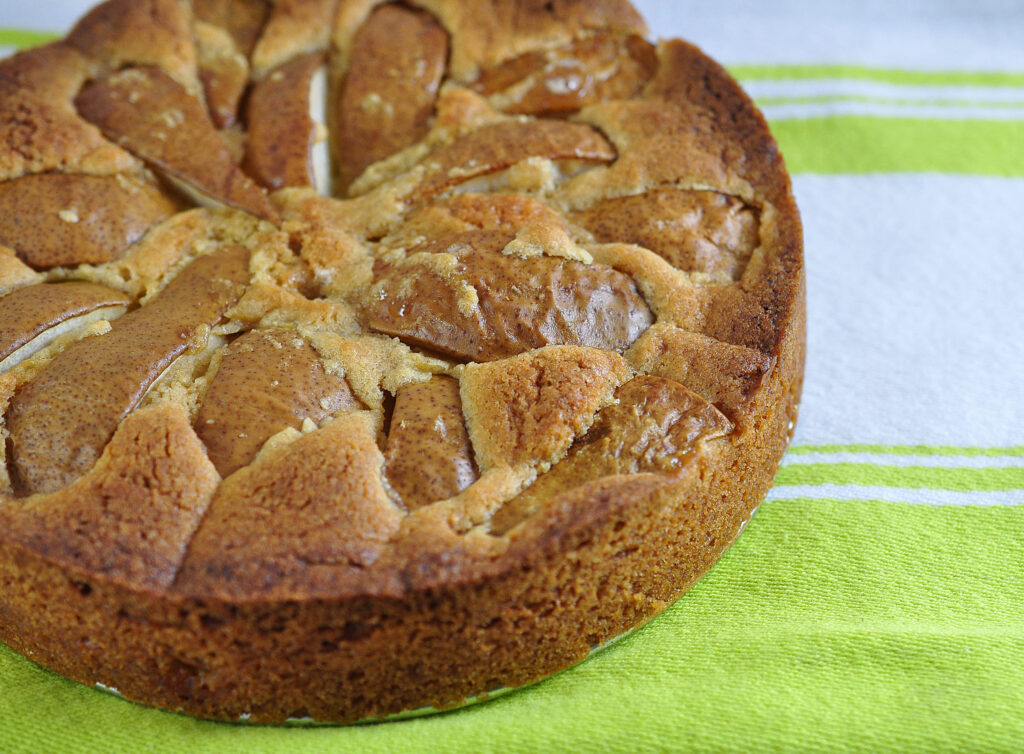 This recipe is from Good and Cheap.
Good and Cheap is a gorgeous cookbook for people with limited income, particularly on a $4/day food stamps budget. The PDF is free (ahora en Español!) and has been downloaded more than 15,000,000 times. I have more cookbooks, too!
Still away in the cold north for the holidays but I wanted to share this quick and easy (and festive, dare I say) warm brown sugar pear cake with you. I made it just before leaving and couldn't bear not to share it with you. It's based on the peach coffee cake from Good and Cheap, and uses pears in place of peaches and nutmeg in place of cinnamon. This is a good reminder that this cake recipe is mega adaptable to just about any fruit. I love it so much. It gets all browned and crunchy and sweet on the outside, and gooey and soft and moist and sticky on the inside. Oh man.
I love eating pears during the holidays and I tend to get obsessed with poaching them, putting them in drinks and generally trying to add them to everything so it was just a matter of time before they ended up in this cake. This warm brown sugar pear cake is informal like a coffee cake and is perfect served with a hot cup of coffee or tea and could even work for brunch or breakfast if you are feeling indulgent over the holidays.
A simple, homey, nutmeg and brown sugar cake with dreamy chunks of pear, a crunchy browned outside and a gooey center.
| | | |
| --- | --- | --- |
| | | A simple, homey, nutmeg and brown sugar cake with dreamy chunks of pear, a crunchy browned outside and a gooey center. |
4

pears

pitted and cut into 8 pieces each

1/2

lemon

juiced

2

cups

all purpose flour

2

tsp

baking powder

1

tsp

nutmeg

(optional)

1

cup

butter

(2 sticks) at room temperature

1 1/3

cups

brown sugar

packed

1/8

tsp

salt

1

tsp

vanilla

2

large

eggs

1

Tbsp

sugar

for the topping
Turn your oven to 350 °F.

Using the paper wrapping from the butter, lightly butter an 8" x 11" glass baking dish or 9" springform pan. Any shape will do so long as it is large enough. This cake doubles in size when it bakes.

In a large bowl, mix the pear slices and lemon juice together with your hands, making sure the pears are well coated in juice.

In a medium bowl, stir the flour with the baking powder and nutmeg, getting rid of any lumps.

In another large bowl, beat the butter, brown sugar, and salt, either with a wooden spoon or an electric mixer. Stop when the mixture is fluffy and has slightly lightened in color. Add the vanilla, then the eggs one at a time, fully mixing in the first egg before adding the second.

If using an electric mixer, switch to a wooden spoon and add the flour mixture into the butter mixture, gently incorporating it until it's smooth. The batter will be quite thick.

Spread half the batter over the bottom of the buttered pan. Evenly distribute 16 of the pear slices over top. (There should be 32 in total.) Spread the other half of the batter over the peaches, then top with the remaining pear slices, perhaps creating a pattern if you feel like it. Sprinkle with a tablespoon or so of sugar and place the cake in the oven.

Bake for 1 hour or until a knife inserted into the center comes out clean. Let it cool for about a half hour, but it is delicious if eaten while still warm.