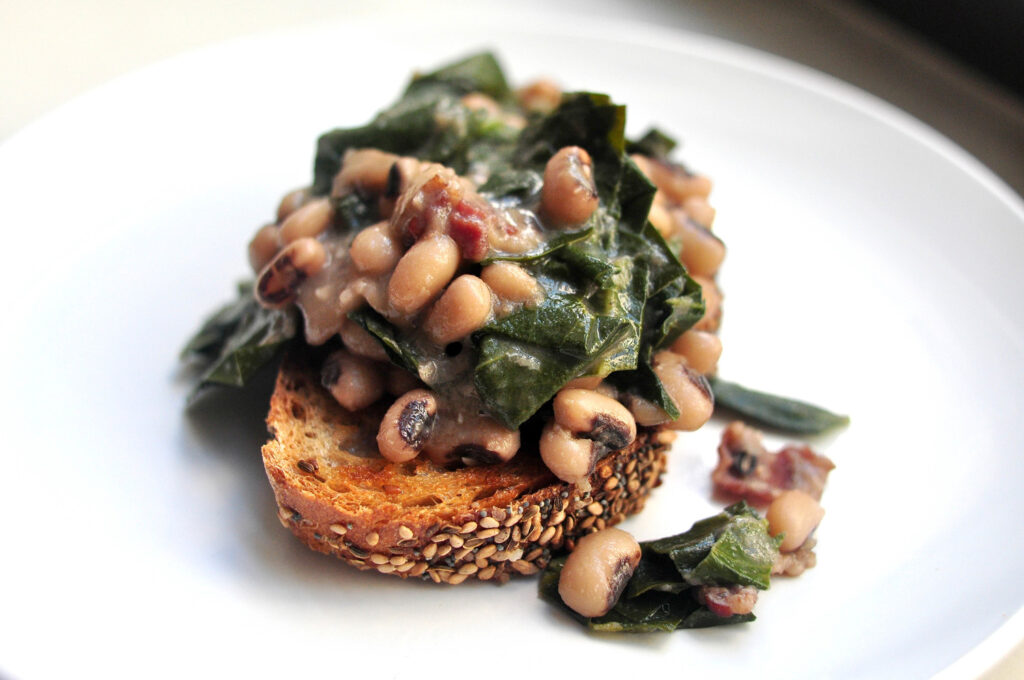 This recipe is from Good and Cheap.
Good and Cheap is a gorgeous cookbook for people with limited income, particularly on a $4/day food stamps budget. The PDF is free (ahora en Español!) and has been downloaded more than 15,000,000 times. I have more cookbooks, too!
'Tis still the season for warm pots of yummy stuff. When it just seems like the winter will never end it feels good to eat something green. Collards are great at this time of year and melt beautifully into a pot of black eyed peas with the salty, smoky bacon counterpoint. You can substitute beans instead of peas and spice this up any way you want to. 
A big pot of black eyed peas cooked with bacon and collard greens.
| | | |
| --- | --- | --- |
| | | A big pot of black eyed peas cooked with bacon and collard greens. |
1

cup

black-eyed peas

dried

1

Tbsp

butter

1

large

onion

finely chopped

3

cloves

garlic

finely chopped

3

strips

bacon

cut into small pieces

1

bay leaf

1

bunch

collards

Salt and pepper
Soak the black-eyed peas overnight in 4 cups of water.

Melt the butter in a large saucepan on medium heat. Add the onion, garlic, bacon, and bay leaf. Cover the pan with a lid and leave it for 2 minutes. Stir occasionally and cook until the onions are translucent and the bacon is starting to be crispy. Drain the peas and pour them into the saucepan. Cover them with water and turn the heat down to medium-low. Cook for 30 minutes to 2 hours. The cooking time will depend on how old the peas are, which is difficult to predict. The peas are done when you can easily squish them on the countertop with the back of a spoon. Check on them every half hour or so, and if water boils off, add more to cover them.

While the peas cook, line up several collard leaves on your cutting board and slice the tough central stem away from the leaves. Discard the stems, then chop them into bite-sized pieces. Alternatively, use your hands to tear the collards into small pieces.

Once the peas are cooked, add the collards to the pot and put the lid back on. Add 1 teaspoon of salt and some freshly ground pepper, then stir. Taste the liquid and peas and add more salt as needed. Cover the pan with a lid and leave for about 10 to 15 minutes. Once the collards are tender, turn off the heat.

Serve this over rice or any other grain, or with some toast or flatbread