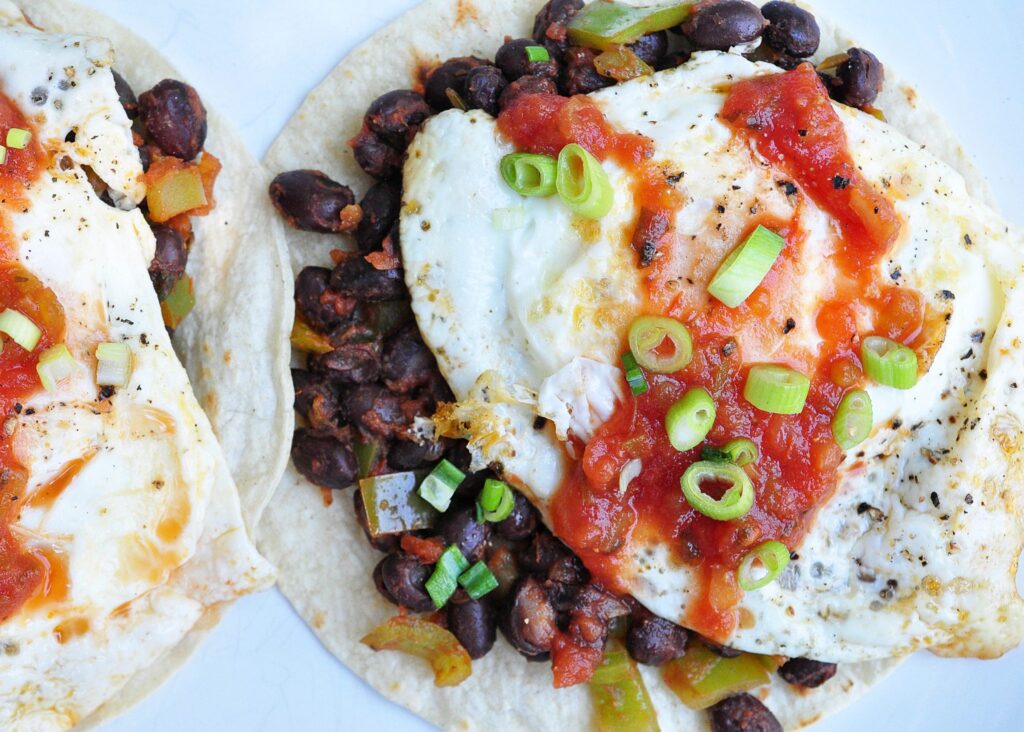 It is so hot here you guys. My appetite is meager and long cooking times are totally not an option. It's the perfect time for breakfast for dinner. And Huevos Rancheros are so fast to make. At they're core they are just eggs with salsa and tortillas, and here we're adding some beans to the mix.
You do have to turn on the stove, but it's not for long at all. You'll be in and out of the kitchen in no time and you may not even have to go to the store to get the ingredients for this. I almost always have eggs, cans of beans, salsa, and tortillas around.
This is the most basic, simple way to get huevos rancheros into your mouth. You can get super fancy, use leftover chicken, extra vegetables that are beginning to wilt in the heat, or you can make and use your own salsa! But this is the basic and it is solid as it gets. If you don't keep a jar of salsa in the fridge at all times you can cook the beans with ¼ chopped onion, 1 chopped fresh or canned tomato and ½ fresh jalapeño to get the same flavor as your basic salsa. Or just make this salsa.
This really is fast and satisfying, so consider that when you are sitting, sweatily fanning yourself in your chair. If you get up and make this you will eat sooner than if you order food.
Or just eat some watermelon for dinner. I won't judge you.
Warm corn tortillas topped with black beans and peppers, eggs and salsa.
| | | |
| --- | --- | --- |
| | | Warm corn tortillas topped with black beans and peppers, eggs and salsa. |
2

Tbsp

butter

1

15 oz can

black beans

drained and rinsed

1

green pepper or green chile

Salt and pepper

to taste

1/2

cup

salsa

6

eggs

6

small

corn tortillas

3

scallions

finely chopped
avocado slices

lime slices

cilantro

chopped

sour cream or crema
In a medium pan on medium heat, melt one tablespoon of the butter. Add the drained beans and pepper and stir. Cook for 5 minutes or until the pepper starts to brown just a bit. Sprinkle with salt and pepper to your taste. If you use salt free canned beans you will need a healthy pinch of salt, but if they are salty don't add too much. Taste it and adjust as you need it.

Add ¼ cup of the salsa and stir to coat the bean mixture. Place your pan on a back burner on the lowest setting while you prepare the eggs and tortillas.

Place a large pan on medium high heat and add as many tortillas as will fit in the pan at once, I could do 3. The pan should be dry. No oil or butter needed. You are just toasting the tortillas. Heat the tortillas until they begin to bubble on one side just a bit. Flip and toast until you have a few brown spots on both sides of the tortilla. Do not toast until dark brown though, because then they will be a bit too crispy. You want them to remain pliable. Repeat with the last 3 tortillas and set aside on a plate.

Now, in the same pan on medium-high heat melt the last tablespoon of butter and swirl it around the pan to coat. Crack as many eggs into the pan as you can fit and sprinkle each with a little salt and pepper. My pan could do 4, but I did 3 at a time so I could do it in even batches. Cook the eggs to your preferences, sunny-side up or medium or whatever. I like my eggs over easy. To get over easy eggs, cook the eggs until the whites are no longer clear, but the yolks are very runny, usually 1 minute to 1.5 minutes. Quickly and gently flip them over, leave for about 10 seconds and then turn off the heat. This method ensures that the yolk is fully cooked, but the yolk remains runny when you poke it with a fork. Set the 3 eggs aside on a plate and repeat with the next 3.

Time to assemble. On each plate place 2 tortillas. Spoon approximately 1/6th of the bean mixture (take it off the back burner you had it on and turn off the heat) on each tortilla. Gently place an egg on top of the bean mixture. Drizzle with salsa and sprinkle green onions.

Add any other additions you have around, but these are perfect just as they are.