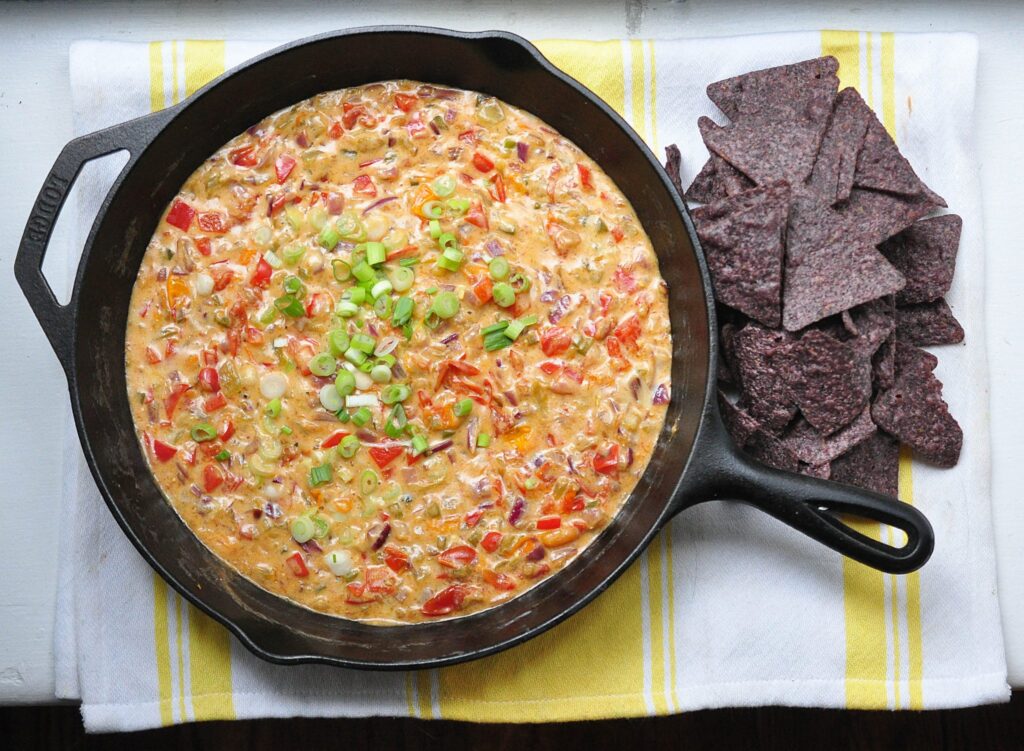 I had planned to share this lovely warm barley salad I made last week with you guys, but since I got back from Texas, one thing has dominated my thoughts: queso.
Queso; that gooey, warm dip made mostly of cheese with a little chili and tomato for extra flavor. Northern friends might call it nacho cheese. The Texan version is ubiquitous at Tex Mex places, parties, and on every appetizer menu. The key to a good Texan queso is to use processed cheese or velveeta. There really is no other way to get that particularly gooey, creamy texture.
While I totally get it, and have eaten velveeta-based quesos in many restaurants gleefully, I just can't quite do it at home. That is a line I have yet to cross. Maybe one day!
With my just-returned-from-Texas craving too much to handle I decided to compromise by making queso fundido. Similar to the queso described above, but using real cheese mixed with well, some vegetables I guess? This queso fundido has a ton of flavor from the pepper, chilies and tomatoes, but enough cheesy goo to feel decadent.
I say to use a cast iron pan here, but if you don't have one that is okay. The cast iron is nice because it holds the heat longer and you can serve your fundido in it, but it's not required.
Oh! And adding to my queso craving has been all the drool-inducing photos coming from my wonderful friend, Claudia Lucero's kickstarter project for dairy-free cheesemaking kits. She is an accomplished cheesemaker and author of One Hour Cheese. She has figured out amazing ways to make all kinds of incredible cheeses (including nacho cheese!!) using nuts, vegetables and seeds instead of dairy. Even brie you guys!! HOW DOES SHE DO IT? I don't even know. If you're at all interested in that kind of thing I strongly encourage you to check it out. I can't wait for my kits to arrive!
Okay, grab some chips and cheese it up!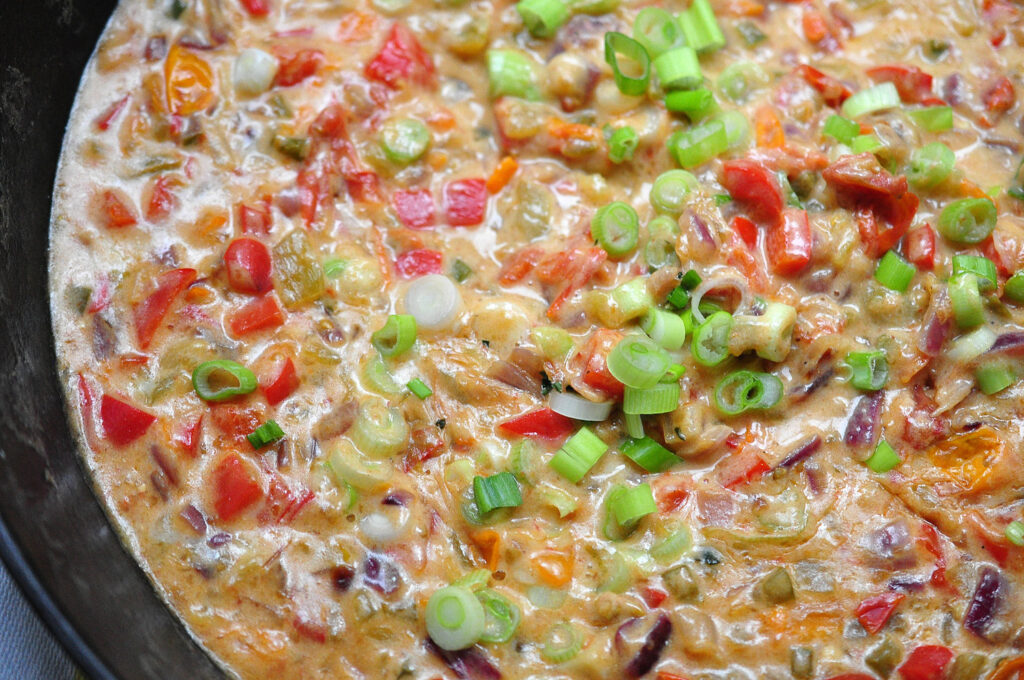 Gooey cheese dip flavored with tomato, chile and onion.
| | | |
| --- | --- | --- |
| | | Gooey cheese dip flavored with tomato, chile and onion. |
1

Tbsp

butter

1

red onion

chopped

1

bell pepper

chopped

1

can

of green chilies

1

cup

tomatoes

chopped (canned or fresh)

1

Tbsp

cornstarch

1/2

cup

yogurt

2 to 3

cups

cheddar cheese of Monterey jack

grated

salt

to taste

2

scallions

chopped
chorizo or ground beef

added along when cooking the onion

fresh jalapeno

finely chopped

cilantro

finely chopped (add at the end)

1/2

tsp

cumin
In a medium or large cast iron skillet melt the butter on medium heat. Add the onion and pepper and cook, stirring occasionally until soft, about 10 minutes. Add the green chilies and tomatoes, stir, and cook for another 2 to 3 minutes, just until some of the water cooks off.

Sprinkle the cornstarch all over your vegetables and stir until you don't see any white anywhere. Add the yogurt and stir. Now add your cheese and stir until it all melts together and is gooey and beautiful and colorful and amazing. Taste it and add any salt you think it needs. Often it doesn't need much or any since the cheese is pretty salty.

Sprinkle with chopped scallions and enjoy with lots of tortilla chips!!

Tip: This is also a great recipe to make in a slow cooker because you can keep it warm in there when you are serving it.