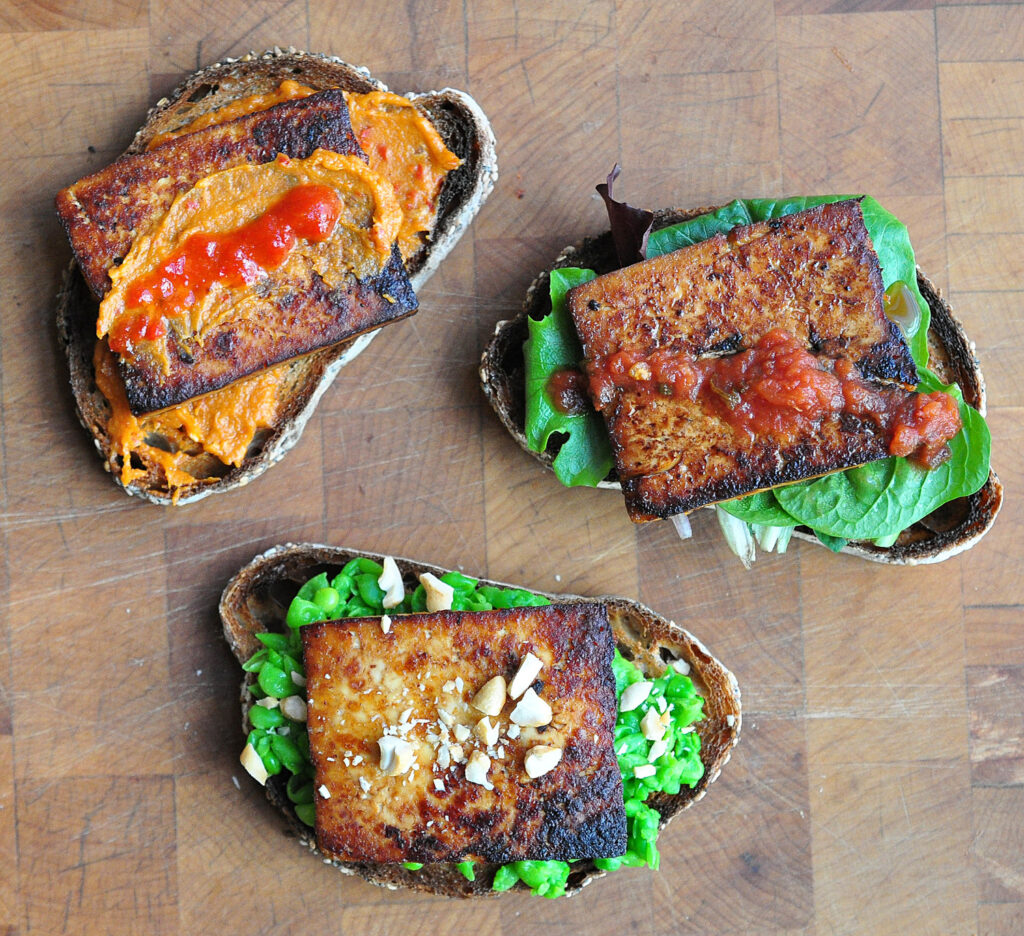 Here comes tofu, marinated then fried—crisp on the outside but juicy and salty on the inside—and 3 ways to enjoy it on toast.
First, I want to tell you guys about a wonderful new cookbook, Better on Toast, by my friend Jill Donenfeld.  Jill and I came together because of our mutual love of…. wait for it…. toast! As you guys know, I love to use toast as a base for all kinds of tasty meals. Click on top of the beautiful cover shot below to order Jill's book if you're so inclined.
Better on Toast is a particularly good book for people living on their own. Toast is such a great way to make cooking for one fun and practical.
Throughout the book, Jill shares smart tips for saving money and reusing leftovers. One of my favorite suggestions is using the leftover whey from making ricotta to cook delicious brown rice. Why didn't I think of this? Very Good and Cheap, Jill!
Some highlights for me have been the tomatillo eggs (page 40), her lazy technique for cutting grapefruit (page 19), orange butter (page 146) and all things anchovy, especially the fig bagna cauda (page 87). From one salty fish lover to another, I salute you!
Inspired by Jill I'm here to share something I think is "better on toast."
A lot of people have asked me, "what's in the middle sandwich on the cover of Good and Cheap?" Why it's soy sauce marinated tofu. Simple, simple! It might not sound exciting, but tofu marinated in soy sauce is salty and juicy. When you grill it in a hot pan it gets dark brown with crunchy edges. The sear seals in the juicy middle. It's really good, really cheap and pretty darn easy to make. It's like a pork chop or beautiful steak. And it goes with everything!
A 16 oz package of firm tofu is almost never more than $4, even in NYC. And you can slice one package into 12 to 16 pieces. Not a bad deal at all.

Tofu, marinated then fried till it's crisp on the outside but juicy and salty on the inside. And 3 ways to enjoy it on toast.
| | | |
| --- | --- | --- |
| | | Tofu, marinated then fried till it's crisp on the outside but juicy and salty on the inside. And 3 ways to enjoy it on toast. |
1

block

firm tofu

soy sauce

to cover

1-2

Tbsp

cooking oil or ghee
Slice the tofu in half lengthwise. Slice each half like you would a loaf of bread, about 6 to 8 pieces, depending on how thick you want them.

Place the pieces in a large ziploc freezer bag or large tupperware and pour soy sauce over them. You don't need to completely cover them. Just use enough so it comes about half way up the edge of the container you're using. If you're using a bag you need even less. Just enough so that it's got something to marinate in. Press the air out of the bag and seal it. Shake it to make sure it's covered and leave the tofu for 1 hour to overnight. If using a tupperware you may want to flip the tofu over to give all sides a chance to marinate directly in the soy sauce.

Place a cast iron pan (or any other pan that can withstand higher heat) on medium high heat. Add some neutral cooking oil or ghee to coat the pan. Once the oil is hot add 6 to 8 slices of tofu to the pan facedown. Don't dry them off. You want the soy sauce to cook with the tofu and glaze it a bit as it cooks. Cover the pan with a splatter guard or lid. There will be splashing. Cook for 2 minutes without touching.

Remove the lid or splatter guard. If you're brave and don't mind a bit of splatter, spoon a small amount of leftover soy sauce onto each piece of tofu, then flip it over with your tongs. If you're nervous about the splatter you can just flip them. Cover again and leave for another 2 minutes.

Uncover the tofu and check on them. If they are already dark brown on both sides with crispy edges, take them off the heat. If they aren't dark enough for you, flip them again and apply more soy sauce. Be patient and don't disturb them. They need contact with the hot pan to get crispy and glazed and sticky.

Remove the tofu from the pan and serve.
3 ways to enjoy this tofu on toast
With a layer of cheaty peanut sauce. Simply mix a big spoonful of peanut butter with a small spoonful of your favorite chile sauce. In my case it was the homemade Sriracha a friend brought me. Add a splash of water if it seems too thick. Of course you can just use peanut sauce from page 161 of Good and Cheap if you have some leftover.

With a layer of smashed peas with salt. There's a little smashed cashew on the top too. Very springy!

I know it seems weird, but soy sauce marinated tofu is a great bacon replacement. Here it is with lettuce and tomato. The tomatoes around here are still terrible, so I've used some leftover tomato sauce.