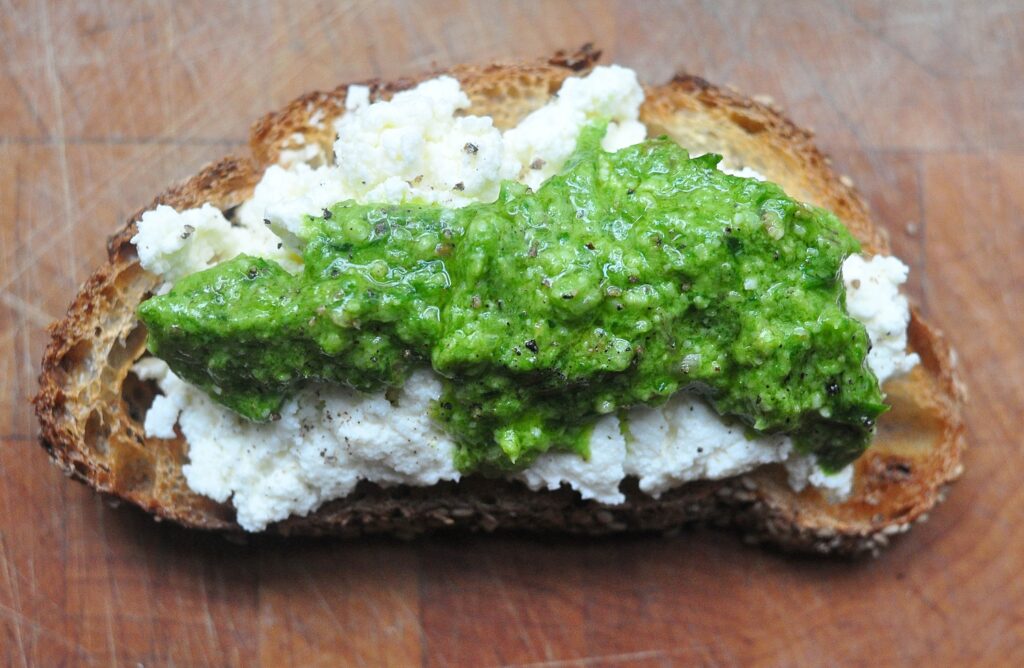 Getting excited about ramp season is soooo 2 years ago. But the fun thing about ramps is that they are gone before you get sick of them. Also their lightly garlicky flavor, their bright green color and general versatility are a bonus.
Since they are available for a limited time, ramps tend to be pricier than your average allium. So we have to make them last and we have to make sure their flavor is amplified. Enter pesto. By making these little beauties into pesto we can have them on all kinds of things all week, on pasta, over veggies, in salad dressing, with scrambled eggs, on grilled fish or meat. Or you can serve it up as I did today, over some fresh ricotta on crunchy toast.
If you aren't familiar with ramps, they are a type of wild leek that peek out of the ground early in the spring for a very short time. They have a similar flavor to green garlic or garlic scapes so if they don't have ramps where you live, you can substitute with either of those.
If you want to make ricotta toasts as well, give this recipe from Good and Cheap a try.
1

bunch

ramps

1/4

cup

almonds

1

oz

Romano

1/4

cup

olive oil

Salt and pepper

to taste
Thoroughly clean the ramps. They are grown deep in the dirt and usually have some serious grit. Chop off the root ends and any particularly wilted or gnarly bits of leaf.

Chop the ramps roughly and transfer them to a food processor. Add the almonds and romano. Process for about a minute to break everything up. Add the olive oil a bit at a time while processing. Once the pesto is as smooth and runny as you prefer, stop adding olive oil and taste it. Add salt and pepper and taste again. Adjust anything else according to your taste, add more romano or salt as needed. Sometimes if it tastes a little flat you can add a squeeze of lemon to brighten it up.

If you don't have a food processor you can use a hand blender or you can chop it up by hand or with a mortar and pestle. Basically just finely chop and mash everything up. Chunky pestos are delicious!