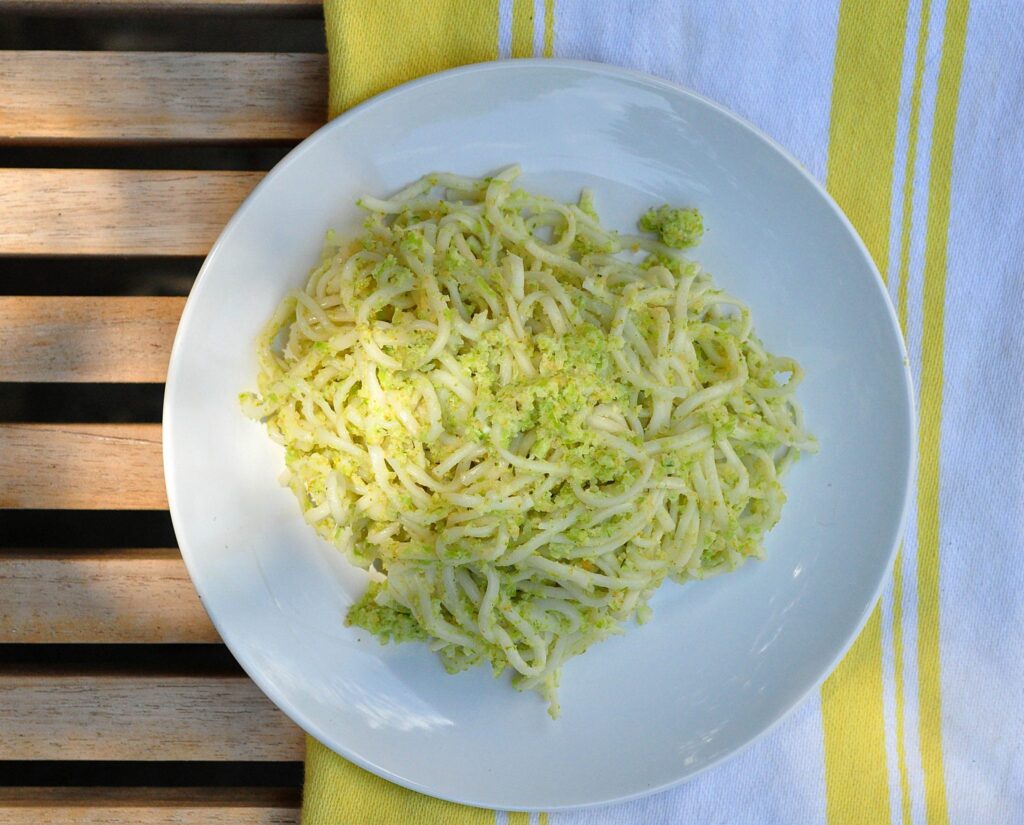 Noodles tossed with lemony broccoli pesto! I made this recipe when my broccoli was past its prime and it was a great way to get the flavor back so don't feel like you have to use perfect, fresh broccoli. This is the third day of noodle salads for a week's worth of different noodle-based lunches. See the full post with all recipe links here.
Noodles tossed with lemony broccoli pesto.
| | | |
| --- | --- | --- |
| | | Noodles tossed with lemony broccoli pesto. |
1

cup

broccoli

chopped

1

clove

garlic

1

Tbsp

lemon juice

1

Tbsp

peanuts or cashews

1

Tbsp

Romano or Parmesan

finely grated

1

Tbsp

olive oil

Salt and pepper

to taste

1/5th

batch

cooked noodles

make them here
Steam the broccoli using one of these 3 methods below, then skip to step 5:

Steamer: Use your steamer according to it's instructions. Steam for about 4 minutes until the broccoli is just tender.

Microwave: Place the broccoli pieces in a bowl and cover with 2 Tbsp water. Microwave for 2 minutes. If you can easily spear the broccoli with a fork and it goes through with no resistance it's ready. Otherwise microwave it for another 30 seconds and continue until it is tender.

Stovetop: Fill a pot half-way with water and bring to a boil on high. Place a seive overtop of the pot, and make sure it is steady and secure. Most seive's have little arms on the front that make it so you can rest it overtop of a bowl. Rest it overtop of the boiling water in the pot. Tumble the broccoli pieces into the seive and cover with a lid. Let it steam for 4 minutes until you can spear a piece with a fork and it meets no resistance.

Add the steamed broccoli, garlic, lemon juice, nuts, and cheese to the bowl of a food processor. Pulse until it is a crumbly paste that isn't flying around. Slowly add the olive oil and continue to process. Add the water and process some more. Taste and add salt and pepper. Add more lemon juice or cheese or anything else you think it needs. It should be quite loose and smooth. If it is still quite chunky add a little more olive oil or water and continue to process it. It should be loose enough that it will easily coat the noodles when you toss them.

Now scrape about half the broccoli pesto into a bowl with your noodles and save the rest for another use (maybe another salad or on toast!). Or you can use it all if you're so inclined of course!